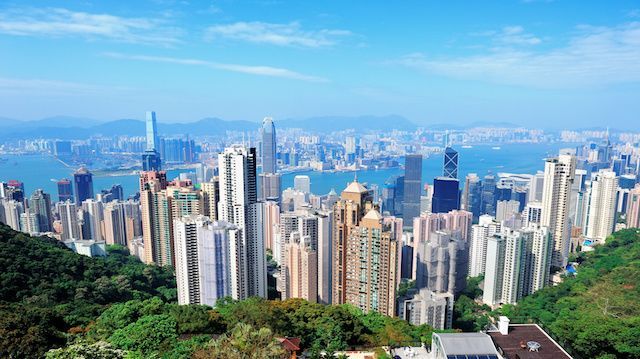 If you ever find yourself in Hong Kong yearning for a quinoa and couscous salad with an assortment of healthy toppings and sides, then McDonald's may be a viable alternative. What has been dubbed the "McDonald's of the Future," McDonald's Hong Kong has a fresh decor and serves up healthier options for burger toppings and salads.
The new concept restaurant offers customers a different atmosphere — something resembling a pleasurable dining experience. This fast-food novelty called "McDonald's Next" has a softer, more sophisticated ambience, especially when compared to the fluorescent lights, carnival colors mixed with beige, and plastic tabletops of a traditional McDonald's restaurant.
The decor at McDonald's Next includes stone tabletops, subtle lighting, and plenty of outlets to charge phones and laptops. Staff have donned new uniforms, the kitchen layout is different, and the product packaging is more restaurant-esque — the food is served on wood slabs and French fries fill wire baskets. 
McDonald's Next is located near Admiralty Station in Hong Kong's Central and Western District. The design of the restaurant was developed by Landini Associates, an Australian design company. The aim of the new, sophisticated decor and improved menu is to target more customers. 
Landini Associates' design concept coupled with "Create Your Taste," another McDonald's brainchild that allows customers to create their burger and order using a touch screen kiosk, may just work. McDonald's is grasping for new ways to stay afloat after experiencing a few revenue hiccups of late.
There have been several similar improvements in Australia and France, and the McCafé concept has been launched globally. However, in reality, there are few real healthy choices available at the new Hong Kong restaurant. If you look past the visual improvements, it appears that McDonald's is still offering the same high-calorie, unhealthy food. Sure you can choose asparagus toppings or quinoa sides, but the large soda and greasy fries — albeit in a trendy wire basket — remain unchanged.
And why Hong Kong? Why doesn't McDonald's take stock and offer healthier choices to Americans. Obesity rates in the U.S. continue to rise, in tandem with related chronic diseases like diabetes and heart disease. And although there are alternative items on the McDonald's Next menu, it doesn't mean they will be on the trays of customers.
According to a study published in Addiction (2011), "Hyperpalatable foods may be capable of triggering an addictive process." The study examines the connection between addictive foods and obesity, as well as other related diseases. It would suggest that, even when presented with healthier options, McDonald's customers will choose the more familiar, unhealthy foods due to their "hyperpalatable" appeal and addictive nature.
It is difficult to say whether or not McDonald's is truly passionate about the overall health of its customers. But if you're in a pinch in Hong Kong, it does have a fancy new restaurant where you can charge your smartphone. 
Do you think McDonald's is sincere in its efforts to offer healthy alternatives, or is it all just smoke and mirrors?
—Stephen Seifert
Stephen Seifert is a writer, professor, adventurer and a health & fitness guru. His flair for travel and outdoor adventure allows him to enjoy culture and traditions different than his own. A healthy diet, routine fitness and constant mental development is the cornerstone to Stephen's life.
Sources:
http://campaign.mcdonalds.com.hk/en/promotions/createyourtastehk/desktop
http://www.landiniassociates.com/info/
http://www.landiniassociates.com/project/mcdonalds