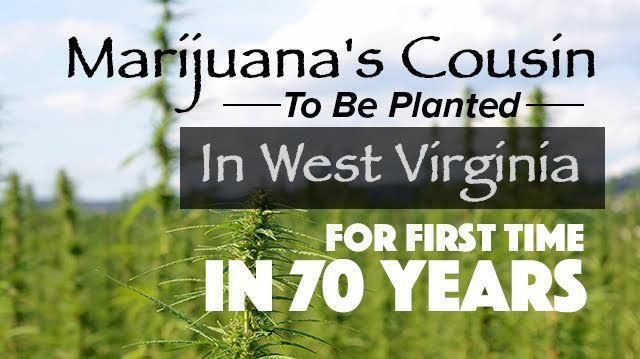 Here at The Alternative Daily, we have written extensively about the many benefits of hemp. The seeds and oil of this plant are highly nutritious, the plant has a huge array of industrial applications (about 25,000 products can be made from hemp) and planting it actually cleans up the soil. So why don't we use more of the stuff?
In the United States, hemp has gotten a bad rap — and "illegal" status — for many years because of its relation to marijuana. Though the two are in the same family, hemp contains only a trace of THC, the psychoactive component of marijuana that gets you "high."
Nevertheless, despite its usefulness as a health food and cash crop, and its uselessness as a party drug, hemp was illegal to grow in this country for about three quarters of a century (though it has still been imported from other nations over the years). Luckily, times and attitudes are changing, and hemp is now legal in 13 states.
In recent news, the first hemp seeds in about 70 years are being planted this year in West Virginia. This could have a lot of long-term benefits to both the economy and the planet, not to mention our individual health if the cultivation of hemp takes off.
West Virginia's first hemp seeds in over seven decades are set to be planted as part of a West Virginia University research study. They will be planted in the city of Morgantown. These seeds are being planted for the express purpose of decontaminating the soil through a process called phytoremediation. Because of the nature of hemp, it can actually absorb toxic chemicals, removing them from the soil.
There are also plans for two West Virginia political candidates to plant commercial hemp later in 2016. One of these politicians is Mike Manypenny, a democrat running for a seat in the United States House of Representatives. The other is J. Morgan Leach, a democrat who is running for the West Virginia House of Delegates.
On the hemp plot he plans to plant in Grafton, West Virginia, Manypenny stated, "I am excited to be the first Congressional candidate to be a hemp farmer since Thomas Jefferson."
On the economic benefits of farming hemp, Leach explained, "We want to encourage commercial growers throughout the state because the demand for domestic hemp will continue to increase. Hemp can be catalyst for agriculture in West Virginia, providing farmers with a high yield cash crop, but the real impact will come in the downstream industries that will provide jobs in both the industrial and energy sectors of the state."
Regarding the applications of hemp, Erik Janus, the Chief Operating Officer of Agri Carb Electric Corporation, said, "The science is there. Hemp has long had the potential to create sustainable products that are preferable to many current technologies; however, what is really exciting is what we can do with hemp using the technologies of the future — such as genomics, nanotechnology and 3-D printing."
The potential of hemp is exciting indeed, for so many areas of life. If the stigma and legal restrictions on hemp are removed, everyone benefits. This is a change our nation is long overdue in making.

—Tanya Rakhmilevich
Sources:
http://www.huntingtonnews.net/136044
http://www.alternet.org/story/155941/10_great_reasons_to_kill_our_absurd_ban_on_growing_hemp
http://www.ncbi.nlm.nih.gov/pmc/articles/PMC2868018