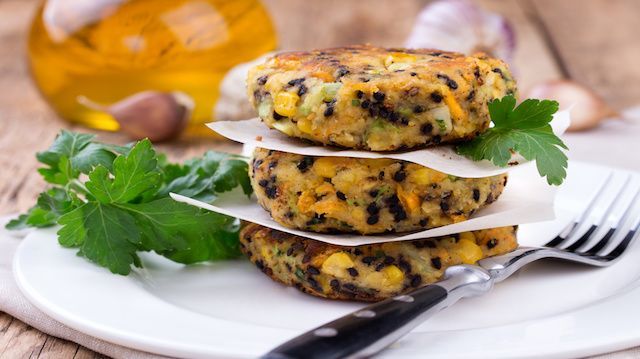 If you love burgers, but hate meat, then our veggie burger recipes are just up your alley. Substituting a meat patty with whole, nutrient-rich foods can be a lifesaver. Eating more plant-based foods can help you prevent diabetes, Alzheimer's, cardiovascular disease, and stroke, while giving you more energy, better digestion, and healthier immune function.
Furthermore, research has found that being vegetarian, or consuming a mostly vegetarian diet, may reduce your risk of cancer. A 2011 study published in Cancer Management and Research states, "Vegetarian diets are a useful strategy for reducing risk of cancer."
These easy-to-make, delicious veggie burger recipes will delight your taste buds and offer the vitamins and minerals needed for the healthiest and happiest you!
Lentil burgers 
A lentil veggie burger offers a tasty twist on the classic hamburger. Substitute ground beef with lentils, and replace unhealthy bread with gluten-free pita bread. Not only is this veggie burger flavorful, but it is also loaded with essential vitamins and minerals. Lentils readily absorb any flavor, making them perfect as a meat alternative. Just one cup of lentils offers up a high Daily Value (DV) of the following nutrients:
Molybdenum: 330 percent DV. This mineral has been known to balance the body's sulfur levels. It is also a necessary cofactor in the activity of more than seven enzymes in the body.
Folate: 90 percent DV. Folate supports the proper functioning of the cardiovascular system. It also plays a role in nervous system function. 
Fiber: 63 percent DV. Fiber is vital in the healthy functioning of the digestive tract. It is also a key factor in metabolism and cardiovascular health.
High dietary fiber is linked to glycemic control, which is essential when discussing type 2 diabetes. This disease affects approximately 10 percent of the United States population. A study published in the New England Journal of Medicine (2000) states, "A high intake of dietary fiber, particularly of the soluble type, above the level recommended by the ADA, improves glycemic control, decreases hyperinsulinemia, and lowers plasma lipid concentrations in patients with type 2 diabetes."
Lentils provide many additional vitamins and minerals, like phosphorus, copper, iron, manganese, potassium. They are also high in protein. This burger substitute is the perfect combination of health and deliciousness.
Lentil Burger with Pita Recipe
This delicious veggie burger is a surefire recipe for health. You will get the essential vitamins and minerals you need in every flavorful bite!
2 1/2

cups

water

1

cup

dried lentils

1

tablespoon

olive oil

1

medium

onion (finely chopped)

2

carrots (finely chopped)

2

teaspoons

thyme (chopped)

1

teaspoon

sea salt

1/2

teaspoon

garlic powder

1

teaspoon

paprika

1/2

teaspoon

black pepper

3

egg whites (beaten)

Lettuce leaves

Gluten-free pita bread
Cook and mash your lentils.

Sauté the carrots and onions over a medium heat.

Once the mixture has chilled in the fridge, stir in the beaten egg whites and shape the patties so they are slightly smaller than the size of your pita bread. Then grill them for approximately five minutes on each side over a medium heat.

Once tender, add the carrots and onions to the lentils. Mix in your herbs, spices, salt and pepper. Then place the mixture in the fridge for about an hour.

Place each patty inside a pita with a few lettuce leaves. Add your favorite healthy burger condiments. Serve and enjoy!
Portobello mushroom burgers
Portobello mushrooms are the perfect shape, consistency and size for burgers, and you will enjoy every bite of this delicious veggie burger patty. These low-calorie 'shrooms offer numerous vitamins and minerals important for your health. One cup of portobello mushroom only contains 22 calories while providing a powerhouse package of folate, niacin, thiamin, riboflavin and much more. Let's take a closer look at the nutritional elements of portobello mushrooms. 
Niacin: 38 percent DV. Niacin, or vitamin B3, is essential in cholesterol management. It has also been found to assist in the prevention of Alzheimer's disease, according to recent research. 
Riboflavin: 28 percent DV. Riboflavin, or vitamin B2, is another important B vitamin that offers an energy boost. Riboflavin is essential for fighting free radicals that cause serious illnesses like cancer.
Pantothenic Acid: 15 percent DV. Pantothenic acid has been found to prevent and fight high cholesterol. A deficiency of pantothenic acid has been linked with chronic fatigue syndrome.
Cooking portobello mushrooms at your next cookout is a wonderful way to get more from what you eat. Portobello mushrooms can help lower cholesterol, reduce the risk of heart disease, and aid digestion by increasing your fiber intake.
Portobello Mushroom Burger Recipe
This simple recipe offers you and your family the perfect way to switch up burger night. Portobello mushroom burgers are flavorful, filling and offer a wide array of vitamins and minerals to prevent common illnesses as well as serious diseases.
4

portobello mushroom caps (large preferably)

1/4

cup

balsamic vinegar

1/2

cup

water

2

cloves

of garlic (pressed or minced)

2

tablespoons

olive oil

Tomato (sliced)

onion, sliced

Lettuce

Gluten-free burger buns
Once you have cleaned the portobello mushrooms, place them in a dish and prepare the marinade.

Mix the water, vinegar, garlic and oil together and pour the marinade over your mushrooms.

Leave them in the fridge for an hour or so to allow the marinade to soak in.

Once you are ready to get cooking, pull your mushrooms out of the fridge and prepare to grill or broil them for about five minutes on each side. You will want to turn them often to avoid burning and to prevent them from drying out.

Place your freshly grilled portobello patties on gluten-free buns, add tomato, onion, lettuce, and enjoy the juicy taste!
Quinoa burgers
Quinoa has been hailed as one of nature's superfoods. It was first cultivated and consumed by the ancient peoples of South America. Replacing meat with quinoa will prevent cancer, maintain heart health, and help you fight diabetes, along with a number of other physical and mental health benefits. Here are a few important nutrients quinoa boasts in just three-quarters of a cup. 
Manganese: 59 percent DV. Manganese is essential for bone health and can help prevent osteoporosis. It is also an important nutrient for diabetes prevention, hypothyroidism, dermatitis and epilepsy.
Phosphorus: 40 percent DV. Phosphorus has been found to have essential health benefits for kidney function and cardiovascular function. It is also known to help lower osteoporosis risk.
Fiber: 21 percent DV. Fiber will help you maintain healthy metabolism, digestive function, and may have some preventive cancer properties.
A 2011 study published in Procedia Food Science discusses the antioxidants, protein and essential B vitamins that quinoa offers up. The study researched several quinoa crops in Chile and found their nutrient properties to be valuable to overall health and wellness.
Quinoa and Crimini Burger Recipe
This savory, nutrient-rich powerhouse contains the vitamins and minerals you need in every bite. Finding new ways to eat healthily is fun, and this quinoa recipe will delight your taste buds!
1/2

cup

quinoa

1

cup

water

1

tablespoon

olive oil

1

medium

onion, diced

2

cups

crimini mushrooms (finely chopped)

2

garlic cloves (minced or pressed)

1/4

teaspoon

oregano

1

large egg (beaten)
First you will want to prepare your quinoa.

Bring the quinoa and water to a boil, then cover and let simmer for about 15 minutes.

Keep the quinoa covered for an additional 10 minutes as it cools. Meanwhile, sauté the onion, mushrooms, garlic and oregano in olive oil over a low heat. When the onions and mushrooms are tender, mix in the quinoa.

Preheat your oven to 350°F. Stir the beaten egg into the mixture and then shape and press your burger patties. Place them on a baking sheet and bake for about 30 minutes until crispy. These flavorful burgers can be enjoyed with or without bread.
Switching from meat patties to fresh veggie burgers is a fun way to get the essential nutrients you need. Whether it's lentil burgers, portobello mushroom burgers or superfood quinoa burgers, you and your family will enjoy new flavors served up in a healthy way. 
Next time you are at the grocery store, skip the meat aisle and buy the healthy ingredients to make a veggie burger that's full of essential vitamins and minerals.
—The Alternative Daily 
Sources:
http://www.ncbi.nlm.nih.gov/pmc/articles/PMC3048091
http://www.ncbi.nlm.nih.gov/pubmed/10805824
http://www.ncbi.nlm.nih.gov/pubmed/12791609
http://www.ncbi.nlm.nih.gov/pubmed/11988588
http://www.researchgate.net/publication/272574058_Physico-chemical_analysis_antioxidant_capacity_and_vitamins_of_six_ecotypes_of_chilean_quinoa_(Chenopodium_quinoa_Willd)
http://www.agriculturejournals.cz/publicFiles/06732.pdf