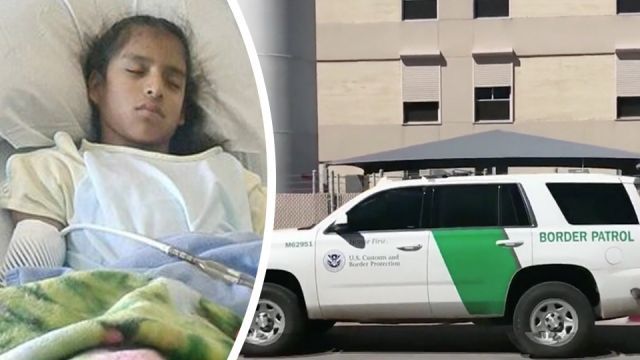 Little Rosamaria Hernandez was in an ambulance on the way to emergency surgery when she was stopped by border patrol. When it was discovered she was undocumented, she was escorted to the hospital, where agents refused to release the girl with cerebral palsy to her family for post-surgical care. But the decision to take a child who's lived in the U.S. for 10 years into detention is rare, if not unheard of.
Mom hoped Texas could provide better healthcare
Hernandez was brought over the border illegally from Mexico to live in Laredo, Texas, when she was just three months old. Her mother, Felipa de la Cruz, said in an interview with the New York Times that her family had moved to Texas from Nuevo Laredo, Mexico — just across the border from Laredo — in hopes of getting better treatment for her daughter's cerebral palsy. The family currently lives in Laredo, Texas, and all are undocumented immigrants. Therapy for her daughter was not affordable in Mexico. But in Texas, Medicaid paid for her daughter's treatment, which included home visits from therapists.
Fast forward: At 2:00 a.m. on Tuesday, 10-year-old Hernandez was in an ambulance, accompanied by her cousin. She was being transferred from a medical center in Laredo to Driscoll Children's Hospital in Corpus Christi for gallbladder surgery. After federal immigration officers stopped the ambulance at a checkpoint, they allowed it to continue to the hospital. But Border Patrol agents followed closely behind, and according to the girl's lawyer, waited outside her room until she was released from the hospital.
Immigration agents take girl after surgery
By Wednesday evening, according to family members and advocates involved in her case, the New York Times reports that immigration agents took the girl, who's been in the U.S. for most of her life, to a facility in San Antonio. It's at this location that migrant children who arrive alone in the U.S. from Central America are usually held. Meanwhile, Hernandez's parents, who both lack legal status in the U.S., live 150 miles away in Laredo.
U.S. Immigration and Customs Enforcement Agency (ICE) enforces federal laws surrounding immigration. They maintain that family detention centers are a key part of its strategy to prevent illegal immigration. Therefore, detention centers are maintained for adult immigrants soon to be deported.
They also have centers for families arriving at the border, and shelters for unaccompanied minors. But it's rare, says the New York Times — if not unheard-of — for a child already living in the U.S. to be arrested. Especially one like Hernandez, with a serious medical condition. So, then, why was the 10-year-old with cerebral palsy taken to a government-contracted juvenile shelter in San Antonio, post-surgery, 150 miles from where her parents live? This is the question that immigrant advocates are asking.
Meanwhile, the Border Patrol defends its actions throughout the ordeal. According to Dan Hetlage, a spokesman for Customs and Border Protection, the agents were just enforcing federal immigration law. "The agent is wrong if he lets her go," Hetlage said. "We don't have the discretion. It's not a traffic ticket. We follow the letter of the law." Hetlage said he and the agents are frustrated. "I'm a human being. The agents are trying to do their job as humanely as possible." However, immigrant advocates blame Trump's aggressive immigration enforcement.
Child treated like a hardened criminal
Meanwhile, Texas Democratic Rep. Joaquin Castro has asked immigration officials to release the 10-year-old girl, reports the Dallas News. She further condemned the agents' actions: "It's unacceptable for a young child with serious medical needs to be held in a facility that is not capable of providing the care she requires," the San Antonio Democrat told reporters. "This is a perfect example of the callous policies of the Trump administration," Castro said.
"It's stunning that federal agents would be waiting outside the hospital room of a 10-year-old girl with cerebral palsy," Castro told reporters. "They are treating her like a hardened convict who's been taken to the hospital for treatment."
What's next for the girl and her family?
"I'm a mother," said de la Cruz to The New York Times. "All I wanted was for her to get the surgery that she needed. It never crossed my mind that any of what is happening right now could happen. When you're a mother, all you care about is your child." Hernandez has been taken to a children's shelter in San Antonio to recuperate while her case is being processed. The family's lawyer said the girl's hospital discharge requires a visit with the family doctor in Laredo for follow-up checks.
But In a statement issued to Corpus Christ Caller Times, Customs and Border Protection spokesman Rod Kise said an exception will be made in Hernandez's case when it comes to enforcing immigration law. According to her lawyer, the child wept as she spoke to her mother over the phone on Thursday.
— Katherine Marko