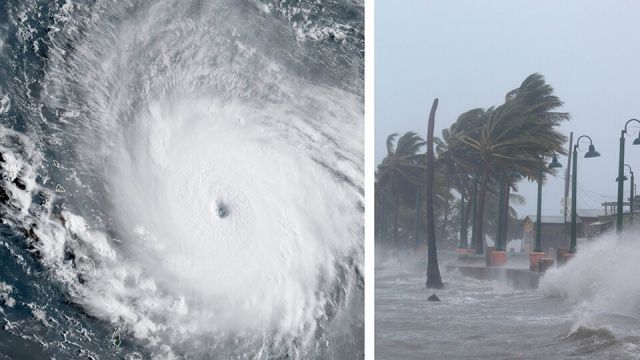 With footage constantly surfacing from Hurricane Irma's destruction across areas like the Virgin Islands, the videos serve as as crucial reminder to prepare for those currently in the storm's path.
The threat of direct #Irma impacts in Florida over the
weekend and early next week continues to increase. pic.twitter.com/sFQJv8cBfW

— The Weather Channel (@weatherchannel) September 7, 2017
Currently, the strongest recorded hurricane in the Atlantic Ocean is just north of Puerto Rico, an area with 3.4 million people. Fortunately, the country didn't take a direct hit like many of the smaller islands in the Caribbean. Barbuda, for example, was caught in the middle of the storm and almost all of the island is now uninhabitable.
After Irma hits Barbuda, the Prime Minister says that 90% of the country has been leveled. Just devastating. Prayers to the people. 🙏 pic.twitter.com/fAlDXwqDiK

— Michael Skolnik (@MichaelSkolnik) September 7, 2017
Where Hurricane Irma is heading next
As for what to expect next, areas of the Bahamas and South Florida are now preparing for a direct hit. Both are in a state of emergency with many areas being evacuated. Although the storm is anticipated to decrease to a category 4 before it strikes Florida, those winds are still at an alarming 140 m.p.h.
Fortunately, many people are adhering to precautions and heading to safer areas for the storm. As shown below, residents of South Florida are heading north on I-95, causing lots of traffic.
Long line of slow moving traffic on Florida's Turnpike NW of Fort Pierce, as many evacuate the area because of Hurricane #Irma. pic.twitter.com/FqFmfngDuR

— Juston Drake (@JustonStrmRider) September 7, 2017
George is now on alert
That being said, lots of areas of the state are still in dangerous areas. In fact, no matter where you are in the Southeast, you need to stay alert. Shockingly, residents from the Florida Keys to Northern Georgia are being urged to take precautions.
> 20-million would see hurricane force wind gusts (> 74 mph) from Hurricane #Irma from Keys/Miami to Atlanta on the Interstate 75 track. pic.twitter.com/ThUGmR8lZH

— Ryan Maue (@RyanMaue) September 7, 2017
Good impact-focused translation of NOAA #HurricaneIrma cone maps. #Orlando is smack in the middle of the red "High Impact" area. pic.twitter.com/chttnXowZq

— Xan Nowakowski (@XanNowakowski) September 7, 2017
Renters not allowed to board up their homes
There have been reported problems in South Florida where renters aren't allowed to board up their windows. In Colony Park, a development in West Palm Beach, renters are being forced to take down their boarded windows. Development owners responded by saying, "Understand that while we empathize with your need to protect your personal property, boarding up your reticence is not something you are allowed to do." Despite these reports, other building and homeowners have been rapidly preparing, as many Home Depots are constantly restocking their plywood.
No matter what happens, it is already a fact that this storm has broken many records, and will be heading to areas that haven't been hit by a major hurricane in over a decade. The last major hurricane to hit heavily populated South Florida was Hurricane Wilma in 2005 — residents will soon know if Hurricane Irma is next.
— Peter Amirata