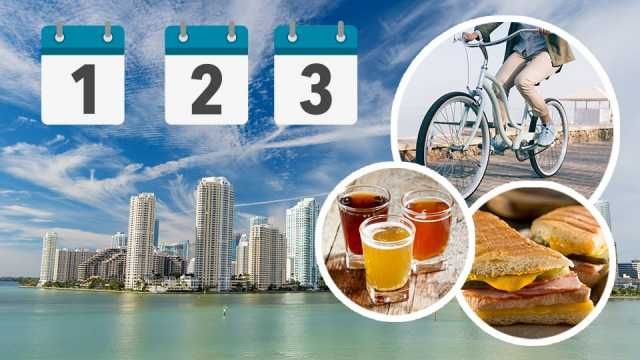 As Will Smith so eloquently put it in his 1997 hit single, "Miami," "Everyday like a Mardi Gras/Everybody party all day/No work, all play." Miami is viewed as a grown-up fantasyland, combining lavish lifestyles, over-the-top excess and skin — lots and lots of skin.
While there is certainly a Las-Vegas-on-the-beach mentality for some, for many of us, Miami is also a hub for multicultural art, cuisine and architecture, found on and around beaches that are as beautiful as the inhabitants who frequent them. And yes, there is a lot of skin, but with average annual temperatures in the mid-80s, can you really blame us?
So, beyond the mega-clubs, cheesy promoters and tourist traps, you'll find a city that is rife with jaw-dropping scenery, savory international cuisine and a surprising amount of history. In three days, you can experience the beauty of South Beach and beyond.
Day one
It's easy to confuse Miami Beach with South Beach and wonder, are they interchangeable? Technically, South Beach is a part of Miami Beach. The entirety of Miami Beach is a small barrier island that runs parallel to the coast of Florida. South Beach, or "SoBe" as locals refer to it, is the southernmost tip of Miami Beach, comprised of roughly 20-blocks from south to north. It's also where most of the action and your day's itinerary take place.
You'll want to start the day with something light and filling, given that you're about to indulge on a decadent three days. To begin your adventures, start at Under the Mango Tree, a small boho-style café full of organic juices, smoothies and healthy snacks. Their recently updated location allows diners to sit inside, quite literally under a mango tree, and enjoy fresh acai bowls with pineapple and banana or energizing superfood lattes. My advice? Take yours to-go and walk a few blocks east to enjoy along the ocean.  
The best way to explore South Beach is by bike. There are numerous Citi Bike rental stations located around town where you can use your credit card to reserve bikes for 30 minutes up to a few hours. Cruise up and down the boardwalk, alongside the famed Ocean Drive, known as one of the most photographed streets in the world. It is also home to the world's oldest Art Deco District, where over 800 buildings still bear the exact design and color palate since their construction nearly 100 years ago.
After a few hours of biking and picture taking, it's time for lunch at what I believe will easily be the best sandwich of your life. Seriously. Located just two blocks from the beach, La Sandwicherie is not so much a restaurant as it is a counter, doling out some of the freshest casual fare in the area. I'm partial to their turkey brie on a fresh croissant or their Italian on a baguette, but really, there's something for everyone.
Directly across the street is famed Mac's Club Deuce, the oldest bar in Miami and favorite of celebrities from Kate Moss to Anthony Bourdain. It also once served as a location for an episode of Miami Vice. Whether you're in the mood for a cocktail or not, it's a good photo-op.
The rest of the afternoon can be spent whiling away on the beach or cruising through the residential streets of the neighborhood, especially tree-lined Meridian Avenue. The more adventurous can rent a paddleboard and pair their suntan with a workout at one of the many surf shops in the area.
After some brief R&R, it's time to head out for a sunset cocktail. While The Standard, Miami boasts some of the best water views in town, if you're looking for something more low-key, head to Monty's Sunset, located on the marina of South Beach's SoFi district (South of Fifth). Here you'll enjoy no-frills happy hour specials, a raw bar and live music while rubbing elbows with yachties and locals alike. For the more ambitious, order one of their Painkiller cocktails (available in levels 1-3) and watch the sunset behind the downtown skyline.
For dinner, in keeping with the no-frills theme, it's time to get a taste of Cuban comfort food at Puerta Sagua. Wash down house favorites like braised oxtail and pollo asado with a beer and side of sweet plantains. Then, it's off to bed. You've got a big day tomorrow.
Day two
Today we're starting the day with, what else, more Cuban food. You're in Miami, after all. Breakfast at Versailles Restaurant, famously dubbed "The World's Most Famous Cuban Restaurant," is located in the heart of Miami's Cuban community on Calle Ocho (8th Street). While the menu is extensive, no visit would be complete without a shot of Cuban espresso. Take two and you'll be supercharged for the whole day.
After breakfast, head south to Vizcaya Museum and Garden, a former private estate built in 1910 turned National Historic Landmark and museum. Wander the palatial home and impeccable gardens while learning about the history of old Miami. A few miles south puts you in the heart of Coconut Grove, the oldest continuously inhabited neighborhood in the county, founded in 1873. Now home to students, professionals and families alike, this tree-lined area is filled with gorgeous flora, unique boutiques and expansive views of the Biscayne Bay.
After wandering the streets for a few hours, recharge for lunch at Harry's Pizzeria in the heart of "The Grove." With an ever-evolving menu of daily specials and craft beers, try one of their signature wood-fired pizzas and enjoy people watching from their sidewalk tables.
Depending on your feelings after lunch, you may want to head further south to Fairchild Tropical Botanic Gardens, an 83-acre garden with some of the most diverse collections of rare plants, or head west to the famed Venetian Pool. Located in the heart of Miami's elite Coral Gables community, this historic U.S. public swimming pool, built in 1924, is like nothing you've ever seen before.
As the day comes to a close, this is when Miami really comes alive. For dinner, head back to downtown Miami to a local's favorite, Niu Kitchen. This Catalan-style tapas spot, located amongst high-rises and office buildings, will transport you to Spain with their inventive cuisine. Because the space is on the small side (and quite popular) reservations are recommended.
Post-dinner, it's time to experience some authentic Miami nightlife. Now, while most people automatically assume that means mega-clubs and bottle service on South Beach (which, for some, can be a lot of fun), you're heading back to Calle Ocho. Here, you'll find two spots, Ball and Chain and Hoy Como Ayer, which offer live music, salsa dancing and some of the best Latin flavor in the entire city. Wear comfortable shoes, order a cocktail and get down on the dance floor. More of a spectator? Cozy up in a side booth and watch the old-timers show you how it's done.  
Day three
If you're doing this trip right, chances are you were out late last night. So a slow, lazy morning is in order. When you're ready for some exploring, head over to the Perez Art Museum Miami (PAMM) to view their newest installation and the expansive views of South Beach from Museum Park. Have brunch at Verde before heading next door to the recently opened Phillip and Patricia Frost Museum of Science, which combines a planetarium, aquarium and science museum all in one.
Since you're already on the arts and culture circuit, it's time to head to Miami's real arts district — A.K.A. Wynwood. Known as one of Miami's trendiest, up-and-coming neighborhoods, it's hard to believe that a decade ago this area was nothing more than abandoned warehouses and factories. Now, the neighborhood is defined by vibrant, colorful murals that decorate its walls and the numerous galleries that line the streets.  
The best place to start is Wynwood Walls with its outdoor gallery of international artists and streams of tourists taking photos on every corner. On any given day the entire area is buzzing with activity and galleries are known to leave their doors open to the public for browsing. You could easily spend hours roaming the side streets and feel as though you barely scratched the surface of the district's offerings. Fuel up at Coyo Taco and Panther Coffee or head over to Concrete Beach Brewery to sample a signature craft beer and a free tour of their brewery. With the third day coming to a close, it's time to start planning your next visit to the Magic City.
— Megan Harris