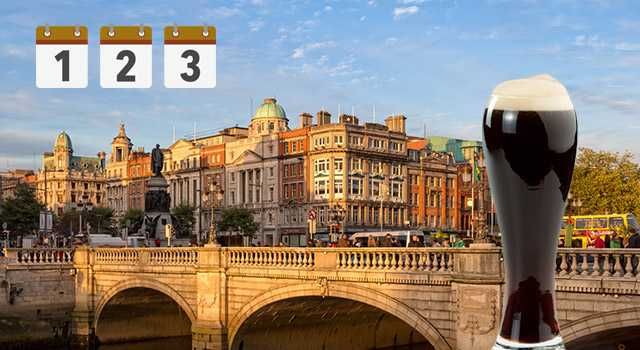 Dublin, Ireland is suffused with people, places and experiences that burrow into your soul. Do you want to explore historic castles, wander through fragrant gardens and enjoy that world famous Irish hospitality? The city on the River Liffey seems to offer something for everyone. Indeed, great shopping, fabulous museums and scenic adventures are never far away when you are visiting Ireland's capital.
Grafton Street
Grafton Street is as good a place to start as any in the fair city of Dublin. It's closed to cars so you can safely stroll past beautiful buildings housing cafes, retail stores and iconic Irish businesses.
You'll never be bored along the main avenue, as the street is renowned for its creative and cultural street performers, which include acrobats, musicians, magicians and much more. You never know what talent awaits you — Bono of U2 fame launched his musical career on Grafton Street.
While you are there, stop in at Bewley's Cafe for a pot of tea and some scones. Once you sample the oriental decor and tasty muffins, buns and rolls, you'll see why this was a popular destination for famous writers like James Joyce.
St. Stephen's Green
Heading south on Grafton Street will bring you to another worthwhile destination, St. Stephen's Green, a 22-acre park with swan-filled lakes, formal gardens and a winding series of pathways that lead to playgrounds, gazebos, a bandstand and numerous memorials. You may want to bring an umbrella, as rain can strike at any moment even on a sunny day. But few cities can boast such a beautiful, relaxing and inviting public square.
At the edge of St. Stephen's Green (nearest Grafton Street), you'll find a fleet of tour buses. These include double deckers (which you can hop-on and hop-off) and amphibious vehicles that provide "Viking Tours" that encompass both land and water.
Hop-on, hop-off tours
One of the great things about Dublin is that it's a city that's effortless to explore on foot. However, tour buses and a first-rate public transportation make it even easier to get around. In particular, the hop-on/hop-off buses can help you pack in as much sightseeing as possible. Amazing destinations, such as Phoenix Park & Dublin Zoo, the Guinness Storehouse, and Dublin Castle are part of the route.
One of my favorites stops, incidentally, is the Kilmainham Goal, the infamous jail that housed political prisoners and notorious criminals alike. In the past, the facility was associated with political repression and gruesome executions. Today, however, it has become something of a memorial and a museum. Indeed, many popular Hollywood movies, like Michael Collins, The Adventures of Young Indiana Jones, and The Wind That Shakes the Barley have been filmed there.
Dublin Castle
Dublin, as you might expect, has quite a history. In fact, the Vikings began building fortresses in the heart of the city more than a thousand years ago. Today, Dublin Castle is a mixture of both ancient and newer structures. The Records Tower, for instance, dates back to the 13th century while the Viceregal Court section was added in the mid-19th century.
Throughout the centuries, Dublin Castle has housed a prison, a military barracks and a royal residence. In addition, it has been the site of many famous events such as the Easter Uprising. Undoubtedly, no shortage of history and interesting human dramas unfolded within and around its walls.
By the way, Trinity College, which contains the famous Book of Kells, and the Chester Beatty Library, which is the home to some of the world's most treasured manuscripts, are both just minutes away by foot.
Temple Bar and Guinness Storehouse
If you've developed a wee bit of thirst along your travels so far, then a quick visit to the Temple Bar, which is also just blocks away from Dublin Castle, might just be in order. There's nothing like a pint of Guinness to quench your dehydration. And if you are curious about why the carbonated bubbles travel downward in your stout, then you might want to add the nearby Guinness Storehouse to your itinerary as well. There, you can take a self-guided tour that will teach you everything you wanted to know about the art of brewing.
St. Michan's Church
One of my most memorable experiences in Dublin included a descent into the ancient catacombs and crypts under St. Michan's Church. The unearthly vaults are home to the mummified remains of a 400-year-old nun and a knight who participated in the Crusades. The experience can be more than a little creepy — your tour guide will not permit you to take photos, but they may allow you to shake hands with a mummy (if you dare).
Powerscourt Estate
If you are in need of a little uplift after your descent into to the underworld, then a visit to the gardens at the Powerscourt Estate, which is just a little over 30 minutes outside of Dublin, may be just the thing.
According to National Geographic, the 47 acres of gardens at Powerscourt are among the most beautiful in the world. Indeed, the park grounds include Ireland's highest waterfall, panoramic views and a wealth of botanical exhibits.
Abbey Theatre
If you are in the mood for a little nightlife and entertainment, then perhaps you'll want to stop by the Abbey Theatre, which has been one of the country's leading cultural centers since the poet W.B. Yeats helped open it in 1904. Located on the River Liffey, it remains one of the most vibrant and acclaimed theaters in the world.
While in Dublin, don't hesitate to ask locals for directions or tourist advice. Put simply, Dubliners tend to be among the world's most gregarious and helpful hosts. There may not be a pot of gold at the end of rainbows and I've yet to spy a real leprechaun while exploring Dublin. Nevertheless, there is a palpable sense of enchantment to be found in this grand but welcoming city.
Finally, as a general rule, I'd allow at least one to two hours for each major destination you choose, though the Dublin Zoo and Powerscourt could easily occupy at least half a day each. In Dublin, you can easily pack a lifetime of memories into 72 hours.
— Scott O'Reilly