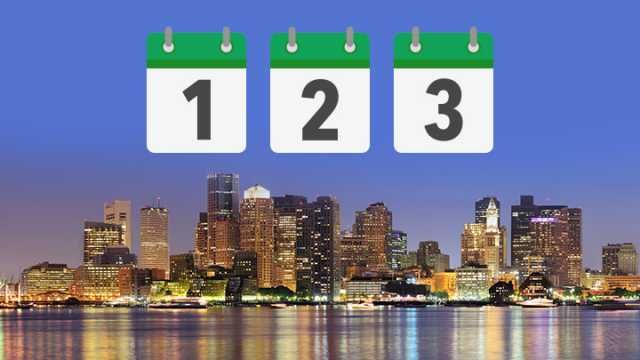 Boston is the birthplace of the American Revolution. As such, it has always been one of the leading historical, cultural and educational centers in the United States. If you are looking to understand America's origins, explore historic settings and experience all that a thriving metropolitan city has to offer, then a trip to the capital of Massachusetts is well worth it. There is so much to enjoy, but if you only have 72 hours, here's what you should put on your list of things to see and do.
The Freedom Trail
Boston was the scene of so many pivotal moments in American history. The Battle of Bunker Hill, the Boston Massacre and the Boston Tea Party all unfolded here. One great way to experience and relive it all is to spend some time on foot exploring the city's famed Freedom Trail.
The famous red-lined route is a little under three miles, but it will take you past more than a dozen museums, meetinghouses, graveyards and other memorable sites. The founding fathers (and mothers) were an amazing group of people. Experiencing the buildings and settings they inhabited can help bring this crucial period in the nation's history to life.
Incidentally, you can take advantage of daily guided tours, MP3 audio tours or you can wander the trail on your own for free.
Faneuil Hall Marketplace
The Faneuil Hall Marketplace is one of Boston's must-see experiences. It is a vibrant historic-commercial venue filled with street performers, boutique and specialty stores, and exceptional dining choices.
In addition to a great shopping experience, Faneuil Hall also offers many free special events and musical performances. It has been both a cultural and commercial center since the first public meetinghouse was built on the site in 1740. Today, it is widely regarded as one of America's most important landmarks and popular tourist destinations.
The New Massachusetts State House
The State House is one of the most impressive public buildings in the country. Constructed in 1798, the golden-domed landmark is where the governor and other elected representatives still meet to conduct the state's business.
According to Clare Donegan, a native Bostonian with a deep knowledge of the city's history and culture, the building is an architectural marvel featuring a spectacular rotunda and it is not to be missed. Guided tours are free, but it is recommended that you book in advance.
Boston Museum of Science
Would you like to experience colossal fossils from the Mesozoic period, explore the exciting world of nanotechnology or pilot an "Apollo Command Capsule" as you simulate a moon landing? If so, then you should put the Boston Museum of Science on your list of things to do and see.
The range of exhibits offered is simply astounding. Butterfly gardens, do-it-yourself engineering labs and a real-life animal care center are just a few of the amazing showcases waiting for your discovery. The museum, which includes a rotating selection of IMAX films, planetarium shows, live presentations and a virtual tour into the Amazon could easily occupy an entire day, so budget your time accordingly.
Boston Harbor Cruises
Boston Harbor is steeped in history and suffused with scenic beauty. The Harbor Islands National Park encompasses the waterways, ports, islands and historic lighthouses that make up this picturesque setting.
What better way to explore this national treasure than via a day or evening cruise. Go whale watching, have lunch aboard a tall ship or visit 16 islands with remnants of forts and other attractions — the choice is yours! There is so much to learn here about the Revolutionary War, wildlife management, or the way conservation efforts helped restore the harbor so that it is now one of the cleanest waterways in the country
National Historical Park
Quincy is just a few minutes outside of Boston. It is the birthplace of John Adams, America's second president, and his son John Quincy Adams, who became America's sixth chief executive.
At the National Historical Park, you can explore 13 acres of the Adam's estate, which provides a glimpse of what life was like in the late 18th and early 19th centuries. While at the park, you can visit the birth homes, estates and the family's stone library by hopping on and off a free vintage trolley service. Enjoying a self-guided tour takes about two to three hours.
The Boston Aquarium
The ocean has been an integral part of Boston's culture and commercial life for centuries. Therefore, it's only natural that the city is home to The New England Aquarium, one of the finest in the world.
Perhaps you are a shark geek and would like to get up close and personal hundreds of shark species. If so, maybe you'll be brave enough to visit the shark and ray touch tank, where you can stroke a variety of these fearsome creatures.
Then again, perhaps you'd like to meet Myrtle, a world-famous green sea turtle in her 80s who has become something of an ambassador to help save her endangered species. Everybody agrees that Myrtle is something special. Indeed, even the sharks appear afraid of her.
From whale watching to meet-and-greet session with harbor seals to hands-on underwater exhibits, The New England Aquarium is the place to visit if you'd like to explore some of life's deepest secrets.
Baseball, beer and the original 'Cheers' bar
For baseball fans, there's Fenway Park, home of the Red Sox. Boston is also famous for great eateries — they don't call the city "Beantown" for nothing — and famous watering holes too. For instance, a lot of people like to visit the original Cheers Bar & Restaurant in Beacon Hill (or its replica in Faneuil Hall). This is the famous Boston pub that inspired the hit TV show, which became one of America's most beloved comedies.
As you might expect, Boston is a place that could take a lifetime to explore. However, if you have just 72 hours, you can still discover a treasure trove of great experiences in the city that has been called "the cradle of democracy" and the "Athens of America."
— Scott O'Reilly