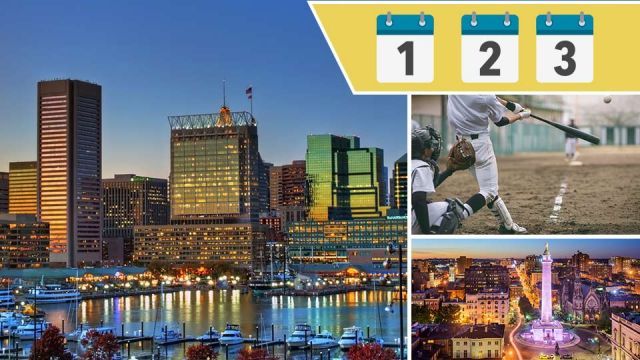 Baltimore is one of the leading tourist destinations on the East Coast. This picturesque port city figured prominently in colonial history and was once one of the largest gateways for immigrants arriving to pursue the American dream.
Today, millions of visitors arrive every year to experience the majestic inner harbor, national landmarks like Mount Vernon, and cultural centers like the George Peabody Library (considered one the most beautiful in the world) at John Hopkins University. If you had only 72 hours to visit this famed municipal area, then here is a list of attractions to put on your agenda.
Day one
The Inner Harbor
Baltimore's Inner Harbor is a tourist-friendly plaza filled with historic ships, museums, entertainment venues and fine dining. This destination is a great place to begin your Baltimore experience because it is jam-packed with great attractions, many of which are located within walking distance.
For example, have you ever wanted to explore a vintage WWII submarine or climb aboard a Civil War era frigate? If so, the USS Torsk and the USS Constellation are now floating museums managed by Historic Ships in Baltimore. These and other historic vessels are open daily for self-guided tours, though you can also find helpful maritime experts dressed in period garb on board who'll answer specific questions you may have.
If you'd like to experience Baltimore's skyline at its most romantic and spectacular, however, then perhaps an inner harbor cruise is for you. There are are a variety of water taxis and even self-propelled paddle boat options, but if you'd like to relax in style, then maybe a Spirit Cruises tour is your best bet.
Popular waterway routes will take you past Federal Hill, Fort McHenry, the Francis Scott Key Bridge and numerous other landmarks. It's a great way to catch stunning views while absorbing the region's history.
The National Aquarium
The National Aquarium in Baltimore is consistently ranked as one of the best aquatic centers in the country. In addition to leading efforts to clean up the Chesapeake Bay, the facility is renowned for creating a new model for a seaside sanctuary habitat where bottlenose dolphins can thrive under human care. From dolphin sleepovers to behind the scenes shark tours to guest diver programs, there is a wealth of great underwater experiences awaiting you at this world class aquarium.
Fort McHenry National Park
Fort McHenry occupies a very special place in American history. It was the target of an unsuccessful British attack in the war of 1812 and the place where Francis Scott Key was inspired to write the Star Spangled Banner.
Today, visitors can tour the fortifications — which were also actively manned by the military during the Civil War, WWI, and WWII. Visitors can also explore historical exhibitions, including one that displays the flag that flew over the fort during the historic Battle of Baltimore, and experience period re-enactments. By the way, the fort is just minutes away by car from the inner harbor and not to to be missed if you enjoy national parks and American history.
Day two
The Walters Art Gallery
Chances are you've already seen some of the Walters Art Gallery exhibits on the World Wide Web. That's because the museum has made images of its popular exhibitions available to Wikipedia and other creative commons projects.
In keeping with its mission as a public-spirited institution, admission to the Water Art Gallery is entirely free. Its collection of masterworks include sculptures from ancient Greece, sarcophagi from Egypt, Renaissance paintings and treasures from across the globe. If you are looking to experience some of the finest and most awe-inspiring art humanity has ever produced, then make sure you put this gallery on your list of destinations.
Mount Vernon
Mount Vernon, the home of America's first president, George Washington, is just an hour south of Baltimore by car. As it happens, the country's first chief executive was also quite a farmer. As a result, his estate offers a fascinating glimpse into the early pioneering life and colonial era agricultural practices. His extensive plantation includes historic mansions, stately gardens and even the Mount Vernon Inn and Restaurant, which is open daily for lunch and dinner.
Day three
The George Peabody Library
The George Peabody Library is considered "first major intellectual and arts center in an American city." It is located at Johns Hopkins University, which is about 30 minutes outside of Baltimore. The library houses 300,000 volumes and the interior building can only be described as breathtaking.
The Maryland Zoo
The Maryland Zoo in Baltimore consistently ranks as one of America's best zoos. It is also one America's oldest wildlife parks. Would you like to "meet and greet" endangered penguins, see short tailed bats up close or learn how to help polar bears threatened by global warming?
No doubt, some people are troubled by the very idea of zoos, but this institution is recognized for putting conservation and animal rehabilitation at the top of their agenda. Housing more than 2,000 species of wildlife, this is a place that is sure to inspire your love of animals.
Whatever your interests, you'll find it in Baltimore
There's plenty of other great stuff to do in see in Baltimore. Sports fans may want to visit Oriole Park at Camden Yards, where they can enjoy a baseball game and a great view of the city's famous skyline.
Those with a literary bent, however, may opt to visit Edgar Allen Poe's gravesite and memorial. While the Port Discovery Children's Museum is a great place for young people to learn through interactive exhibits that emphasize education through play. Whatever your interests, you are sure to find attractions that inspire your imagination in Baltimore.
— Scott O'Reilly