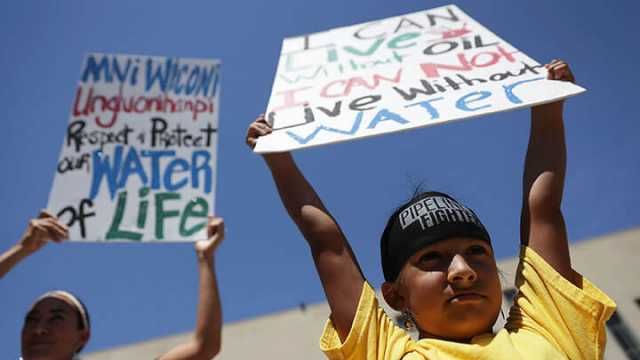 How are you spending Cyber Monday? While we're shopping for the best deals on holiday gifts after Thanksgiving, it's easy to forget that there's an ongoing fight for indigenous rights currently taking place on our own soil. Right now there are thousands of peaceful protesters — the majority Native Americans — at the Standing Rock Sioux Reservation in North Dakota. They're fighting to protect their clean water and sacred sites. And with the cold season fast approaching, they'll need support and supplies to get through winter.
What's happening at Standing Rock?
If you haven't been following the news about Standing Rock, here's a quick rundown:
Energy Transfer Partners is almost finished constructing the $3.7 billion Dakota Access Pipeline. The pipeline is being built to carry crude oil more than 1,000 miles from North Dakota to Illinois. Once completed, it will shuttle 470,000 barrels of crude oil per day. Proponents of the pipeline believe it will reduce dependence on rail and truck transportation and support national energy independence.
Here's the problem: it must be built beneath the Missouri River, just upstream of the Standing Rock Sioux Tribe's supply of clean and safe drinking water. If completed, the pipeline would also pass through tribal land, including sensitive natural areas and burial sites. In legal documents, the tribe says the pipeline "threatens the tribe's environmental and economic well-being, and would damage and destroy sites of great historic, religious and cultural significance."
In the event of an oil leak, the area would be devastated, much like the 2015 spill of 50,000 gallons of Bakken crude oil into the Yellowstone River in Montana, or the 2010 pipeline spill of 1,000,000 gallons of oil into the Kalamazoo River in Michigan.
As a result, the Oceti Sakowin Camp has been formed at the construction site. It's a historic gathering of tribes — the first of its kind since the Battle at the Little Bighorn in 1876. As part of camp etiquette, the protesters must "come in peaceful and prayerful manner," keep the camp tidy and "respect mother earth" in doing so.
Why should you care?
It's a peaceful protest, and yet, law enforcement personnel are using rubber bullets, tear gas, compression grenades, a high-pitched sound generator and water cannons in freezing temperatures to disperse the crowds. On November 20, hundreds were injured. To date, more than 400 protesters have been arrested.
The water protectors now also face eviction, presumably so construction can continue. The day after Thanksgiving, The U.S. Army Corps of Engineers sent an eviction notice to go into effect on December 5, citing concerns for federal safety:
"The Army Corps of Engineers is seeking a peaceful and orderly transition to a safer location, and has no plans for forcible removal. But those who choose to stay do so at their own risk as emergency, fire, medical, and law enforcement response cannot be adequately provided in these areas. Those who remain will be considered unauthorized and may be subject to citation under federal, state or local laws."
Despite this notice, protesters intend to stay.
More support on the way
The events at Standing Rock have prompted worldwide support, including a statement from the U.N. urging the U.S. government to take action, international protests and a vast social media movement. Even The Dave Matthews Band hosted the "Stand With Standing Rock" event a few blocks from the White House during Thanksgiving weekend. Neil Young, who recently visited the protest site, also sent a plea to President Obama to intervene.
In addition, there are at least 2,000 U.S. military veterans "self-deploying" to Standing Rock on December 4 — the day before the eviction. The group, Veterans For Standing Rock, will stand beside the water protectors peacefully and unarmed.
So how can you help? Aside from actually showing up in Cannon Ball, North Dakota, there are plenty of ways that you can show your support from afar.
1. Get informed
It's difficult to find headlining information about the Dakota Access Pipeline on major news sources like CNN, NBC News and Fox News, but it's out there. Get news and updates directly from the Standing Rock Sioux Tribe on their Facebook page or the Stand With Standing Rock website. Here is a list of allies to follow as well:
2. Educate others
With the power of social media at our disposal, there's never been a better time to raise your voice about the issues you care about. Follow news stories and repost them to get the conversation going. Send messages @POTUS or @BarackObama using Facebook, Twitter and Instagram. Use these popular tags to show your support and reach others:
3. Join a local credit union
There's a #BankExit movement spreading on social media. It's urging people to close out their accounts at the 17 corporate banks that invested in the Dakota Access Pipeline project, including Bank of America, Wells Fargo, Chase and Citibank. Participants are moving their money to local credit unions to support their local community and get lower rates and fees. When you're done divesting your funds, you can sign this petition along with 102,000 others.
4. Sign multiple petitions
Join 372,248 others and sign a petition for President Obama to halt construction of the Dakota Access Pipeline permanently. When you sign up you'll receive news and updates via email. You can also sign this Change.org petition going to the U.S. Army Corps of Engineers, which has nearly 500,000 signatures. There's also a petition directed at the White House, which has gathered more than 370,000 signatures so far. 
5. Send supplies
The winter season in North Dakota can be especially brutal. With thousands of water protectors now gearing up for winter, they'll need lots of supplies to get through below-freezing temperatures.
There are at least three Amazon "wish lists" requesting resources like propane, sleeping bags, tents, splitting axes, socks and electronic equipment. You can also send protective gear like respirators, coveralls and body armor.
The Sacred Stone Camp has a list of needed supplies on its website, which includes firewood, snow tires, gas cards and even a pickup truck. The Oceti Sakowin Camp also has a list of supplies on its website, including yurts, blankets, gloves and bulk food supplies.
6. Donate
You can donate to the Sacred Stone Camp's GoFundMe page, which has raised more than $2.6 million over the last seven months. Perhaps you can also donate to the Sacred Stone Legal Defense Fund through FundRazr, as more and more protesters may need legal assistance. You can also donate to the group of veterans heading to Standing Rock on December 4, called the Veterans For Standing Rock. Make sure to follow their journey on Facebook and share updates.
7. Make a call (or two)
This one may seem a bit old-school, but there's no reason it shouldn't be included on this list. If you'd like to voice your opposition, here's a list of numbers to call. Remember: be professional.
Contact North Dakota Governor Jack Dalrymple at 701-328-2200

Reach out to the White House at 202-456-1111 or 202-456-1414

Call the U.S. Army Corps Of Engineers at 202-761-5903

Call Energy Transfer Partners (the company building the pipeline) at 210-403-6455 or 210-403-6762.
8. Volunteer your services
With more and more protesters gathering every day, now may be the time to donate your services. Are you savvy with the legal system? Handy with a camera? Expert at taking drone footage? Email sacredstonecamp@gmail.com or call 701-301-2238 to see how you can help.
9. Organize an event
So far, protests have sprung up in San Francisco, Phoenix, Philadelphia and more. Senator Bernie Sanders even organized an event outside of the White House. If you're in a position to do so, why not organize an event in your own area?
A new movement has popped up on actionnetwork.org called the "Global Month Of Action." The group is asking the public to join in solidarity and take action every day of December. This includes creating events, closing out accounts at banks, contacting police departments in North Dakota and more.
10. Support renewable energy
This is a long-term strategy, but a vital one at that. By reducing your reliance on crude oil and supporting the renewable energy industry, you're sending a clear message about where the market is going.
Use government rebates to buy eco-friendly appliances. Buy hybrid or electric vehicles. Reduce your carbon footprint by biking and walking around your neighborhood. Install solar panels on your home. Cut your energy consumption. Buy products from companies committed to sustainability. The list goes on and on. We can help the Standing Rock protesters today while also thinking about tomorrow.
As the Standing Rock story keeps heating up, it's important to stay informed on what's happening. Luckily, we can all help — all it takes is the click of a button, a share or a signature. In the spirit of #GivingTuesday, let's go on and truly make a difference.
— The Alternative Daily