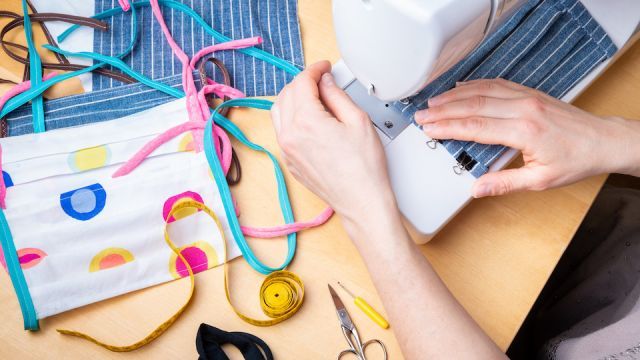 Recently, the CDC announced that they now know a significant portion of the population with coronavirus show no signs of illness. And even those who develop symptoms may transmit the virus before showing any symptoms. As a result, the CDC recommends wearing homemade masks in public areas where social distancing could be difficult, like grocery and drug stores. To do this, you'll need to know how to make a mask that will adequately cover and protect your face. Here are the materials and instructions you'll need to make your own masks properly.  
Wearing a mask is a good idea       
Since the start of this global coronavirus pandemic, Americans not working in the healthcare industry have been told by the Centers for Disease Control and Prevention (CDC) not to wear masks, unless of course, they are sick or caring for someone unable to wear a mask. However, now their direction has changed. 
Purchasing surgical masks or N95 respirators is not an option since healthcare workers are facing shortages and are in need of those masks to treat patients. The only option is to make your own mask that covers your mouth and nose.  
Wearing a mask outside, even if you don't feel sick, is a good idea. Here's why. If you cough or sneeze, your mask can stop respiratory droplets from landing on people or surfaces, suggests Dr. Daniel Griffin, an expert on infectious diseases at Columbia University. On the other hand, if someone sneezes while wearing a mask, it protects you. Masks, when worn properly, will benefit everyone.
Best material for protection
Froedtert Medical College of Wisconsin recommends making masks from tightly woven cotton fabrics. The fabric should have a high thread count and no stretch what-so-ever. Recommended fabrics include:
Poplin

Shirting

Sateen

100 percent percale cotton

High thread count sheets and pillowcases
A simple way to see if your fabric will work is to fold it into two layers. There should not be any transparency but you should still be able to breathe when you hold it over your mouth.
Homemade mask with elastic
These instructions allow you to make your own face coverings and masks at home. The following instructions provided by the CDC show how easily you can make your own mask.
Materials required:
Two 10 inches by 6 inches tightly woven rectangles of cotton fabric

Two pieces of sewing elastic (6-inch pieces by 1/8 inch). You can also use hair bands, rubber bands, or even butcher twine.

Needle or bobby pin

Scissors

Sewing machine
Instructions:
Wash and dry all fabric without fragrance or colorants before sewing.

Cut out two rectangular pieces of fabric (10-by-6-inches). Now, lay the two rectangles on top of each other to create a single piece of fabric.

Fold a quarter-inch hem on each side of the longer ends, and stitch.

Fold over the shorter ends half an inch, and sew, leaving enough room to pass a piece of elastic through.

Take your elastic and track a 6-inch length through the wider edge on each side of the mask. These will loop around your ears. Use a needle or bobby pin to push it through. Tie the ends together tightly.
How to make a non-sew face covering
The Centers for Disease Control and Prevention (CDC) recommends not placing cloth face coverings on young children under the age of two. Additionally, face coverings should not be used on anyone who is unconscious, injured, or has trouble breathing and cannot remove the mask without assistance.
Materials:
Bandana, or alternatively, use a square cotton cloth approximately 20 inches by 20 inches

1 paper coffee filter

2 rubber bands or hair ties

Scissors if you are cutting your own cloth
Instructions:
Lay coffee filter down, with the bottom of the cone towards you. Now cut horizontally across the middle, saving the top piece and discarding the bottom piece.

Lay your bandana or cloth flat and fold in half towards you.

Place the coffee filter in the center of the folded bandana.

Fold the top down over the filter and the bottom up.

Place rubber bands or hair ties around each end about six inches apart.

Fold the sides inwards and tuck.

To wear, place over your mouth and nose and place elastic over the ears to hold into place.
Care and use of face coverings
The CDC recommends washing face masks routinely in a washing machine, depending on the frequency of use.

Be careful not to touch your eyes, nose, and mouth when removing your face covering. Additionally, wash your hands immediately after removing.
Please note, although wearing a face covering is not mandatory at this time, it is recommended. Additionally, understand that by wearing a homemade mask, you are not fully protecting yourself. You must still follow social distancing guidelines.
-Katherine Marko