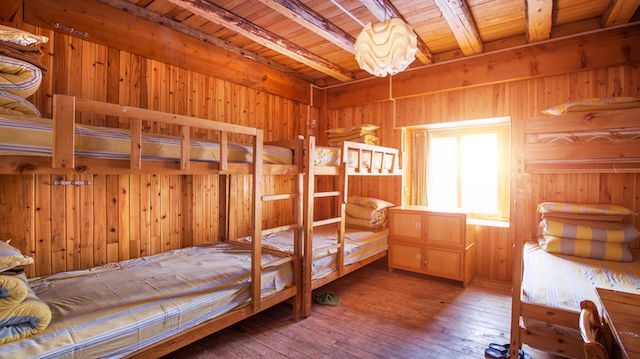 Hostels, those low-budget stays popular with the international "gap year" traveler and backpacking crowd, suffer a range of misconceptions — most based on second-hand impressions with little connection to reality.
Hostels are as varied as the people who frequent them. If you want to see the world on a limited budget, they can be a great option. Here are the worst, and best, of hostel myths debunked. 
Hostels are the most cost-effective option 
First things first: Hostels are not always the least expensive option for travelers. Most hostels charge by the person, which means that four people pay four bed fees. Often those same four people would pay less to share a hotel room with two double beds.
Solo travelers may find that a bunk is more affordable than a private room at a hotel, but even that is not always the case. Inexpensive hotels in less trendy parts of town can be a better bargain than newly renovated hostels with groovy vibes and plush common areas located in the center of the action. It is always best to compare instead of heading straight for a hostel on the presumption that a bunk there will be cheapest.
Hostels skimp on amenities 
Amenity-poor hostels are few and far between. Hostels have to offer something more than a fair price tag to attract Internet-savvy travelers, especially in backpacker-heavy areas. 
The vast majority of hostels, for instance, have free wifi, something that upscale hotels somehow get away with not providing. A common area and kitchen use are typically standard, though the quality of these spaces fluctuates wildly. More upscale amenities are also a possibility: pools, hot tubs, tree houses, music rooms and beer gardens can be found at some hostels. 
Hostels are for the young 
There was a time when no one uttered the word hostel without first mentioning youth, as in "youth hostel." These days are gone. While there are still some hostels that operate with an age limit, most recognize that budget travelers come from all walks of life and are happy to accommodate this shift in demographics. 
Hostel clientele today ranges from the 19-year-old gap-year student to the 70-year-old retiree on the adventure of a lifetime. You'll also find the 30-year-old solo travelers on vacation from their corporate jobs who use the social hostel atmosphere to find vacation buddies. 
Hostels are dirty
You can find a dirty hostel. You can also find a dirty hotel. Depending upon the price and location of your accommodation choice, you may be more or less likely to run across the occasional rodent or bed bug infestation. It pays to take a look at whatever space you plan to sleep in before committing.
Many hostel mattresses are covered in plastic lining, making them easy to clean and sanitize. Guests are given fresh sheets to use when checking into a hostel. In contrast, discount hotel staff may or may not clean the rooms to your personal satisfaction between guests.
Hostels are dangerous — both to you and to your things
Any place has the potential for danger, and travelers are particularly vulnerable as they explore new places without the usual network of friends and family. Hostels are not inherently more dangerous than any other place you frequent.
Maintain good common sense, stay aware of your surroundings and always trust your instincts. You wouldn't leave your laptop in a hotel lobby while you explored the city, so don't leave it on your bed in a public dormitory either. Hostels typically provide lockers where valuables can be kept safe. 
Hostels only offer dormitory options
Interested in the social aspects of hostel living, but not quite sold on the shared accommodation requirements? Many hostels offer private rooms. Guests pay more but can have the best of both worlds with friendly hostel living and the perk of privacy. 
Dorms also come in all shapes and sizes. Some are co-ed, but others are reserved exclusively for either boys or girls. Some rooms have only four beds. Some can have as many as twenty. City views, ocean view — the variety is astounding. Take a quick look before claiming your bed.
So, now that you know the truth behind these hostel myths it's time to put on your backpack and travel!
—Erin Wildermuth
Erin is a freelance writer, photographer and filmmaker. She is passionate about moving beyond party politics to identify pragmatic solutions to social, economic and political problems. Her writing has appeared in the Washington Times, the American Spectator, Doublethink and Scuba Diver Magazine. She spends her free time scuba diving, snowboarding and ravenously reading popular nonfiction. Erin holds a master's degree in International Political Economy from the London School of Economics.