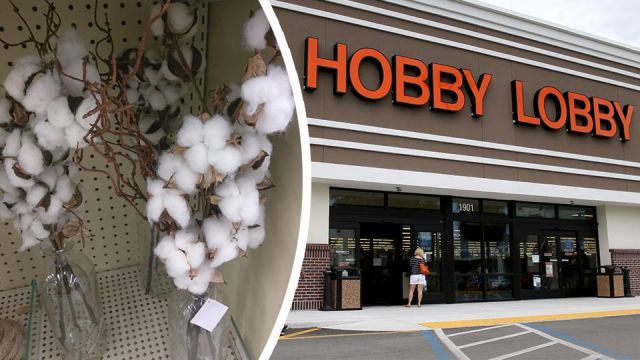 A post of a raw cotton plant at the Hobby Lobby store has gone viral, after Facebook user Daniell Rider deemed the decor racist and called for it to be removed. Her post on Facebook has more than 20,000 shares and 94,000 reactions so far.
Check it out for yourself:
Since Rider's post went viral, internet users have sent mixed responses. She is being ridiculed for being "too sensitive" by many. As seen on her Facebook post, she currently has 54,000 "laugh" reactions, compared to 21,000 "like" reactions. Some are saying that Rider is being naive, while others are demanding a boycott of Hobby Lobby.  
So now Hobby Lobby is under fire for selling fake cotton bc it's considered racist, but people wear cotton every. Single. Day……..

— Kirst (@kkvanilla) September 19, 2017
Someone went on Facebook complaining that Hobby Lobby's raw cotton display was offensive to black people and picked by slaves in 2017. pic.twitter.com/r1shmk11kj

— Patty Politics (@youngblackcon) September 17, 2017
I posted something similar to this article on IG. https://t.co/IcWfZr7tUB #Pinterest  #boycotthobbylobby  #offensive #insensitive pic.twitter.com/jinTQY4wSR

— Roxiex7 (@DatPrettyRed) September 19, 2017
No matter what you think of this situation, this post has certainly gotten a lot of people talking.
Other store items create controversy
There have been other situations where merchandise sold in department stores has been deemed offensive. Most notably, last February, a Walking Dead t-shirt was pulled after lots of complaints about a particular phrase it had on it, which was thought to be too similar to an old derogatory racial phrase. Fans said they knew what it meant (no spoilers here) and that it wasn't racist at all, but for some that weren't familiar with the show, it could be seen as insulting.
#Primark removes #WalkingDead t-shirt from its stores after it was branded "fantastically offensive" and "racist".https://t.co/anuuCeQlZd pic.twitter.com/9PiJsJLp3A

— Warwick Courier (@Warwick_Courier) February 22, 2017
What do you think of the Hobby Lobby situation? What are your thoughts on store items that have created controversy?
— Peter Amirata