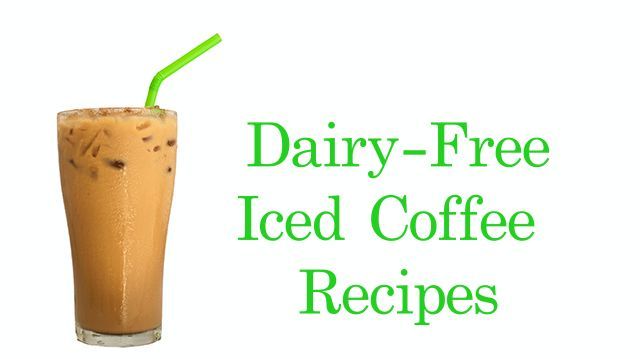 Are you following a dairy-free diet? Maybe you're lactose intolerant, can't digest casein, or are following a Paleo regime. It's pretty common to be avoiding milk these days.
Unfortunately if you're seeking a dairy-free coffee drink at your favorite café, you're more likely to be presented with options such as soy or rice milk, which we all know may not be the healthiest choice. Even almond milk often has unsavory additives and preservatives.
We've put together a collection of frappuccinos, iced coffees and espresso treats that are just as tasty as they are healthy. You don't have to miss out because of your dietary restrictions!
Although you might not be able to buy these delicious mixes at Starbucks, they are sure easy to whip up at home. Try inviting your favorite folks over for an iced treat at your place instead! You'll save money and prevent falling off the wagon with your health and nutrition goals.
How to make your own healthy non-dairy milk
First things first, let's learn how to make the healthy almond and coconut milk you will be using in these iced coffee recipes. You might be able to buy good organic non-dairy milks from health food stores, but if you can't find any, it's easy to make your own.
Here's how to make your own fresh and delicious homemade almond milk, completely free of additives, thickeners or preservatives. You can sweeten or flavor it to taste, but you will still know exactly what you added and how much! Makes about 2 cups.
| | | |
| --- | --- | --- |
| | | Here's how to make your own fresh and delicious homemade almond milk, completely free of additives, thickeners or preservatives. You can sweeten or flavor it to taste, but you will still know exactly what you added and how much! Makes about 2 cups. |
1

cup

raw almonds, preferably organic

2

cups

water, plus more for soaking

Sweeteners like honey, coconut sugar, or maple syrup, to taste, optional
Bowls

Strainer

Measuring cup

Blender or food processor

Fine-mesh nut bag or cheesecloth
Place the almonds in a bowl and cover with about an inch of water. They will plump as they absorb water. Let stand, uncovered, overnight or up to 2 days. The longer the almonds soak, the creamier the almond milk.

Drain the almonds from their soaking water and rinse them thoroughly under cool running water. At this point, the almonds should feel a little squishy if you pinch them.

Place the almonds in a blender and cover with 2 cups of water.

Pulse the blender a few times to break up the almonds, then blend continuously for two minutes. The almonds should be broken down into a very fine meal and the water should be white and opaque. (If using a food processor, process for 4 minutes total, pausing to scrape down the sides halfway through.)

Strain the almonds. Line the strainer with either the opened nut bag or cheesecloth, and place over a measuring cup. Pour the almond mixture into the strainer.

Gather the nut bag or cheesecloth around the almond meal and twist. Squeeze and press with clean hands to extract as much almond milk as possible. You should get about 2 cups. (See recipe note for what to do with the leftover almond meal.)

Taste the almond milk, and if a sweeter drink is desired, add sweetener to taste.

Store the almond milk in sealed containers in the fridge for up to two days.
The leftover almond meal can be added to oatmeal, smoothies, and muffins as it is. You can also spread it out on a baking sheet and bake it in a low oven until completely dry (2–3 hours). Dry almond meal can be kept frozen for several months and used in baked goods.
Making your own coconut milk is a great idea since it will not be tainted by BPA plastic residue from cans!
| | | |
| --- | --- | --- |
| | | Making your own coconut milk is a great idea since it will not be tainted by BPA plastic residue from cans! |
4

cups

of water

1.5-2

cups

of unsweetened shredded coconut
Heat water, but don't boil. It should be hot, but not scalding.

Put coconut in blender or Vitamix and add water. (If all water won't fit, you can add the water in two batches.)

Blend on high for several minutes until thick and creamy.

Pour through a mesh colander first to get most of the coconut out, and then squeeze through a towel or several layers of cheesecloth to get remaining pieces of coconut out.

If you have to split the water, put all the coconut that you strained out back in the blender, add the remaining water, and repeat.

Flavor options — add in after all coconut has been strained out: 1/2 teaspoon vanilla extract, 1/2 cup fresh or frozen strawberries, 2 teaspoon cocoa powder, 1/2 teaspoon vanilla.
Drink immediately or store in the fridge, and use in 3–4 days for best flavor and texture. Since there are no preservatives or fillers, the "cream" of the coconut milk may separate on the top if stored in the fridge. Just shake or stir before using.
Now that we have our own homemade dairy-free milks, we can get started on some delicious iced coffee recipes.
Organic Vanilla Iced Latte with Coconut Cream
This recipe uses pureed coconut for an extra-creamy milk-free way to enjoy your coffee. You can make coconut puree by simply pulsing desiccated coconut in a blender until it becomes creamy. The only complication is that you can't simply mix this "cream" into your coffee; you must use a blender to emulsify the coffee and coconut butter together. Makes 2 servings.
8

oz

organic brewed coffee OR 3 shots (4 oz) espresso plus 1/2 cup (4 oz) cold water

1/4

tsp

pure vanilla extract

2

tsp

coconut puree/coconut butter (you can make this yourself, or buy it ready-made)

2

pitted dates

Regular ice cubes or coffee-ice cubes
Place all ingredients in a high-speed blender (such as a Vitamix) and process for one full minute, until smooth, creamy and frothy.

Pour your coffee in a glass, add ice cubes and transfer to the freezer for 5 minutes. Drink cold.
This recipe uses almond milk, and the making of the milk is included in the instructions. If you already have almond milk made, you're ready to go!
150

g

raw organic almonds

4

fresh dates, pits removed

2

ripe bananas

1

tbsp

instant coffee

1

tbsp

raw honey

1

tsp

vanilla extract

4

cups

ice
Place almonds in a bowl and cover with water. Set aside to soak for 2 hours. Drain and discard water.

Place almonds, 2 cups water and dates in a blender. Blend until smooth. Strain through a fine sieve, discarding solids.

Return almond milk and remaining ingredients to blender. Blend until smooth. Pour into serving glasses. Serve immediately.
Sea Salt Cream Iced Coffee
This is a recipe for those who love salted treats like chocolate-dipped pretzels, or salted caramel ice-cream.
1

cup (240ml)

heavy coconut cream

1/2

tsp

sea salt or pink Himalayan salt

(finely ground)

6-8

tbsp (75–100g)

coconut sugar, or to taste
Whip the cream until slightly thickened and no large bubbles remain in the cream (don't whip it all the way to the soft peak stage). Stir in the salt and set aside.

Sweeten the cooled coffee to taste using either sugar or simple syrup. It should be just sweet enough to balance the saltiness of the cream.

Pour the coffee into glasses over ice and spoon a couple large spoonfuls of the salted cream on top. Stir and serve.
This is a deliciously spiced alternative to your regular iced coffee. If you can't find whole cardamom pods, use the powdered version instead.
4

cups

double-strength brewed coffee

2

cups

full-fat coconut milk

3

tbsp

honey or coconut sugar (add more to taste)

3

cardamom pods (or 1/4 tsp ground cardamom)

1/4

tsp

almond extract

ice
The first step is to smash the cardamom pods to release their flavor and aroma. You can do this with your mortar and pestle — just gently tap the pods until the outer shell is cracked. If you don't have a mortar and pestle, place the pods on a cutting board and with a heavy chef's knife, use the bottom of the handle to smash the pod.

In a saucepan over medium heat, bring half-and-half or cream, sugar and cardamom pods to a simmer, turn off the heat and allow to steep for 15 minutes.

Remove the cardamom pods then add the almond extract.

Fill 4 tall glasses to the brim with ice. Divide the flavored half-and-half or cream between each of the 4 glasses. Then slowly pour the coffee into each glass.
Coconut Mocha Frappuccino
Here we have a truly delectable treat with a layer of chocolate fudge, a shot of caffeine, a healthy glug of coconut milk, a blob of coconut whipped cream, freshly toasted coconut and a chocolate fudge drizzle. Makes 1 serving.
5

oz

brewed coffee, cold

1/2

cup

coconut milk

3

tbsp

high quality chocolate syrup, or melted dark chocolate

1

tsp

vanilla extract

1

tsp

coconut sugar

2

tbsp

toasted coconut

1

can

COLD full-fat coconut milk

2

tbsp

coconut sugar
Brew coffee and let cool — this can work with leftover morning coffee, or you can make some at night and once it cools, put it in the fridge overnight.

In the bowl of your electric mixer (or using a bowl and an electric hand mixer), add cold coconut milk and sugar. Beat until peaks form and you have the consistency of whipped cream — takes about 6 minutes.

Fill the bottom of your glass with 1–2 tablespoons of chocolate syrup, then add ice cubes. Pour in coffee, then coconut milk, then vanilla, then sugar, and mix well with a spoon. Add in some toasted coconut if you wish.

Add 1–2 tablespoons of whipped coconut cream on top and another tablespoon or 2 of chocolate syrup. Drink up!
Enjoy these delicious dairy-free coffee treats this summer!
—The Alternative Daily
When shopping for sea salt, look for an unrefined sea salt. Unrefined sea salt retains all the natural minerals your body needs. The only sea salt we use in our kitchen is from Ava Jane's Kitchen. Learn more and receive a special offer today!
Sources:
http://www.foodily.com/s/iced-coffee-no-milk
http://whiteonricecouple.com/recipes/sea-salt-iced-coffee
http://wellnessmama.com/2447/homemade-coconut-milk
http://steamykitchen.com/16139-thai-iced-coffee-recipe.html
http://www.thekitchn.com/how-to-make-almond-milk-at-home-cooking-lessons-from-the-kitchn-189996
http://www.howsweeteats.com/2011/07/homemade-mocha-coconut-iced-coffees
http://www.taste.com.au/recipes/35554/almond+iced+coffee
http://www.krystaslifeinfood.com/2012/06/perfect-vanilla-iced-coffee-dairy-free.html
http://www.cleancuisineandmore.com/iced-coffee-recipe
http://www.endofthreefitness.com/paleo-mocha-frappuccino