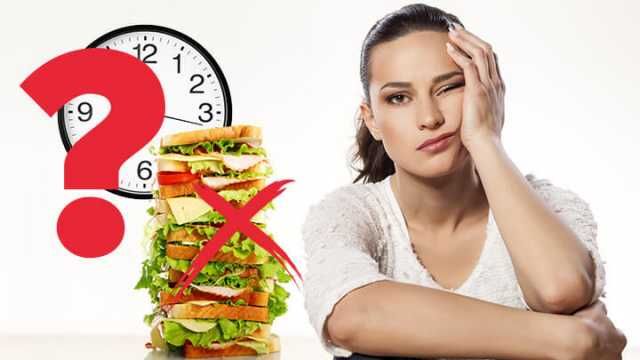 I first heard about intermittent fasting back in grad school, when a fellow student and rugby player told me that it was the key to his six-pack and muscular physique. I admired his fortitude, but brushed it off as just as health fad. Turns out, according to research, he might have been onto something. If you're trying to lose weight or your fitness efforts have plateaued, here are a few reasons to give intermittent fasting a try.
What is intermittent fasting?
We've all heard that skipping meals is the fastest way to slow your weight loss progress. But, what if I told you it could actually speed up your metabolism and burn stubborn body fat? Intermittent fasting (also referred to as "IF") is the practice of only eating your caloric requirements during certain times of the day or week. The rest of the time, you fast.
Intermittent fasting enthusiasts are reluctant to call it a diet — it's more like a lifestyle. Here are a few examples of how people put it into practice:
Eat Stop Eat:

Fast for 24-hours one day a week.

LeanGains:

Eat all meals during a specific window of time, like noon to 8 p.m.

Warrior Diet:

Eat just one meal a day, typically dinner, with total needed calories.

Alternate Day Fasting:

Alternate between fasting every other day.

Limiting Calories:

Limit calorie intake, like down to 500, for one or two days a week.
These are all variations on the same idea, and they are not to be used at the same time. Since some plans are more extreme than others, make sure to find one that works for you and your schedule. If you need some motivation to give intermittent fasting a try, here are some of the scientifically-backed benefits to know about:
1. Intermittent fasting can promote weight loss
In one study, researchers found that intermittent fasting was an effective tool for weight loss in obese individuals. They had participants alternate between eating normally for 24 hours and fasting (or partially fasting) for 24 hours. After three weeks, participants lost four to eight percent of their body fat. After 12 weeks, participants lost 11 to 16 percent body fat. Researchers also noted that intermittent fasting may be more effective at retaining lean mass during weight loss than traditional calorie restriction. Another study recorded similar findings for obese individuals.
There's quite a bit of anecdotal evidence on intermittent fasting and weight loss as well. From fitness forums to YouTube videos, you'll find plenty of success stories to inspire you.
2. It can reduce your risk of diabetes
One study found that alternate-day fasting in nonobese individuals led to lowered insulin production. In addition to burning fat, a lower level of insulin means that there is less risk for insulin resistance. And we all know what that means: less risk for diabetes! Interestingly, researchers noted that hunger levels on fasting days did not subside during the study, meaning that it may be difficult for some individuals to keep up the schedule up for the long haul.
3. It can reduce oxidative stress
Oxidative stress occurs when free radicals interact with our body's all-important molecules, like protein or DNA. When free radicals damage them, it can pave the way for numerous dangerous diseases, including cancer and heart disease. The good news is, one study found that alternate day fasting increased markers of good health, lowered inflammation and reduced oxidative stress in a group of adults over the course of eight weeks. The practice of intermittent fasting also increased antioxidants in the body. Now there's something we all need more of!
Other health benefits shown in rats
While the studies on humans are the most promising, researchers have also learned loads from studies on rats. Some of the most promising results of intermittent fasting include:
Increased lifespan

Reduced inflammation

Reduced risk of Alzheimer's disease

Protection against

diabetic kidney damage
What to eat in-between intermittent fasting
Here's an important point to drive home: Just because you're fasting, it doesn't mean you should indulge in junk food on your non-fasting days or hours. In fact, eating processed foods can hamper your weight loss! Fake sugars, preservatives and chemicals will interrupt your body's natural digestion process, which is all the more reason to eat "clean." For example, when you cut out processed sugar, your body will learn how to rely on another source of fuel — fat!
Whole, fresh foods with a variety of nutrients will set you up for success. In-between meals, make sure to drink plenty of lemon water, along with coffee or tea as needed. Try to eat as many of these foods as possible to get your body on the right track:
Nuts:

cashews, almonds,

walnuts

, pistachios  

Eggs:

always source an organic,

antibiotic-free varieties

Fruits:

bananas, apples,

oranges

, pineapple, avocados, lemons, berries  

Tubers:

sweet potatoes, potatoes,

beets

, carrots

Seeds:

chia

, pumpkin, flax, hemp, sunflower, sesame

Spices:

garlic, cayenne,

turmeric

, black pepper,

pink Himalayan salt

Legumes:

chickpeas,

black beans

, lentils, green beans, peas

Probiotics:

sauerkraut

, Greek yogurt, kefir, kombucha, kimchi, miso

Vegetables:

broccoli

, kale, spinach, cauliflower, peppers

Healthy oils:

extra virgin olive oil,

coconut oil

, avocado oil

Organic, free range meats (in moderation):

chicken

, turkey, wild-caught salmon
Before you embark on any lifestyle change, it's important to check in with your primary care physician. Fasting should be undertaken with supervision, especially if you are on medication for a chronic condition. If you have recently given birth or are breastfeeding, intermittent fasting is not a good idea.
How to safely try intermittent fasting
If you're working on the LeanGains method, for example, start with a broad window of time during the first week. The idea here is to start slow so that your body can make the adjustment. At first, make a commitment to only eat between a 10-hour window, say 8 a.m. to 6 p.m. Then, the following week, try to move down to an 8-hour window, like 9 a.m. to 5 p.m. This will quickly eliminate mindless grazing outside of a set time frame. Plus, you'll be getting creative in the kitchen to squeeze in all of your nutrients.
While your body is getting used to the change, you may feel a bit more hungry or irritable than usual. Don't worry, that's normal — and it's temporary! Here are a few ways to make the process easier so you can get the most out of intermittent fasting:
Determine your ideal caloric intake.

Before you get started, crunch some numbers to find out how much you should be eating every day. Please don't starve yourself! Instead, find a goal that's reasonable for weight loss to prevent you from binging after a fast.

Break your fast with normal meals.

Proponents say it's better to eat multiple small meals than a huge meal all at once. Be careful not to overload your system.

Stay hydrated.

Drinking water

is a great way to help your body detox. It can also help get rid of some of those hunger pangs, especially at first.

Know your limits.

It's not recommended to undergo rigorous physical activity while fasting until your body is used to it. Pay attention to how you feel at all times.
And there you have it! Have you tried intermittent fasting? How did it work for you? Let us know in the comments below.
— The Alternative Daily