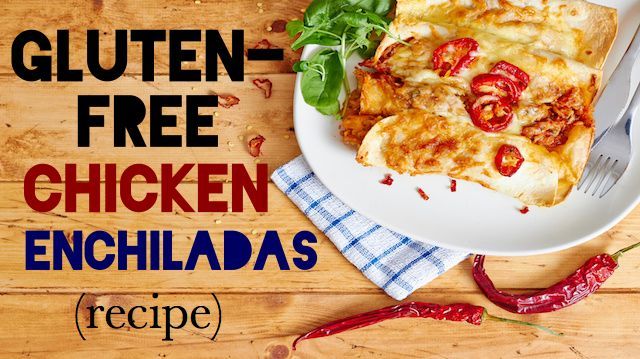 Next Mexican night, try our chicken enchiladas — gluten-free corn tortillas, rolled and filled with spicy chicken, rice, corn, and beans, and topped with a gluten-free enchilada sauce that's bursting with flavor.
Prep Time:
1
hour 15 minutes
3

tbsp

olive oil

3

boneless, skinless organic chicken breasts

1/4

tsp

sea salt

1/4

tsp

pepper

1

tsp

garlic powder

1

tsp

onion powder

1

tsp

chili powder

1

tsp

ground chipotle powder

1

red onion, chopped

1

jalapeño, seeded and finely minced

2

cloves

garlic, minced

1

cup

frozen organic corn, thawed

1

cup

fresh organic corn

2

tomatoes, seeded and chopped

1

cup

black beans

1

tbsp

organic, gluten-free corn flour
3

tbsp

olive oil

10

oz

tomato paste

3

tbsp

chili powder

2

tsp

smoked paprika

1

tsp

ground chipotle

2

tsp

garlic powder

2

tsp

onion powder

1

tsp

ground cumin

1

tsp

oregano

1/2

tsp

sea salt

2

cups

homemade organic chicken stock

1

tbsp

organic, gluten-free corn flour
2

cups

organic, gluten-free corn flour

1

tsp

sea salt

1 1/3

cup

water
8

gluten-free tortillas

2

cups

cooked rice

2 1/2

cups

enchilada sauce

2

cups

organic cheddar cheese, grated

1/2

cup

water

1/2

cup

fresh tomato, chopped

1/2

cup

scallions, sliced

1

cup

organic sour cream
Add 2 tablespoons of olive oil to a large pan. Season chicken with salt and pepper and add to the pan. Sprinkle chicken with garlic, onion, chili, and chipotle powder. Brown over a medium heat, approximately 5 to 7 minutes on each side, or until no longer pink. Remove the chicken to a plate and allow to cool.

In the same pan with drippings, add 1 tablespoon of olive oil. Add the onion, jalapeño, and garlic; sauté until tender. Add the corn, tomatoes, and beans, stir to combine, and sauté for another 1 minute.

Shred the chicken by pulling it apart by hand. Add the shredded chicken to the vegetable mixture. Dust with the tablespoon of corn flour to bring it all together. Mix well to combine.
Step Two: Easy Enchilada Sauce
Heat the oil in a medium saucepan. Add tomato paste and cook for 1 minute. Add all the seasonings, oregano, and salt.

Add chicken stock and corn flour; stir to combine and cook for 1 minute. Bring to a boil, reduce heat to low and simmer for 15 minutes. The sauce will thicken.
Step Three: Easy Gluten-Free Corn Tortillas
Whisk the cornflour and salt together in a large bowl. Add the water and mix well with a fork to combine.

Cover the bowl with plastic wrap and allow the dough to rest for 20 minutes. Remove the plastic wrap. If the dough is too brittle, add a small amount of water and knead in until desired consistency is achieved. The dough should be moldable and slightly damp. Divide the dough into 10 golf ball-sized pieces.

Place one ball between two sheets of parchment paper. Roll out thin, but not too thin. Corn flour tortillas need to be a little thicker for handling; however, they are still pliable after cooking.

Heat a frying pan over a medium-high heat. Remove the top sheet of parchment paper and then the bottom. Place the rolled out tortilla on the hot pan. Allow it to cook undisturbed for about 1 to 2 minutes. With a large flat spatula, flip the tortilla over and cook undisturbed for another 1 to 2 minutes.

Remove the tortilla from the pan and place on a plate covered with a moist, clean tea towel. Repeat the process with the remaining dough.
Step Four: Prepare the Chicken Enchiladas
Preheat the oven to 350℉. Ladle half a cup of enchilada sauce onto the bottom of a 13-by-9-inch baking pan. Add about 3 tablespoons of rice to a tortilla, and top with about a quarter of a cup of chicken mixture. Roll the tortilla and place it in the baking pan, seam side down. Repeat with the remaining tortillas.

Ladle the remaining enchilada sauce over the rolled tortillas. Sprinkle the cheese on top of the tortillas. Bake for 15 minutes, until the cheese melts.

Garnish the top of the enchiladas with half a cup of chopped tomatoes, sliced scallions, and 1 cup of organic sour cream.
Olé!
—The Alternative Daily