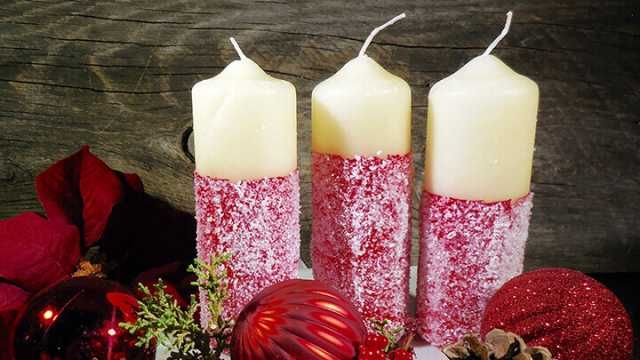 I don't know about you, but I love candles sitting in different areas of my home during the Christmas holiday. It gives my home a warm and cozy feel. I love the glow of the Christmas candles at night when it's cold and snowy outside.
This project is very simple and looks great. There is an added dimension when the Christmas candles are painted and Epsom salts are put on them. Any color can be used, but I chose red because I associate it with Christmas. With the simplicity and small investment for materials, these Christmas candles are sure to be a hit.
These candles would also be great for a wedding or anniversary party. The color can be coordinated for any occasion — not just Christmas!
Ingredients
Any size and combination of candles

Epsom salts
Equipment
Acrylic paint in the color of your choice

Sponge paint brush

Tape (optional)

Hair dryer (optional)
Instructions
1. Tape the candles if desired. Choosing a random pattern makes it more interesting. This is optional.
2. Pour a small amount of paint onto a paper plate. Using the sponge paint brush, paint the candles, making sure to cover all areas well.
3. Set aside to dry. If you are impatient, like I am, you can use a hair dryer to get the paint to dry faster.
4. When the candles are dry, paint them with a good layer of Modge Podge.
5. Sprinkle the wet candles with the Epsom salts. I also rolled the candles in the salts.
6. Let candles dry completely after Epsom salts have been applied.
7. Carefully take the tape off the candles. They are now ready to be arranged into a beautiful Christmas centerpiece.
Enjoy these Christmas candles and keep your home cozy and bright this holiday season.
— Leilani Hampton