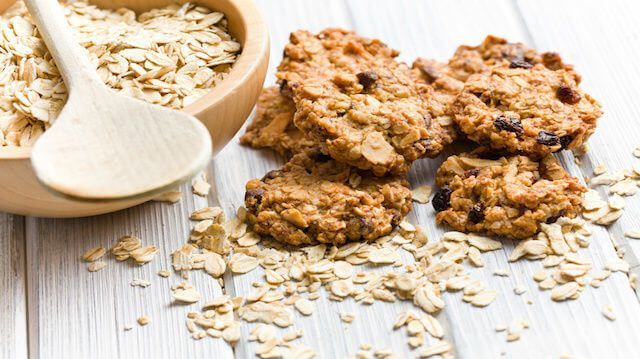 Breakfast cookies are a huge trend right now. In fact, they're topping recipe charts everywhere because people love things that are fast, easy, and healthy. So, I thought I would share my favorite version to inspire you to make your first batch this week!
How to make oil-, sugar- and egg-free cookies
Cookies can indeed be healthy — although many varieties are a sugary, artery-clogging disaster. Take, for instance, those cookies that are packaged on the shelf and marketed as "healthy morning meals" that look like cookies and oatmeal combined into one food. While they appear healthy and tasty, most are filled with sugar and refined oils.
Processed foods like these are not something to start your day with. Both sugar and refined oils can lead to inflammation, and you can never be sure where all of the ingredients in processed snacks are sourced from, or how exactly they're produced. They may also interfere with your body's metabolism.
Eggs, if you eat them, can be a healthy choice when sourced from organically-raised, free-range birds. However, they are a common allergen, and some people choose to avoid them for other reasons. Plus, you can bet the eggs in most processed cookies are not free-range or organic.
To make breakfast cookies without oil, sugar, or eggs, all you need to do is use naturally sweet, moist ingredients that also have binding properties.
Good options include the following: 
Mashed bananas

Dates blended into a paste

Pumpkin

Blended sweet potato

Applesauce (unsweetened)

Plain apple butter

Baby food prunes or carrots
When you combine these naturally sweet and moist foods with oats and some healthy seeds, you get a delicious treat that molds together perfectly and still tastes decadent and rich. If you'd like your cookies to rise a bit, a tidbit of baking soda takes care of that with no worries.
It's also smart to use whole-grain rolled oats versus instant. These are heartier, will take longer to digest, and thus reduce the insulin spike that happens after you eat a meal. This will also improve your energy levels as well as reduce mid-morning cravings. And while steel-cut oats are the best option for regular oatmeal, they won't provide the same creamy flavor that rolled oats do for this recipe, nor will the resulting cookies be as soft.
I like to use raisins in this recipe to improve the sweetness without adding sugar, but you can use any dried fruit you wish. Just try to use plain dried fruits instead of those with added sugars, oils, and sulphites (a group of preservatives that can cause headaches).
Lastly, I like to use a mix of protein-rich seeds in my recipe to improve the amino acid content, which also increases the healthy fats, fiber, and vitamins in the resulting cookies.
You can make this recipe your own by using your favorite substitutes, but if you'd like a great place to start, this recipe is one I would recommend to anyone!
Healthy Vegan Fall Breakfast Cookies
1

cup

organic pumpkin puree

1/2

cup

unsweetened apple butter

2

cups

rolled oats (gluten-free)

2

tablespoons of

coconut flour

(which helps thicken and bind them)

1

tablespoon

ground flax seeds

2

tablespoons

pumpkin seeds

1/4

cup

dried organic raisins (or cranberries, figs, dates, etc.)

1/4

cup

nut butter of choice (I like organic nut butter blends or almond butter)

1/4

cup

unsweetened applesauce

1/4

tsp

baking soda

1

tablespoon

organic pumpkin pie spice (or apple pie spice)
Add the oats, coconut flour, flax, pumpkin seeds, raisins, baking soda, and pumpkin pie spice to a bowl.

Dollop in the pumpkin, apple butter, and applesauce, and stir just to combine.

Keep stirring until you get a thick dough. You want all the ingredients to be incorporated with no excess coconut flour left. Next, stir in the nut butter and stir again to incorporate for a few minutes. It should look like a moister version of cookie dough.

Spoon into small balls with your hands and place in a glass dish. Spread apart evenly, about a half inch apart.

Bake at 325°F for 20 minutes and let cool in the pan for about one hour after baking on a nearby counter.

Remove and eat, or store in the fridge for one week.
These cookies are packed with soluble fiber that is great for improving your heart, blood sugar, digestive, and metabolic health. They're also a good source of iron, magnesium and vitamins A and C. Feel free to add more chopped fruit, such as organic apples or pears, which are great in fall recipes.
Finally, they're hearty enough to keep you full, but so healthy that you can enjoy them any time of the day. Have two or three as a replacement for a bowl of oats in the morning, or enjoy them for dessert. 
Have you ever made breakfast cookies? What ingredients do you like to use in your recipes?
 —Heather McClees
Heather McClees is a professional health journalist and Certified Holistic Nutritionist from South Carolina.She received her B.S. Degree in Nutrition Science and Dietetics, and is most passionate about helping others discover the gift of of holistic health, showing others how to create healthy recipes based on their favorite foods, physical fitness and yoga, and creative writing.
Sources:
http://www.medicalnewstoday.com/articles/267290.php
http://www.medicalnewstoday.com/articles/270680.php
http://www.aicr.org/foods-that-fight-cancer/flaxseed.html
http://www.aboutnutritionfacts.com/health-benefits-of-oats.html
http://nutritionfacts.org/video/optimal-cholesterol-level