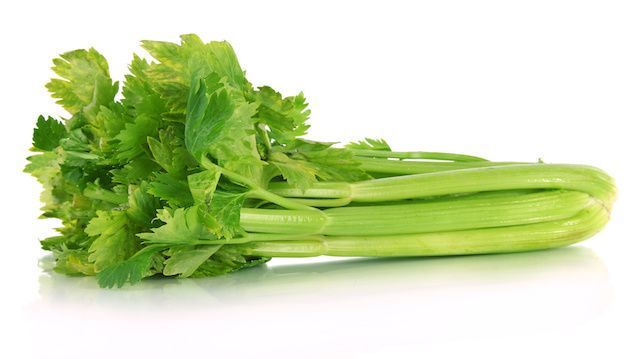 One hundred and fifty-five thousand items have now been recalled due to an E. coli outbreak originating from celery distributed by Taylor Farms Pacific Inc., based in California. The recall began last week when rotisserie chicken salad from Costco was found to contain E. coli. The contamination was traced back to celery in the salad that came from Taylor Farms Pacific.
On November 26, the U.S. Food and Drug Administration (FDA) issued a press release outlining other products that may have been contaminated with E. coli due to the celery from Taylor Farms Pacific. The terrifyingly long list of over 150,000 possibly contaminated products in the FDA's press release includes items sold at major grocery store chains across the United States.
"The products listed below are being recalled out of an abundance of caution due to a Celery and Onion Diced Blend testing positive for E. coli 0157:H7 in a sample taken by the Montana Department of Health," the FDA press release warned. The outbreak spans more than 12 states with products sold in Walmart, Safeway, Sam's Club, Costco, Target, 7-Eleven and Albertsons.
The recall of E. coli contaminated products affects mainly Western states; however, stores in Hawaii, Georgia, Nebraska and Arkansas have also been listed. More than 45,000 holiday turkey sandwiches from Starbucks in Oregon, California and Nevada were also withdrawn from sale due to the E. coli outbreak.
The Costco rotisserie chicken salad outbreak appeared to be small, with 19 people infected with the bacterium in seven states. However, the current status and association with Taylor Farms Pacific is troubling; the company is a large distributor to some of the most popular stores and restaurants in America.
This is not Taylor Farms Pacific's first outbreak. On September 12, 2014, the FDA issued a press release recalling "Expo Fresh" Roma tomatoes that were possibly contaminated with Salmonella. The 2014 recall involved Costco and Safeway locations in Western states as well.
How many more foodborne illness outbreaks will we see? According to the Centers for Disease Control and Prevention (CDC), approximately 48 million Americans get sick, 128,000 are hospitalized, and 3,000 die each year from foodborne illnesses. The FDA is continuing its efforts to implement the Food Safety Modernization Act (FSMA) in order to control the growing number of foodborne illness outbreaks seen each year.
Purchasing food products at large grocery store chains is convenient and often cheaper, but at what cost? Do you know where the food you purchase actually comes from? Most of us do not, but we really should start to look into it, since it may save our lives. Shopping at your community's farmers market is a wonderful way to ensure you know where your food comes from.
Many of the 155,000 items contaminated with E. coli are packaged foods that you can also make at home, with fresh, delicious ingredients grown locally. Take a stroll and meet some of your community-based farmers this weekend. You may be surprised by how easy and convenient it is to buy locally grown, fresh produce.
Where do you get your produce and why?
—Stephen Seifert
Stephen Seifert is a writer, professor, adventurer and a health & fitness guru. His flair for travel and outdoor adventure allows him to enjoy culture and traditions different than his own. A healthy diet, routine fitness and constant mental development is the cornerstone to Stephen's life.
Sources:
http://www.fda.gov/Safety/Recalls/ucm474601.htm
http://www.cdc.gov/ecoli/2015/o157h7-11-15/index.html
http://www.fda.gov/Safety/Recalls/ucm414570.htm
http://www.fda.gov/Food/GuidanceRegulation/FSMA/ucm239907.htm