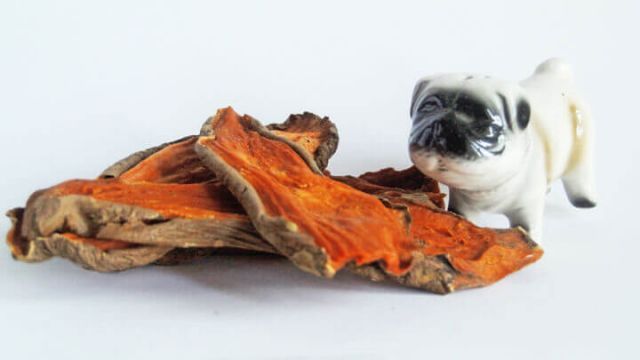 Four years ago, my now nine-year-old pug named Moe began suffering from terrible arthritis. Jumping up onto the couch was a major struggle and after a walk, it would break my heart to see him in such a frail state. Since my Oma has arthritis, I already knew some of her nutritional tricks to better manage inflammation.
It was around that time that I became more interested in what I was personally eating — mainly due to my research regarding nutrition and mental health. I started uncovering all the red flags within our current food system, leading to more educated choices — both for Moe and I.
Related: Do You Know What Your Dog Is Eating?
After all, if you second-guess what's in the food you eat, why would it be any different for your dog? The truth is, there have been some horror stories regarding dog treats and food, with some ending in tragedy. On the other side of the coin, some dog owners skip dry or wet canine food all together, feeding them everything under the sun — fries, burgers, crackers, you name it.
If you want to feed your dog 'human' food, no problem — just make sure it's the right types of food. Once I switched Moe's diet he was like a puppy again in no time — and still is to this day. He eats everything from organic chicken to lentils, oatmeal to blueberries, and everything in between.
Why make these treats?
One of Moe's favorite treats are these sweet potato slices with one ingredient, and one ingredient only. They're nutrient-rich and simple to make — your dog will be begging for more. Feel good about what you're feeding your pooch and they will feel better for it.
Other than the fact that these treats are easy, cheap and nutritious, when you make your own dog treats, you know exactly what is in them. In this case, all you need are a couple of sweet potatoes, a little down time, and voila — a high fiber, low-fat treat that is packed with beneficial nutrients.
Here are just some of the reasons to this recipe for yourself (well, technically for your dog):
High in beta-carotene

— This antioxidant is responsible for a sweet potato's vibrant coloration and is easily converted into vitamin A once inside the body. It helps to protect against a range of diseases,

including cancer

and heart disease. It's a treat worth giving.
No additives

— These treats are made from nothing more than a whole sweet potato. You can rest easy knowing that your dog is not consuming any preservatives, fillers or other potentially harmful additives.
Low in fat, high in fiber

— As mentioned, these treats offer an excellent source of fiber without much fat. This is ideal for all dogs, however, it's especially beneficial for dog's who need to lose a bit of weight. Of course, fewer calories help, but the fiber content of these treats will also help your four-legged friend feel more satisfied.
Cost-effective

— I often buy a large bag of organic sweet potatoes as they are much more economical. A couple of sweet potatoes will cost far less than a quality bag of treats, and you'll be eliminating cheap, low-nutrient treats from your dog's diet.
A recipe your dog will love
These chewy treats have it all — high nutritional value, monetary value and a taste your dog will love. You may even be tempted to dip into their treat jar. Okay, maybe not — but you could if you wanted to, that's how healthy and safe these treats are.
Ingredients
2 whole sweet potatoes, scrubbed with the peel left on — that's it, folks!
Instructions
1. Although you can use a dehydrator, not everyone has access to one. Instead, preheat your oven to 250°F.
2. Cut your sweet potato into thin slices. I often use a mandolin, but a knife will do the trick. Just remember: the thinner the slices, the shorter the cooking time.
3. Lay your slices onto a baking sheet in a single layer so that all pieces are lying flat.
4. For chewy treats, your slices will be ready in approximately 3 hours. If you think your dog would prefer a crunchy treat, they will take slightly longer — just keep an eye on them.
5. Store them in an airtight jar and use within 2-3 weeks
Note: If you are going to switch your dog's diet — making nutrient-rich meals — be sure to speak with your vet first. Dog's nutritional requirements differ from humans — they require a higher intake of protein and there are certain foods in which they should avoid.
— Krista Hillis