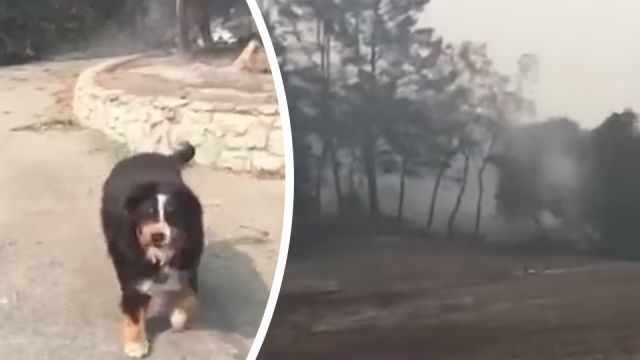 Izzy is one tough and courageous pooch. The nine-year-old Bernese mountain dog is a two-time cancer survivor. This past week, however, she pulled off the most harrowing escapes imaginable when she miraculously managed to emerge alive after her family was forced to flee their Santa Rosa home without her just moments before their house was engulfed in flames.
A family's pooch bolts just before flames engulf their home
The incident occurred on October 9 when Clint and Kathy Weaver, both in their 60s, awoke in the middle the night to find their mountainside home threatened by the California wildfires that have decimated much of Sonoma County.
In fact, their property and the surrounding area was rapidly becoming an inferno. They knew they had to evacuate immediately or else. Unfortunately, Izzy was spooked by the flames and ran off. The couple was heartbroken at the thought of leaving their beloved dog behind, but as their daughter, Beckyjean Widen, wrote on Facebook, "My mom couldn't chase after her without risking her own life." Indeed, the Weavers "had to drive through walls of flames and across a burning wooden bridge" in order to make it to safety.
The Weavers knew they had lost their home, but they were even more devastated by the thought of losing Izzy. The next day, however, the couple's son Jack (and a son-in-law Patrick) attempted to visit the site of the Weaver's home. Initially, they were turned away by the authorities. But somehow Jack and Patrick managed to find a way to hike up the surrounding countryside and make their way to the homesite.
The Weaver's house, of course, had been entirely consumed by the flames. They could see the charred gate to their property. Jack and Patrick, decided to film things so that the rest of the family could see the extent of the devastation for themselves. They also called out to Izzy in the faint hope that she somehow has made it to safety and survived. Amazingly, as the pair reached the remains of the gateway they spotted a few parts of the property that had been spared (a tractor, a small shed and portions of the vineyard. Even more miraculously, Jack and Patrick saw Izzy — covered in soot, but unharmed — galloping to them.
As you can see for yourself in this heartwarming video, Jack instinctively yells out "Izzy is here!" Izzy, Izzy, come here baby, Izzy!" as the beloved Bernese wags its tail as it runs to greet the two. "Oh my god. Oh my god. Oh my god," Patrick cries out too.
Jack immediately called his parents with the good news. He explained that his mom "went from being devastated about losing her home to the being the happiest person I've ever seen. I couldn't get home fast enough. She was really, really happy… She's still shaken up by the whole thing, but she's in much better spirits now that Izzy is at our house."
Besides being covered in ash and soot (and more than a little stressed) Izzy was otherwise unharmed. A local vet believes that the dog's thick coat of fur helped protect her from the intense heat that was virtually all around her.
Wildfires devastate California
According to California officials, nearly 6,000 homes have been damaged or destroyed in the series of wildfires that have hit the state. In addition, more than 100,000 residents have been displaced. Experts expect the damages will ultimately exceed $1.2 billion.
More amazing animal rescues
Animal welfare agencies are caring for 66 cats and 44 dogs that have been impacted by the fires and separated from their owners. Thankfully, there are some additional heartwarming stories to report.
Santa Rosa resident Ed Ratliff was reunited with his cat, Milo, after the feline was found hiding under a car. And Ohndrea Elliot was reunited with her cat, Kitty, after she contacted the Santa Rosa Humane Society and found that her cat had been rescued from smoky rubble. You can see the heartwarming rescue for yourself below. Kitty's paws were burned, but she is expected to make a full recovery.
How you can help animals impacted by wildfires
The Sonoma County Animal Services has set up a lost and found web page to help animals impacted by the wildfires. There are a variety of ways you can help, too, including volunteering, adopting and donating. To learn more you can visit How You Can Help Shelter Animals.
— Scott O'Reilly