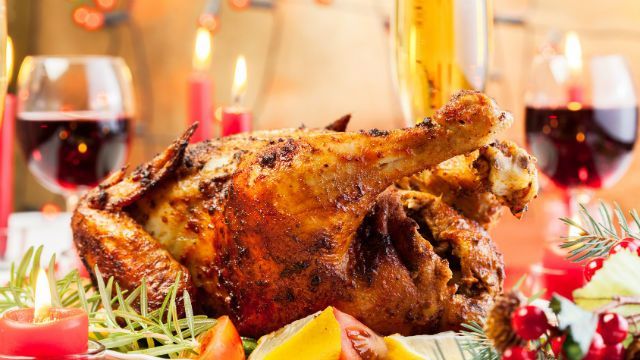 The average American is said to consume more than 4,500 calories on Thanksgiving, according to the Calorie Control Council. Even worse than this high number of calories is where those calories are derived from.
These days, many people turn to convenient processed foods that make putting together a holiday dinner a lot easier, but all of those food dyes, pesticides, preservatives, and trans fats – not to mention what factory-farmed birds go through – can take a toll on your health, and leave you feeling guilty rather than thankful.
If you'd like to enjoy Thanksgiving without that guilt, consider these great options for a DIY dinner.
The turkey
Choose an organic, pasture-raised turkey rather than factory-farmed. Factory farmed poultry is associated with a number of health concerns, including those due to the big doses of antibiotics the overcrowded turkeys are routinely given.
Pesticides are also used to reduce the spread of disease, which means you'll also be consuming a host of harmful chemicals. Not only that, but research has found that animals raised in captivity have little nutritional value compared to those raised in natural settings.
Mashed potatoes
Potatoes can make for a healthy side dish, provided you choose organic spuds. Traditional potatoes are routinely sprayed with chemicals, and they frequently turn up on the Environmental Working Group's "Dirty Dozen" list of chemical-laden produce items.
Even better would be serving sweet potatoes, as they contain more vitamin A, fiber, and potassium as compared to white potatoes.
Don't make the mistake of using margarine, which contains harmful trans fats – real butter from grass-fed cows is a must. Even those butter spreads that claim to be healthy contain more than 13 different ingredients, including some that are rather questionable such as added sugar and soy lethicin. For some people, even a tiny exposure to soy can set off an immunological response.
Cranberry sauce
Canned cranberry sauce often comes with unwanted added ingredients, not to mention the fact that the can typically contain bisphenol A, or BPA. BPA is a chemical used in the epoxy resins that line canned goods, and it has been linked to heart disease, obesity, sperm damage, and even brain cancer, among dozens of other health issues.
Making your own cranberry sauce is fairly simple using this recipe:
Ingredients:
2 12-ounce bags of fresh, organic cranberries
¾ cup organic pineapple juice
½ cup no sugar added organic applesauce
½ cup of water
Juice and zest of one organic orange
3 to 4 tablespoons of raw, organic honey
Put cranberries, pineapple juice, applesauce and water in a saucepan and bring to a boil over medium heat. Continue to cook, stirring constantly until the cranberries start to explode, about 10 to 15 minutes.
Reduce to a simmer and pour the juice and zest over the cranberry mixture. Simmer for 10-15 minutes and then remove from heat. Cool completely and store in the refrigerator for at least 4 hours, but preferably overnight.
Green bean casserole
Canned green beans contain the highest BPA residues, according to tests conducted by Consumer Reports, so using fresh or frozen is a must. Be sure and choose organic ingredients for the healthiest dish possible.
Ingredients:
Onion topping:
2-3 medium onions, very thinly sliced
2 eggs
3 tablespoons coconut milk
2 to 3 tablespoons coconut flour
½ cup coconut oil
Mushroom sauce:
½ cup butter
½ cup coconut milk
⅓ of onion topping mixture above
8-10 mushrooms, finely diced
½ garlic clove, minced
Salt and pepper to taste
4 to 5 egg yolks
Coconut milk or water to thin
Green beans:
2 to 3 bags frozen green beans, heated first to remove extra liquid, or 2 to 3 pounds fresh French-style green beans
Instructions:
Thinly slice all the onions, separate them, and place them into a medium-sized bowl. Add two eggs and the coconut milk; mix well until evenly incorporated. Add coconut flour and mix by hand until evenly coated. Place coconut oil into a large skillet and turn to medium-high heat. When heated thoroughly, add coated onions and evenly brown, turning occasionally. Once browned, you can remove it from heat and set aside.
In a medium saucepan, melt butter and saute the mushrooms until they start to brown, then add coconut milk. Whisk in egg yolks, spices, and about ⅓ of the onion topping mixture. Continue to stir until the yolks begin to cook and the mixture thickens. Add extra water or milk if needed to thin.
Drain green beans and pour into a 9 x13 baking dish. Pour cream mixture over the top and mix well until incorporated. Top with onion mixture and heat in a 325 degree Fahrenheit oven until topping starts to crisp and green beans are heated.
Pumpkin pie
Don't worry, you can still have your pie without the guilt using this recipe.
Crust:
1 cup almond flour
3 tablespoons coconut oil, plus extra to grease pie pan
1 egg
½ teaspoon cinnamon
Filling:
1 15-ounce BPA-free can of organic pumpkin, with no additives
3 eggs
¼ cup raw honey
1 tablespoon pumpkin pie spice, or 2 teaspoons cinnamon plus ¼ teaspoon each of cloves, ginger, and nutmeg
1 teaspoon pure, organic vanilla extract
Coconut milk to thin (up to ⅓ cup)
Instructions:
Preheat oven to 325 degrees Fahrenheit. Grease pie pan with coconut oil and mix crust ingredients by hand in a medium-sized bowl. Press crust into bottom and sides of pie pan and put in the oven while making the filling.
Combine the filling ingredients (except coconut milk) in a bowl and mix using an immersion blender, regular blender or food processor. Don't use a hand mixer as it will not get smooth – the texture should be smooth and spreadable, but not pourable. Add coconut milk if needed to thin slightly.
Place crust in the oven for about 10 to 15 minutes, until just after it begins to brown. Add the filling to the crust and return to the oven for about 1 hour, or until a knife inserted in the center comes out clean. Pie will set as it cooks.
If you'd like other side dishes, almost any fresh, organic vegetable can help round out your guilt-free Thanksgiving dinner – cook up a bunch of your favorites!
Now, you've really got a lot to be thankful for!
-Susan Patterson