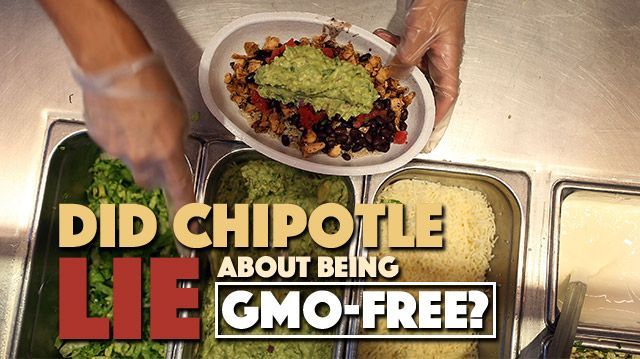 Chipotle Mexican Grill made headlines last April when the restaurant chain announced the beginning of an anti-GMO campaign. The campaign, labeled "G-M-Over It," heralded in a new age for Chipotle in which genetically modified ingredients were not a part.
A new class action lawsuit, however, claims that the Denver-based Mexican food chain may have been "purposefully misrepresenting" that its food no longer contains any genetically modified organisms. The plaintiff, Leslie Reilly of Florida, initiated the lawsuit against Chipotle in September last year, stating she ate at Chipotle only on the basis that the food it served was GMO-free, as advertised. 
Chipotle claims that it was the first national restaurant company to cook with only non-GMO ingredients. However, it also acknowledges that "most animal feed in the US is genetically modified, which means that the meat and dairy served at Chipotle are likely to come from animals given at least some GMO feed."
The company's website also acknowledges that "many of the beverages" sold in its restaurants contain genetically modified ingredients, including those containing high-fructose corn syrup.
Plaintiff Leslie Reilly's lawsuit is built on the allegation that these meat and dairy products that come from animals given GMO feed are themselves considered GMO ingredients. The lawsuit also states that Chipotle's G-M-Over It campaign, which claims that its restaurants only use GMO-free ingredients, constitutes "unfair and deceptive practices."
While Chipotle doesn't agree with Reilly's interpretation of GMO products, it will be up to the court to decide if her interpretation is reasonable to consumers.
The lawsuit has been filed in the Northern District of California on behalf of California consumers who have purchased food from Chipotle since the start of its non-GMO campaign last April. The firm in charge of the lawsuit issued a statement which stated that "Chipotle's advertising in its stores should have accurately informed customers about the source and quality of its ingredients and should not mislead consumers that they are serving food without GMOs when in fact they are."
Following the allegations, Chipotle told Fortune magazine that the lawsuit was "meritless" and "filled with inaccuracies." Chipotle's communication director Chris Arnold went on to say that "Chipotle has always been honest and transparent with its customers, and the messaging surrounding our use of non-GMO ingredients is no exception." 
Arnold also stated that while the meat served by Chipotle is from animals fed with potentially genetically modified organisms, it did not mean their meat was GMO. Arnold likened this to labeling people who ate genetically modified foods as being genetically modified themselves.
The class action complaint uses several examples of Chipotle advertisements that appear quite clear in their message. One billboard states, "Now, all of our food is non-GMO," while one Chipotle restaurant sign boasts "Only non-GMO ingredients." 
According to the Non-GMO Project, a nonprofit organization that acts as a GMO watchdog, 80 percent of conventional processed food in the United States contains genetically modified organisms. The most common GMO crops in the US are corn, soy, canola, alfalfa and sugar beets.
Concerned about genetically modified foods? Here are some tips on how to avoid buying and eating them. 
—Liivi Hess
Liivi is an Integrative Nutrition Health Coach and is training to become a doula. She inspires women to find peace and personal power by taking control of health and fertility naturally. Liivi's passion is ancestral nutrition and primal lifestyle design. She and her partner Will live between Toronto, Canada and Queenstown, New Zealand.
Sources:
http://abcnews.go.com/Business/judge-denies-chipotles-motion-dismiss-gmo-lawsuit/story?id=38568292
https://chipotle.com/gmo?_ga=1.110685189.1669395190.1461523667
http://fortune.com/2015/09/01/chipotle-gmo-lawsuit