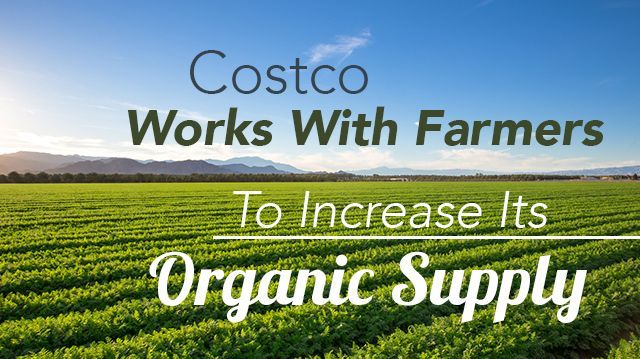 As evidenced by more and more large retailers expanding their organic options, it's easy to see that the organic movement in America is strong and on the rise. While corporate powerhouses such as Walmart certainly aren't doing this because they care about the planet — it's a profit game, plain and simple — it does signify that demand is on the rise, and consumers' requests for healthier food are being heard.
However, while demand is on the rise, supply has not been as quick to follow. Only about one percent of farmland in the United States is used to cultivate organic food. This presents a problem for retail giants like Costco. The company is seeking to expand its sale of organic products, and finding limited supply available.
According to BMO Capital Market analysts, Costco is "possibly now already eclipsing" Whole Foods as the largest retailer of organic food in the United States. Last year, Costco reported over four billion dollars in organic sales, while Whole Foods reported $3.6 billion. That's a whole lot of organics, and Costco wants more.
In their mission to increase their supply of organics, Costco has thought of a pretty revolutionary way of achieving their goal. The company has announced that they will be working with organic farmers to help them buy the land and equipment they need to produce organic food. 
So far, Costco has partnered with Andrew and Williamson Fresh Produce (A&W), a company based in San Diego, California that grows both conventional and organic produce. A&W's organic department specializes in cultivating berries and tomatoes. According to their announcement, Costco will loan A&W money to purchase 1,200 acres of land in Baja California, Mexico.
The significant benefit of A&W growing organics on this particular land is that it has not been used for several years, and organic produce can immediately be cultivated on it. Because of the huge amount of pesticides and herbicides that seep into conventional farmland, it takes approximately three years for this land to transition to a state acceptable to meet organic standards. The Baja California land is ready.
While A&W is currently Costco's only business partner in this initiative, the company hopes to also work with other farmers. Hopefully, this will mean more and more land transitioned to organic farmland, and a steadily increasing supply of organic food for us to enjoy. This move may provide great financial benefits to Costco, and a world of health benefits to consumers, as well. It's a win-win.
This isn't Costco's first move to increase their organic supply, though it is the most significant one. Last year, Costco purchased cattle in Nebraska, and is working with organic field owners in Nebraska to supply organic ground beef. If more beef in this country was raised organic and grass-fed, that would be a victory not only for meat eaters, but also for the animals who are treated horribly in the conventional meat industry.
Organic food is a smart choice for any health-conscious consumer. After all, who wants to be consuming all of those dangerous pesticides, herbicides and other chemicals? Switching to organic farming is a huge step towards health, and it's looking like it's a profitable move for retailers, as well. If this trend continues, things could be looking a lot brighter for our food supply.
—Tanya Rakhmilevich
Tanya is a writer at The Alternative Daily with a passion for meditation, music, poetry, and overall creative and active living. She has a special interest in exploring traditional Eastern remedies and superfoods from around the globe, and enjoys spending time immersed in nature.
Sources:
http://www.seattletimes.com/business/retail/costco-gets-creative-to-meet-shoppers-huge-appetite-for-organics
http://www.seattletimes.com/business/retail/costco-becomes-largest-organic-grocer-analysts-say
http://www.collective-evolution.com/2016/04/19/costcos-going-organic-what-you-need-to-know-about-the-amazing-new-initiative