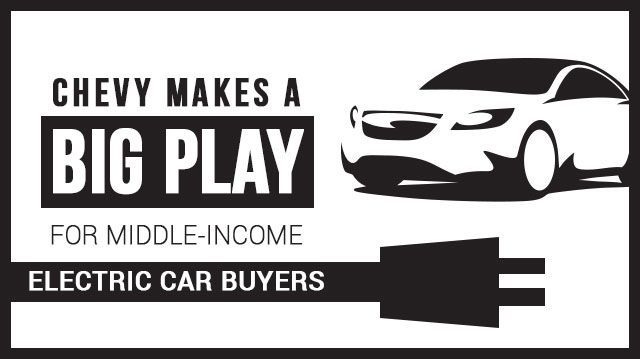 Chevy debuted its 2017 Bolt EV at the CES 2016 in Las Vegas earlier this month, signaling a shift in the electric car market. The all-electric Bolt EV is said to have a 200-mile range with a price point of just under $30,000 after the federal tax rebate.
History shows, however, that as gas prices fall Americans tend to go out for gas-guzzling SUVs and trucks. Given the price of gas these days, will the Bolt be a bust?
General Motors (GM), Chevy's parent corporation, is no stranger to electric vehicles. The 1997 EV1 was GM's debut into the electric vehicle market, and it was full of promise for the future. It was built to comply with California's mandate for zero-emissions vehicles, and it seemed like a good idea at the time. Unfortunately, the technology just wasn't up to snuff.
A fun, reliable car, the EV1 was intended to be charged by all sorts of power sources, including solar and wind, and promised to replace traditional internal combustion vehicles. However, the batteries built for the EV1 didn't have the durability needed for mass production. The car was also a very small two-seater, making it impractical for families. As if impracticality weren't enough, the EV1 was also outrageously expensive to build, so GM scrapped the project.
A new era of electric vehicles
Thanks to evolving technology and the likes of electric car startup Tesla, electric cars are a real possibility again. In fact, the Bolt EV gives consumers the eco-friendly aspects of the pricey Tesla Model S, namely the flat battery pack on the floor of the car, plus some nice storage, without a hefty sports car price tag.
"Chevrolet isn't giving us a formal price, but if they hit that $30,000 price after tax rebates, that'll be a game-changer for the EV market," wrote CNET's Tim Stevens.
It also comes with a pretty neat tech package. According to GM Chair and CEO Mary Barra, "The Bolt EV is capable of using the latest mobile app technology to enable car sharing, advanced GPS routing and gamification, all designed to enhance the ownership experience now and into the future." The vehicle will include Chevy's infotainment system, MyLink, and will be compatible with both Apple CarPlay and Android Auto.
The Bolt EV is set to hit showrooms by the end of 2016 or the beginning of 2017. Not only is this good news for the environment and consumers, but it's good for the local economy in Detroit, too. The Bolt EV will be built at GM's Orion Assembly factory near the city. 
But we can't help but ask the question: Will it sell?
When gas prices are up, Americans typically abandon their SUVs and trucks in favor of more fuel-efficient vehicles. Conversely, when gas prices are down, as they are now, people purchase bigger, gas-guzzling vehicles. The Transportation Research Institute at the University of Michigan found that the average vehicle sold in America in December 2015 got 24.9 miles per gallon, marking the first time that gas mileage averages have fallen below 25 mpg in almost two years.
Granted, government regulations and advances in technology have forced that average to be significantly higher than back in 2008, but the latest evidence signals that consumers are less interested in gas mileage than they were just a few months ago.
Nevertheless, the Bolt EV offers a fantastic opportunity for middle-income Americans to own vehicles that are better for the environment. We're excited to learn that an affordable electric car will soon be on the market. Even if the Bolt EV isn't in high demand, it's a step in the right direction that we can certainly appreciate.
Would you consider buying the Chevy Bolt EV?
—Megan Winkler
Megan Winkler is an author, historian, Neurosculpting® meditation coach, certified nutritional consultant and DIY diva. When she's not writing or teaching a class, Megan can be found in the water, on a yoga mat, learning a new instrument or singing karaoke. Her passion for a healthy mind-body-spirit relationship motivates her to explore all the natural world has to offer.
Sources:
http://www.cbsnews.com/news/chevy-unveils-bolt-electric-car
http://content.time.com/time/specials/2007/article/0,28804,1658545_1658544_1658535,00.html
http://www.theverge.com/2016/1/7/10730398/lower-gas-prices-average-mpg-falls-transportation-research-institute-2016