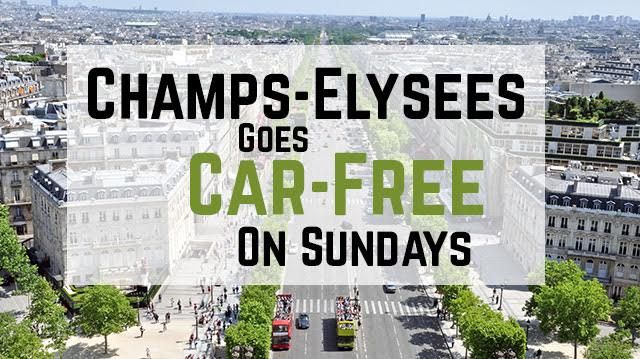 It goes without saying that many cities across the world are hotbeds of air pollution. Much of this pollution comes from the traffic congestion clogging up busy city streets. People living in downtown areas, and those who drive through them on a daily basis, may be accustomed to the bustle.
However, the air pollution that stems from traffic is disastrous to the environment and can also be harmful to human health. Paul Sanders, writing for Environmental Leader, explains: "The effects of pollutants found in vehicle exhaust are significant for people living in urban areas. High levels of nitrogen oxide are toxic to humans. Sulfur dioxide is the primary cause of acid rain. Carbon dioxide contributes to climate change by insulating more heat from the sun. And ozone can impair lung function, especially in children and adults with asthma, with a higher number of sufferers resulting in high-traffic urban areas."
Residents of Paris, the capital city of France, are no strangers to the effects of air pollution. However, the city's mayor, Anne Hidalgo, is doing something about it. A new campaign, Paris Breathes, has rolled out several initiatives to combat air pollution across the city. One of these initiatives is car-free Sundays on the Champs-Elysees.
The Champs-Elysees is a world-famous avenue in Paris. It is 1.2 miles long and leads to the Arc de Triomphe, one of Paris' prominent monuments, celebrated for both its history and its artistry. On May 8, the Champs-Elysees was declared car-free for the day, allowing pedestrians to stroll through the eight-lane avenue and visit the Arc at their leisure, without the familiar traffic whizzing by.
This event was declared a success by Paris residents and tourists alike, and will be repeated on the first Sunday of every month. The Champs-Elysees is not alone in this initiative: 22 other streets will also go car-free on these Sundays, including streets along the banks of the Seine River and in the neighborhood of Montmartre.
What's even better is that in Paris, national museums are free to enter on the first Sunday of each month. This makes these Sundays perfect for leisurely strolls with family and friends to some of the most famous museums in the world — without breathing smog or dodging motorbikes and cars.
Other measures taken by the Paris Breathes initiative include electric-car fleets and bicycle rentals.
According to Oliver Hayes, an air pollution campaigner for Friends of the Earth: "Paris is in the fast lane in the race to tackle dirty air; from car-free days, plans to phase out dirty diesel buses, and restrictions on traffic when congestion is high."
Hayes continues: "Bad air affects everyone, causing more early deaths than everything other than smoking. As the VW scandal has shown, car manufacturers are not doing anything like enough to curb deadly diesel emissions. At the very least, the government must introduce a diesel scrappage scheme to help drivers switch to cleaner vehicles."
Wouldn't it be wonderful if more cities around the world did this? While we sometimes need our vehicles to get around, if every city picked just one day a month to make some of its major streets pedestrian-only, a whole lot of carbon emissions would be prevented. While it's not a total solution, it would certainly be a start.
—Tanya Rakhmilevich
Sources:
http://www.bbc.com/news/world-europe-36243119
http://www.independent.co.uk/news/world/europe/paris-champs-elysees-car-free-zone-once-a-month-air-pollution-smog-a7002256.html
http://www.paris.fr/parisrespire
http://www.environmentalleader.com/2012/01/05/how-traffic-jams-affect-air-quality