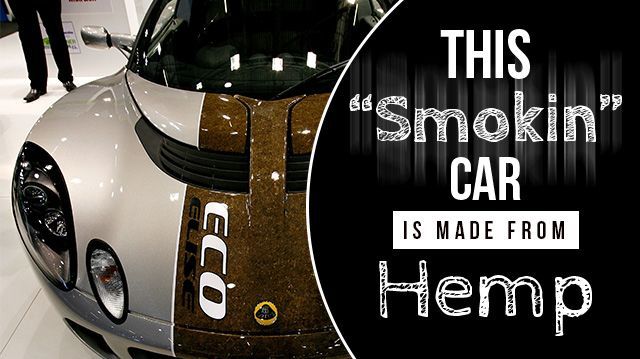 Hemp really is a miracle plant. It has been grown for thousands of years and is used in everything from paper and food, to textiles, building materials and even body care products. Some even believe that Henry Ford experimented with hemp to build car bodies. Rumor has it that BMW, among other luxury car manufacturers, are experimenting with hemp to create a lighter-weight, more fuel-efficient vehicle that's easier to recycle. While a car made of hemp may not seem practical, some think it's the wave of the future.
Enter Bruce Dietzen and his sexy red sports car — made from hemp 
Bruce Dietzen, a Key West, Florida native, moved to Hawaii 16 years ago and set up shop in his garage. Using a Mazda chassis, he built his hemp car from approximately 100 pounds of imported Chinese hemp. Almost every part of the sports car is made from hemp, including the body, dash and rugs. But the engine parts, windshield, mirrors and other electrical parts are not.
Dietzen used hemp fibers and resin to create a strong plastic, which he then molded into the car body. The result: a lighter, greener vehicle. While the idea of building a car with hemp may seem radical to some, Dietzen says he can cut the carbon footprint of the planet's estimated one billion cars and cover much-needed ground in the fight against climate change.
Huge carbon rewards 
Calculating the carbon footprint of a vehicle is difficult because of each greenhouse gas-producing component involved in the process: the extraction of metals, creation of plastics, manufacturing of parts, and transportation of parts, etc. Not to mention the carbon footprint created by each corporate office and building that manages the process. Then, of course, there's driving your vehicle, which also releases greenhouse gases into the atmosphere and contributes to climate change. Yet, Dietzen thinks that manufacturing cars with hemp and fueling it with biofuels could have huge carbon rewards, according to the Honolulu Star Advertiser.
And there are others who agree. Researchers in Australia and England are also working on developing materials from plants like hemp and elephant grass to replace plastic and metal-based car components, reports ABC News. Natural materials like hemp are biodegradable and can increase fuel efficiency because they weigh about 30 percent less than materials used today. The lighter the car, the less fuel required.
A regular gas-powered car creates a carbon footprint of about 380 grams of carbon per mile, suggests the Union of Concerned Scientists. While hybrid cars are less, they're still produce more than 200 grams. Dietzen calculates his cannabis car can cut that footprint by about one-quarter. 
Made in the USA? 
Alan Crosky and colleagues at the School of Material Science and Engineering, University of New South Wales, Australia told ABC that they have been working with hemp as well as other plant-based materials. Building cars — even their outer shells — from plants like hemp could reduce the number of rusting car bodies and rotting car parts on old lots, suggests Crosky. 
Each year, 10 to 11 million vehicles in the US reach the end of their useful lives. Twenty-five percent of those vehicles remain as waste. Still, while the idea of plant-based cars has taken hold in countries like Germany and Britain, where manufacturers are required to pay tax for the disposal of old vehicles, in the US, auto manufacturers aren't quite so eager.
"We use natural fibers only when it makes sense technologically," Phil Colley, a spokesman for the Ford Motor Company, told ABC News. Colley also suggests that hemp produces a musty odor when incorporated into a vehicle. However, while US manufacturers remain sceptical, Dietzen says he will take custom orders for his hemp car. Prices will begin at $40,000 for a 130-horsepower model and go as high as $197,000 for a 2,300-pound edition powered by a 640-horsepower engine.
No, you can't get high from hemp 
In case you're wondering, no, you can't get high from hemp. If that were true, then those hemp seeds you're buying from Costco would be a heck of a lot pricier, don't you think? Hemp does contain some tetrahydrocannabinol (THC), the active psychoactive compound in cannabis, but the percentage is too low to get you high, says the North American Industrial Hemp Council. 
Industrial hemp, like that used in Dietzen's hemp car, has a THC content of between 0.05 and one percent. Marijuana, on the other hand, has a three to 20 percent THC content. It would require a person to smoke 10 to 12 hemp cigarettes over an extremely short time period to feel any effect. In addition, the large volume and high temperature of vapor, gas and smoke would be almost impossible for a person to tolerate. So even though hemp is a member of the cannabis family, it is cultivated mainly for fiber and seeds.
Would you forgo steel for hemp? Well, with more and more US states legalizing marijuana, and Canada following suit, hemp could become the next big cash crop — making hemp cars the wave of the future.
—Katherine Marko
Katherine Marko is a freelance writer, author and blog creator. Her areas of expertise include food, health, style, beauty, business and nutrition. Marko holds a Bachelor of Arts in English, a diploma in photography, graphic design and marketing, and certification in esthetics.
Sources:
http://www.staradvertiser.com/breaking-news/florida-man-riding-high-in-cannabis-car
http://nocohempexpo.com/2016/03/driving-hemp-future-bmw-goes-biodegradable
http://naihc.org/hemp_information/hemp_facts.html
http://www.ucsusa.org/clean-vehicles/fuel-efficiency/national-clean-vehicles-program#.Vzo%2026%20dQrLs%200
http://abcnews.go.com/Technology/story?id=98529&page=1