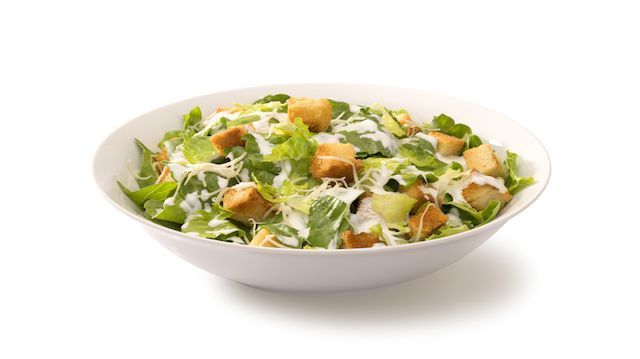 In 1956, the master chefs of the International Society of Epicures in Paris announced Caesar salad as, "the greatest recipe to originate from the Americas in 50 years." Today, Caesar salad is still the most commonly served salad.  
Everyone needs a killer Caesar salad recipe in his or her repertoire — so here's a classic! This traditional Caesar salad dressing beats any supermarket bottled variety.
Preparing the lettuce 
Separate the Romaine leaves and discard the coarse outer leaves and the woody rib by removing the leaves from the rib. Wash, drain, and spin or pat dry the lettuce leaves with paper towels.
Loosely roll the clean lettuce leaves in paper towels, and then place the rolled greens inside a large resealable plastic bag. Place the bag in the refrigerator until ready to use. This will crisp up the Romaine leaves nicely.
Coddle an egg
Classic Caesar salad dressing calls for a coddled egg. Coddling the egg in the shell lends creaminess to the dressing. However, it's important to note that coddling alone doesn't necessarily kill bacteria, so always use a fresh, organic, free-range egg.
Place the egg, with shell, in a small bowl, and pour boiling water over the egg until it's covered completely. Let stand for one minute, and then run cold water into the bowl until the egg can be handled.
You can substitute a coddled egg with half a cup of organic mayonnaise, if you like. However, if choosing to substitute, reduce the olive oil in the dressing recipe below by half. 
Instead of croutons…
I don't care much for croutons, so ditching them is not a problem. However, I do love a crunchy element in my salad. If you love the crunch of a crouton, but don't want the gluten, bake up a batch of garlic parmesan crisps instead (see recipe below).
2 to 3

heads

Romaine lettuce, hearts and tender leaves only

2

tsp

finely chopped garlic (inner green germ removed)

1

anchovy fillet, mashed

4

tbsp

freshly grated parmesan cheese

2

tbsp

freshly squeezed lemon juice (1/2 lemon)

1

tbsp

dried parsley flakes

3

drops

gluten-free Worcestershire sauce

1

egg, coddled

6

tbsp

extra virgin olive oil

1/2

cup

crispy, organic, grass-fed bacon bits (optional)

1/8

pinch

Coarse sea salt

1/8

pinch

coarsely-ground black pepper
Tear the lettuce into bite-size pieces and add to a large salad bowl; set aside.

In a blender, blend the garlic, anchovy, 2 tablespoons of the parmesan cheese, lemon juice, parsley, and Worcestershire sauce.

Add the coddled egg and blend until thick. While still blending, slowly drizzle in the olive oil until combined.

Add the prepared Caesar salad dressing to the lettuce and toss until well coated. Add the bacon bits and the last 2 tablespoons of parmesan cheese and toss gently to combine. Add salt and pepper. Garnish with garlic parmesan crisps…
Note: Traditional Worcestershire sauce is not considered gluten-free because of the malt vinegar in the recipe. However, there are other brands available which are gluten-free — just make sure to carefully read the label.
1

cup

freshly grated parmesan cheese

1

tsp

fresh garlic, finely minced, or 1 tsp garlic powder

1

tsp

dried parsley
Preheat the oven to 400℉. Prepare a baking sheet by lining it with parchment paper.

Combine parmesan cheese, garlic, and parsley in a small bowl. Pour 1 tablespoon of cheese mixture onto prepared baking sheet and lightly pat down. Repeat procedure, leaving half an inch between each cheese mound. Bake for 5 minutes or until melted and golden.

Cool completely before lifting. Repeat procedure with remaining cheese mixture.
Add the garlic parmesan crisps to your Caesar salad and enjoy this classic dish!
—Katherine Marko
Katherine Marko is a freelance writer, author and blog creator. Her areas of expertise include food, health, style, beauty, business and nutrition. Marko holds a Bachelor of Arts in English, a diploma in photography, graphic design and marketing, and certification in esthetics.