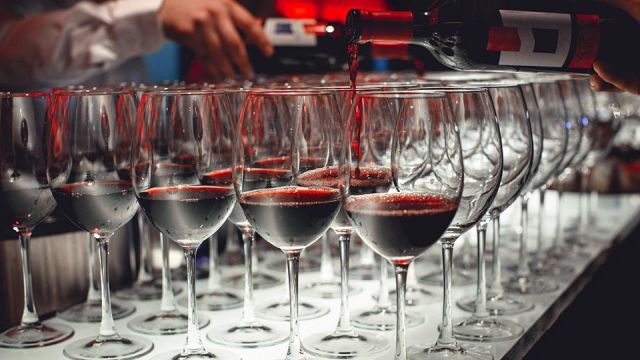 According to a brand new CNN Money report, major weather-related issues in Europe are becoming "catastrophic" for wine-growing regions in Spain, Italy and France, which produce half of the world's wine.
Industry experts believe that production will drop nearly 14 percent compared to 2017. To pile on more bad news, there are worries surrounding the Napa Valley and Sonoma counties, which were devastated by wildfires this past month.
How some of us feel right now:
Production from the region will clearly be impacted, but it is not yet known how extensively.
Some believe that harvest season was already 90 percent complete, so the wildfires didn't have as much of an impact, as opposed to if they occurred in May or June.
"We still foresee a dramatic decline in wine availability going into 2018," Stephen Rannekleiv, a global beverages strategist at Rabobank, told CNNMoney. "We expect the decline [in consumption] to be felt most tangibly in the lower-priced tiers."
Even though the worst part of the impact won't be until 2018, CNN Money reports that wine prices were already on the rise in 2017, up nearly 10 percent.
"The rise in Italian and Spanish bulk wine prices is particularly noticeable and it started as early as May, when the first threats to production materialized," said Rannekleivn, a global beverage strategist at Rabobank.
Should you stock up now or not? 
With all of this being said, you might be asking yourself, "Should I stock up now or just wait it out?"
Rannekleiv says you should buy now because prices will only continue to go up. "The lower-priced tiers (also known as the cheaper stuff that's most readily available) will be most affected."
Michael Kaiser, the vice president of WineAmerica, says "The real danger is the potential loss of damage to the vines for future years. We are a long way from knowing what that could mean for wineries."
People have responded to the news:
There is a global wine shortage coming so my life is pretty much over. #lostwilltolive

— Nikki Irish (@Nikki_Irish) October 27, 2017
Time to switch to vodka.

— XXS (@XXS) October 26, 2017
Welcome home Britt. Wine shortage say it's not true. Gotta have my mom stock up since she works at a winery lol.

— Matt Nicolas (@matt2689) October 31, 2017
What are your thoughts on the wine shortage? Will you be stocking up? Let us know!
— PJ Amirata