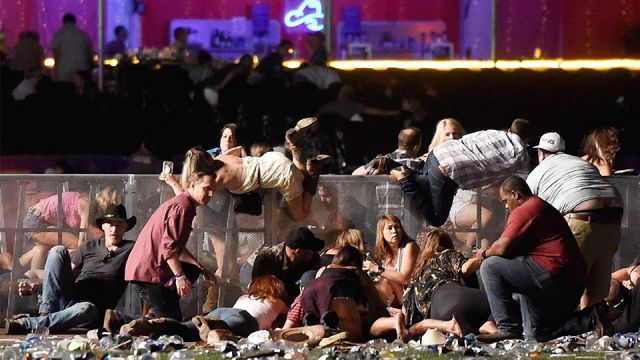 Last night, over fifty people were killed in what will go down as the deadliest mass shooting in United States history.
The gunman opened his fire from a nearby hotel, where he aimed for the crowd of thousands watching Jason Aldean performing live.
In addition to the fatalities, more than 400 people were injured.
Tweet from the Las Vegas Metropolitan Police Department at 12:38 AM EST->
We're investigating reports of an active shooter near/around Mandalay Bay Casino. Asking everyone to please avoid the area. #LVMPDnews

— LVMPD (@LVMPD) October 2, 2017
Here is chilling footage released by an eye witness. It was recorded just outside the Mandala Bay resort and Casino, where the concert was being held.
EYEWITNESS: Chilling footage of moment active shooter opened fire on concert goers near Mandalay Bay resort in Las Vegas pic.twitter.com/7OfAwg0ReO

— Josh Caplan (@joshdcaplan) October 2, 2017
Concertgoers duck after gunman opens fire at Mandalay Bay Resort in Las Vegas; President briefed on Las Vegas shooting, "all of those affected are in our thoughts & prayers"pic.twitter.com/Y1oLA8vd0E

— Breaking911 (@Breaking911) October 2, 2017
Harrowing video of mass shooting during @Jason_Aldean set of #Route91Harvest Festival in #LasVegas. #MandalayBay pic.twitter.com/gaXgDBbZKV

— Evan Schreiber (@SchreiberEvan) October 2, 2017
As seen in the first video, Jason Aldean stops and people are told to duck and cover.
According to multiple reports, the shooter was firing his automatic firearm from the 32nd floor of his hotel room, making it extremely hard for the concertgoers to tell where the bullets were coming from.
Multiple SWAT teams were sent to the hotel immediately after hearing the shots at around 12:08 AM EST.
The Mandalay Bay hotel was on virtual lockdown.
"We went into the hotel and they started shutting down casinos," Todd Price, a guest of Mandalay Bay, told CNN. "We tried to get into our rooms, and they shut down the elevators and started to get everybody out."
This photo shows some of the graphic and horrifying carnage at the scene…
People flee the Route 91 Harvest country music festival in Las Vegas as gunman opens fire https://t.co/8E6ZiQFMvX pic.twitter.com/CWZcEfCTWQ

— Daily Mail US (@DailyMail) October 2, 2017
Here is a photo of the suspected shooter, 62-year old Steve Paddock, who is reportedly not connected to any terrorist organization.
Here's a photo of him with Marilou pic.twitter.com/icAexDPidQ

— R. Saddler 📎🗽 (@Politics_PR) October 2, 2017
Currently, police have set up a line to call if you are looking for loved ones in the area.
For families looking to locate missing loved ones, please call 1-866-535-5654.

— LVMPD (@LVMPD) October 2, 2017
Also, if you are near the area, there are aggressive requests for blood donations, as hundreds of people wounded will need it.
In recent years, there have been other extremely notable shooting events, such as the Sandy Hook School shooting in 2012 and the Orlando nightclub shooting in 2016.
UPDATE – 9:57 a.m. EST
The shooter, Stephen Paddock, has committed suicide in his hotel room. He used video cameras to tell when SWAT teams were about to enter his room.
BREAKING NEWS: Las Vegas Sheriff says there were 10+ RIFLES found in the room of shooter. They say shooter killed himself before SWAT entry.

— Tom Winter (@Tom_Winter) October 2, 2017
This was clearly a well-planned attack by Paddock.
Also, potential accomplice 62-year-old Marilou Danley, the woman he has been living with, has been confirmed to be out of the country.
Hours ago, Danley was a highly sought out connection to Paddock.
UPDATE – 10:50 a.m. EST
UPDATE – 11:50 a.m. EST
Haddock's brother was interviewed saying, "My brother is just a guy that lived in Mesquite, Nevada… he ate burritos and loved to gamble…"
I have the same questions as the shooter's brother. #LasVegasShooting pic.twitter.com/4dYSFThyjf

— deray mckesson (@deray) October 2, 2017
UPDATE – 12:15 p.m. EST: The FBI is aware of ISIS taking responsibility. Currently, there is no evidence to support their claims.
— Peter Amirata