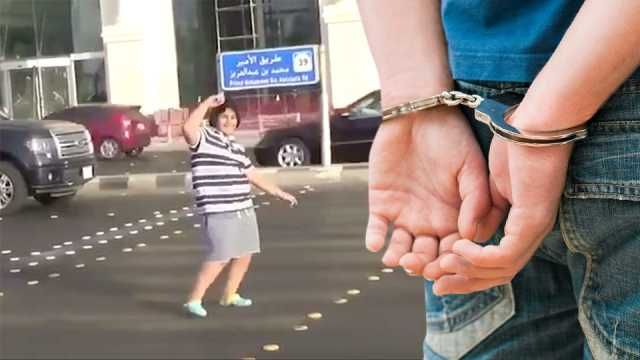 Saudi Arabian authorities have released a 14-year-old boy without charge, after he danced up a social media storm to the Macarena. The teenager had been accused by police of "improper public behavior" after dancing to the 1990s pop hit in a busy street in the Saudi city of Jeddah.
In a 45-second video of the incident, the boy could be seen casually making his way into the middle of a pedestrian crossing, before busting out his best moves to the Macarena. Grinning, the boy appeared delighted as motorists watched on.
The video went viral on social media Tuesday, with users praising the boy for his carefree attitude. In a nation often accused of widespread human rights abuses, the boy quickly was labeled by some as a champion of free speech.
"Jeddah boy dancing in the middle of Tahlia Street is the hero we need," Twitter user Ahmed Al Omran stated.
Jeddah boy dancing in the middle of Tahlia Street is the hero we need pic.twitter.com/fui9v2UuDF

— Ahmed Al Omran (@ahmed) 19 August 2017
Another Twitter user, Sahira Nahari said, "That's the kind of son I wanna have," while Mitchell Prothero simply tweeted, "Dance like the religious morality police aren't watching."
That's the kind of son I wanna have https://t.co/iCDJ8Kyfdk

— Sahira Nahari (@sahiranahari) 22 August 2017
Dance like the religious morality police aren't watching https://t.co/QCdjZHWSFm

— Mitchell Prothero (@mitchprothero) 20 August 2017
This video is so funny I loved it https://t.co/rkzPdnMKCq

— فاطمة المحميد (@Toosha_mahmeed) 22 August 2017
Saudi police quickly detained the teen
However, the boy didn't win over everyone. Saudi police quickly detained the teen, prompting fears he may face criminal charges. Instead, Saudi authorities said they released the boy without charge, but ordered him to refrain from future outbursts of dance fever — at least in traffic.
"The notification was solely intended to warn the boy about potential consequences for his own safety, as well as to safeguard the overall safety of motorists and pedestrians," Saudi Arabia's interior ministry said in a statement.
According to state media, both the boy and his parents were questioned over the incident. "[The parents] signed a written pledge that the teen will not engage in behavior that could endanger his life and the life of others again," the interior ministry said.
Freedom in Saudi Arabia
Catchy retro tunes aside, the boy drew renewed international attention to the thorny issue of freedom of speech in Saudi Arabia.
In May, the United Nations released a scathing report on the country's justice system, accusing authorities of using anti-terror laws to crack down on basic freedoms — and not just the freedom to dance. "I have received numerous reports about prosecution… of human rights defenders, writers, bloggers and journalists in connection with their expression of non-violent views," U.N. investigator Ben Emmerson QC said at the time.
Emmerson further alleged Saudi anti-terror legislation allows "the criminalization of a wide spectrum of acts of peaceful expression, which are viewed by the authorities as endangering 'national unity' or undermining 'the reputation or position of the state.' "
Torture and other forms of prisoner abuse are widespread, according to Amnesty International. Meanwhile, British human rights group Reprieve has listed Saudi Arabia as one of the world's top five users of the death penalty, with many of the victims guilty of little more than expressing unpopular opinions. "The death penalty in Saudi Arabia is regularly imposed for nonviolent offenses, including attendance at political protests and drug offenses," Reprieve stated. "Even 'crimes' like adultery, blasphemy and sorcery can be punishable by death."
Reprieve pointed to one horrific day in early 2016, when Saudi Arabia executed 47 people in a single 24 hour period. Among those executed was Ali al Ribh. Al Ribh was just three years older than the Macarena boy when he was arrested for joining a political protest. Saudi authorities initially failed to inform al Ribh's family of his execution and withheld the location of his burial, according to Reprieve.
"Ali al Ribh's tragic case shows that the Saudi authorities are quite happy to execute juvenile protesters if they think no one is looking," Reprieve researcher Maya Foa said.
This raises an obvious question: if the boy in Jeddah hadn't quickly garnered social media stardom, would he be alive today?
— Ryan Mallett-Outtrim