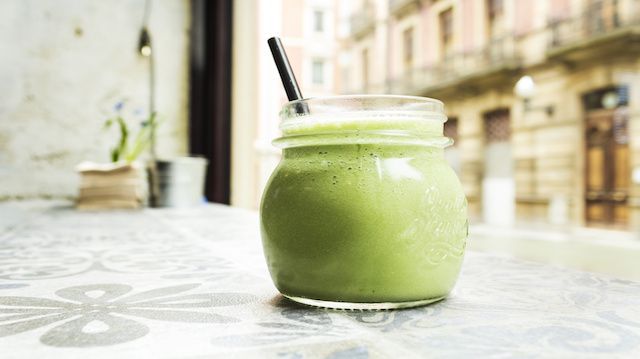 Begin your day the right way by keeping free radical intake low and antioxidant intake high. These smoothie recipes take care of that for you. Remember, you're only as healthy as your immune system. So drink up and enjoy!
The hardworking immune system
The immune system defends and protects your body from bacteria, viruses, microbes, parasites and free radicals. Free radicals cause cell damage that may eventually lead to illness. Diet and lifestyle play a huge role in keeping our immune system functioning optimally. Processed foods, smoking and alcohol significantly increase the amount of harmful free radicals our bodies take in. Immune-boosting foods help protect your body against toxins, free radicals and autoimmune disorders, as well as harmful bacterial and viral infections. 
Boost immunity with these foods
Dark leafy greens, carrots and bell peppers contain high levels of vitamin A, which protect the body from infection by keeping mucous membranes moist. Seeds (particularly sesame and pumpkin) contain zinc, an essential element that maintains white blood cell levels and helps heal wounds. Sunflower seeds and almonds contain high sources of vitamin E, which is important for strong immunity, healthy skin and eyes. Strawberries and citrus fruits are high in vitamin C. This powerful antioxidant vitamin has properties that protect your immune system against the destructive effects of free radicals.
In order to gain the most benefits from these health-promoting fruits, vegetables, nuts and seeds, purchase organic varieties whenever possible. This will eliminate the risk of exposure to harmful pesticides, which are often used on commercially grown produce.
Our bodies need zinc to maintain strong cells in the immune system. However, we can't produce zinc naturally so we need to add healthy sources to our diet — pumpkin seeds are a great source of zinc. This smoothie is loaded with antioxidant-rich vegetables, fruits and seeds. The addition of kefir, with its unique nutrients, and flaxseed, with its anti-inflammatory properties, help protect against bacteria and autoimmune disorders.
1

cup

kale

1

cup

strawberries (fresh or frozen)

1

banana

1/2

yellow pepper

1/4

cup

pumpkin seeds

1

tablespoon

flaxseed oil

1

cup

almond milk kefir

,milk kefir or coconut water kefir
Place all the ingredients into a high-speed blender and blend for 30 seconds, or until smooth.
Coconut Flu-Fighter Smoothie
Coconut oil has antimicrobial properties and coconut water fights dehydration often associated with the flu virus. This smoothie is loaded with antioxidant-rich berries and greens. Sesame seeds are also a great addition to this smoothie, providing antioxidant and anti-inflammatory compounds known as sesamol.
1

cup

spinach

1/2

cup

blueberries

1/2

cup

strawberries

1

tablespoon

sunflower seeds

1

tablespoon

pumpkin seeds

2

teaspoons

coconut oil

1

cup

coconut water

1 - 2

teaspoons

raw honey
Place all the ingredients into a blender and blend for 30 seconds, or until smooth.
Flavonoids in parsley, particularly luteolin, work as antioxidants which, when combined with highly reactive oxygen-containing molecules, help prevent oxygen-based damage to cells. Garlic and ginger both have antibacterial and antiviral properties. Garlic may also contribute to the prevention of certain cancers — especially renal and colorectal cancers. Avocado oil, rich in oleic acid and anti-inflammatory properties, may also lower the risk of some cancers and help prevent certain autoimmune diseases.
1

handful

of organic parsley

1

carrot

1

piece

of ginger root

1

tablespoon

avocado oil

1

garlic clove

1

apple

1

cup

of coconut water
Peel and cut the carrot into chunks. Core the apple and cut it into chunks.

Combine all the ingredients and place them into a high-speed blender. Blend for 30 seconds, or until smooth.
Enjoy!
—The Alternative Daily