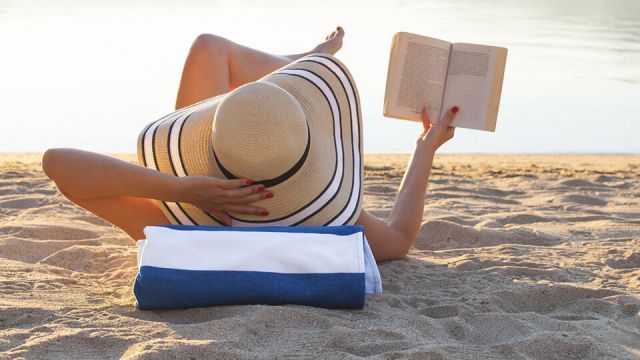 Have you been stuck in a rut lately? Maybe you've been following the same work-home-sleep-work routine for months or years, and you haven't taken a vacation in a good long time. Perhaps there is a certain spot on the globe that you'd like to see, or maybe you just have a subtle itch to hit the road and experience everything it has to offer along the way.
If you're looking for some motivation to travel — an accelerant for your wanderlust, if you will — check out these six books. Diving into one (or all six) of them may just get you to book your getaway of a lifetime sooner than you thought. Words are powerful, after all.
"On the Road" by Jack Kerouac
This is a pretty obvious choice — the title is pretty telling — but there is a reason that this seriously enjoyable book by Jack Kerouac has been a classic reading choice of wanderers for decades. The story centers around an uninhibited cross-country journey of the United States. And Kerouac, who puts a great deal of himself into his narrator, is unrivaled in his exuberance and his celebration of the freedom of the human spirit.
"The Colossus of Maroussi" by Henry Miller
If you've always been fascinated by the rich culture and history of Greece, pick up a copy of this book. Henry Miller's writing is like none other; it's part autobiographical, part impressionistic and part fantastical. He sees the world in a unique way, and he eloquently shares glimpses in a way that's exciting and engaging to read. You'll feel like you're right there on the islands with him.
As a side note, reading this book made me want to read everything by Henry Miller. He's a gem.
"The Rum Diary" by Hunter S. Thompson
This book is a great deal of fun to read, the sheer immersion in Puerto Rico that Hunter S. Thompson creates will have you thinking about the beach and the ocean waves. It follows a first person account of a journalist, Paul Kemp, who moves from New York to Puerto Rico to write for a newspaper. What follows is madness.
Besides inspiring some tropical wanderlust, this is a great book to take with you while you travel, as well. Thompson can make waiting in an airport much more fun.
"The Little Prince" by Antoine de Saint-Exupéry
Can't quite imagine exactly where you want to travel to? How about some planet-hopping? In this short, beautiful book, the Little Prince leaves his home planet, and his beloved talking flower, to travel through space. He visits many strange planets along the way and meets up with a stranded pilot who is trying to fix his plane. Inspiring doesn't even begin to cover this one. And it's a short book, so you can finish it in very few sittings. On top of that, it's a great story for kids and adults alike.
I know there was recently a Little Prince movie that came out, and I grew up with and enjoy the 80s musical version, but the book is far superior. Try to find a copy with the original illustrations.
"The Lord of the Rings" trilogy by J. R. R. Tolkien
It's an imaginary journey, but the journey of Frodo and the ring in this trilogy remains arguably the most epic story of all time. If you're looking to get yourself out of a rut and start imagining new worlds and new places to go, pick up the first book and go from there. If you've already read it, then you know that it's worth the re-read every time.
If you've watched the movies but have never read the books, give it a try. I saw the movies long before I read the books, and my reading experience was still fantastic. There is a lot that the movies leave out.
If you're ready to wander but can't take a vacation anytime soon, the trilogy is a great way to escape. It's also highly inspiring; there's a reason why so many works of art and music are based on it.
"The Odyssey" by Homer
Speaking of epic, this is one of the oldest epic adventure stories in recorded history. Written by Homer, the famous blind poet of ancient Greece, The Odyssey is the story of Odysseus and his long and perilous quest to get home after the Trojan War. There are seas to cross, cyclops to fight, witches to escape and many other obstacles to survive. It's a rough journey for Odysseus, but if you're looking to get in the mood to wander, it's good inspiration. Also, another great airport or train read.
So, those are six of my favorites… what are yours? What books do you read to get in the mood for traveling? Which do you stow in your backpack for reading on the go?
— Tanya Mead