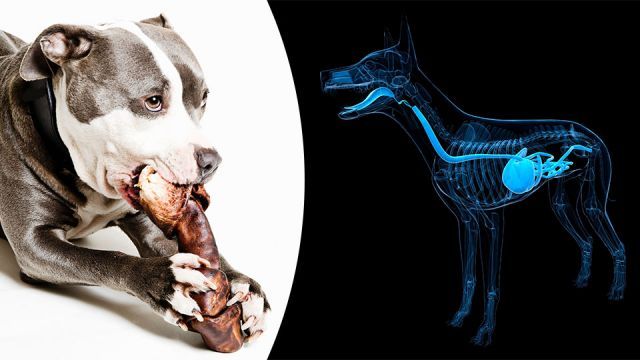 If you're currently giving your dog commercial bone treats, listen up! According to the U.S. Food & Drug Administration (FDA), 68 pet illnesses and 15 deaths have been linked to bone treats. And we're not talking uncooked, butcher-type bones. Issues are arising from the highly processed and packaged bone treats normally found at grocery and pet food stores.
Those bone treats could kill your dog
The FDA has listed a variety of bone treats for dogs as dangerous, including commercially-prepared ham bones, pork femur bones, rib bones and smoky knuckle bones. The bones may be dried through a smoking process or by baking. They might also contain other ingredients such as preservatives, seasoning and smoke flavorings. 
Here's what could happen to your dog
Here are the illnesses reported to the FDA by vets and dog owners whose pets have eaten bone treats:
Gastrointestinal obstruction, or blockage in the dog's digestive tract

Choking and vomiting

Abrasion and wounds in the dog's mouth or on the tonsils

Diarrhea and bleeding from the rectum

Death
So far, the reports involved about 90 dogs, and some households had multiple dogs affected. Moreover, the FDA received seven reports of product problems, including moldy bones or bone treats that splintered when chewed by the dog.
Other dog treats pulled from shelves
This is not the first time commercially-produced dog treats have been linked to illnesses. With so many questionably-produced dog treats available on store shelves, it's not surprising that dog treat and pet food recalls appear regularly in the media.
In 2015, jerky treats made in China were pulled from store shelves after thousands of dogs and cats became sick after eating them. Even several people who handled the products became sick as well.
Is there any wonder why? Last month, the Alternative Daily reported that roadkill and euthanized shelter pets are routinely used in pet foods. And while dogs may be scavengers by nature, highly processed foods and questionable practices don't make for a healthy dog. Maybe it's time to consider making your own dog treats!
Best homemade dog treat recipes
If your dog's a sucker for jerky treats, he'll love this healthier version, made with only one ingredient — sweet potatoes! This treat is a great alternative to rawhide, which poses choking and blockage risks.
Sweet Potato Jerky Treats
Ingredients
2 sweet potatoes (or yams)
Instructions
Preheat oven to 250 degrees Fahrenheit.

Wash and dry the sweet potatoes.

Cut the potatoes lengthwise, no less than a 1/3-inch thick for larger dogs. Cut round slices for a smaller dog, making sure the slices are no less than 1/3-inch thick to retain chewiness.

Place potato pieces on a parchment paper-lined baking sheet in a single layer.

Bake in the oven for about 2.5 to 3 hours, turning halfway through.  

Allow to cool, and store in an airtight container in the fridge for about three weeks.
PB and Bacon Doggy Biscuits
Instead of highly-processed dog treats, why not make a batch of healthy homemade biscuits? You can customize the recipe by adding shredded carrots, shredded zucchini and even cheese!
Ingredients
2 1/2 cups regular oats ground to flour

2 eggs

1 cup pumpkin

1/4 cup organic, all-natural peanut butter

2 slices crumbled bacon

1/2 cup hot beef stock (or chicken stock)
Optional: Add liver powder, shredded carrots, shredded zucchini, wheat germ or shredded cheese — whatever your dog's preference.  
Instructions
Preheat oven to 350 degrees Fahrenheit.

Add all ingredients together in a large bowl.

Knead dough for about 3 minutes until it forms a ball.

Roll out dough to 1/2-inch thick.

Using a bone-shaped cookie cutter, cut out shapes.

Place dough pieces on a parchment paper-lined cookie sheet.

Bake for 25 to 30 minutes until browned.

Allow to cool and store in an airtight container.  
We love our pets and want only the best for them. So, read nutrition labels on treat products just like you would read the nutrition labels on packaged foods for people. When possible, consider baking your own doggy treats. Only then can you truly be sure you're not feeding your dog an ingredient that could make them ill!
— Katherine Marko