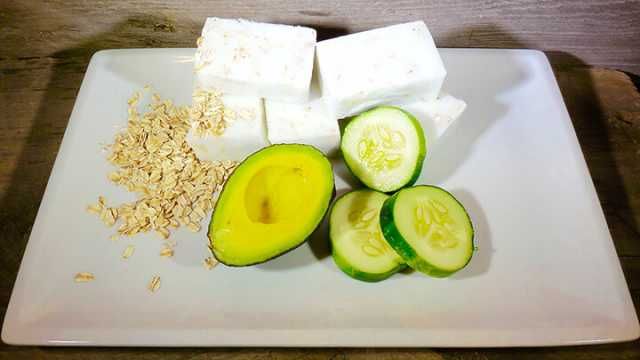 If you've always wanted to make soap but don't feel confident enough to try, this is a great recipe for you. Melt-and-pour varieties are an easy way to make it without all the measuring and mixing that other recipes call for.
This is the simplest recipe I have ever used and the end result is beautiful. The best news is that it only takes a few minutes to make from start to finish. All you need is avocado and cucumber melt-and-pour soap and some oatmeal.
Soap Ingredients
2 lbs of avocado and cucumber melt-and-pour soap (I ordered mine from Amazon.com)

1/3 cup of oats
Equipment
Microwavable bowl

Soap mold of your choice
Instructions
1. Cut soap into small cubes and place it in the microwaveable bowl. 
2. Heat the soap until it is completely melted, starting with 40 seconds at a time. This will take a few minutes. Stir often until the pieces are melted.
3. Once the soap is completely melted, add the oatmeal and stir well. Add essential oils at this time if you prefer a scented recipe. 
4. Pour the mixture into the mold.
5. Let the mixture cool, or stick it in the refrigerator or freezer for a few minutes to speed up the process. 
6. When it is cool to the touch, gently take the soap out of the mold and place it on a hard surface. 
7. Carefully slice the soap and let the bars set for 24 hours.
After making this recipe, I hope you'll be excited to try other soap projects. Buying melt-and-pour soaps will open up a whole new world of soap-making for you. You'll be making it like a pro in no time!
— Leilani Hampton