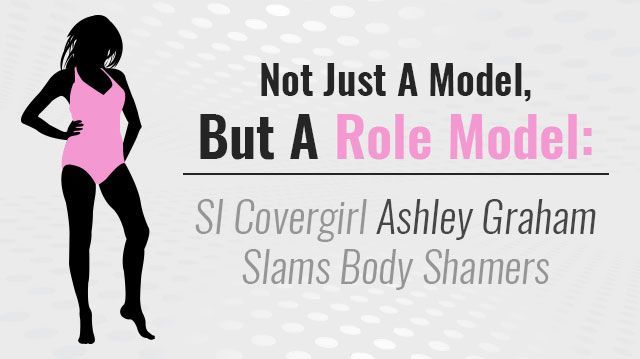 Everyone has an opinion and when it comes to women's bodies, it seems that far too many people have far too narrow an idea about what's beautiful and healthy. This year, Sports Illustrated gave body-positive folks something to cheer about, by putting not one but three vibrant, healthy women on the cover of Sports Illustrated Swimsuit 2016. Not surprisingly, the sultry plus-size model Ashley Graham caught flak for her curves, but thankfully the model is also healthily thick-skinned.
Graham, a size 16, was criticized by 1970s supermodel Cheryl Tiegs in March after news of her big SI cover broke. "Her face is beautiful, beautiful," said Tiegs. "But I don't think it's healthy in the long run." Tiegs quickly backtracked when body-positive fans of Graham reacted to her comments — her opinions but not really any of her business. "My sincere apologies to everyone I have hurt. I truly just want everyone to be healthy & happy," Tiegs tweeted.
Well then, how about allowing people to be happy with the body they're in, rather than attempting to live up to an unattainable ideal that is only achieved through the extreme use of Photoshop or by adopting an eating disorder?
Luckily for Graham, she's as tough as she is gracious. The model blew off Tiegs' comments, but not before noting the larger problem: body shaming.
"Cheryl Tiegs may have said what she said, and it may have hurt a lot of people's feelings, but my skin is so thick," said Graham. "I kind of rolled my eyes. I was like, 'Oh, whatever, another one of these ladies.' But what's great is that, the fact that she said it, it means that other women think like her. And what that means is that we really need to change the industry."
Graham is right. Some models go to dangerous lengths to maintain an unhealthy weight. In 2013, fashion model Bria Murphy, Eddie Murphy's daughter, told Good Morning America that some models go so far as to eat cotton balls to stay skinny. "I've heard of people eating the cotton balls with the orange juice… they dip it in the orange juice and then they eat the cotton balls to help them feel full, because the cotton's not doing anything. It's just dissolving. And it makes you think you're full, but you're not."
While I'm not implying that Tiegs is one of those models who would advocate eating cotton balls instead of actual food, something needs to change. It's attitudes like Tiegs' that prompt such life-threatening behavior on the part of models.
Thankfully, the industry is changing, however slowly. Not only is Sports Illustrated helping to change public perception of beauty, but France has cracked down on fashion labels that employ models who are "excessively thin." The government is leaving it to doctors to determine what's healthy based on the individual model's body type, which is admirable. The new legislation also requires that digitally-altered images be labeled as "touched up." Spain, Italy and Israel have adopted similar laws.
Graham joined model Hailey Clauson and UFC martial arts champ Ronda Rousey as a Sports Illustrated cover model this year. "All three women are beautiful, sexy and strong," said Assistant Managing Editor MJ Day. "Beauty is not cookie-cutter. Beauty is not 'one size fits all.' Beauty is all around us and that became especially obvious to me while shooting and editing this year's issue."
As Graham herself said, "Too many people think they can look at a girl my size and say that we are unhealthy. You can't. Only my doctor can."
Preach sister! It's high time we throw conventional beauty out and embrace beauty in all its forms and sizes. It's refreshing to see such iconic institutions as SI stepping up and taking a stand against the belief that "healthy" only comes in a size 2.
—Megan Winkler
Megan Winkler is an author, historian, Neurosculpting® meditation coach, certified nutritional consultant and DIY diva. When she's not writing or teaching a class, Megan can be found in the water, on a yoga mat, learning a new instrument or singing karaoke. Her passion for a healthy mind-body-spirit relationship motivates her to explore all the natural world has to offer.
Sources:
http://www.cnn.com/2016/03/03/entertainment/ashley-graham-cheryl-tiegs-feat/index.html
http://www.huffingtonpost.com/2013/06/11/models-cotton-balls-bria-murphy_n_3423591.html
http://www.bbc.com/news/world-europe-35130792
http://www.si.com/swim-daily/2016/02/11/si-swimsuit-2016-cover-models-ronda-rousey-ashley-graham-hailey-clauson