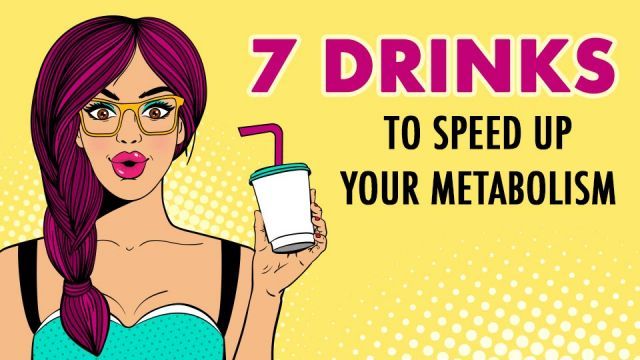 In a report by bright side, new ways to detox your body and increase metabolism have just been released. Not only are these recommended by medical professionals, they are actually pretty delicious as well. Since they boost metabolism, they are known to make it easier for your body to burn fat, thus making it easier to get toned.
1. Strawberry smoothie
The basic component needed to strengthen muscles is protein. Thus, this smoothie will increase protein intake, while also increasing metabolism with the strawberries.
To make this drink, add to a blender: 1/2 liter of skimmed milk, 1 cup of strawberries, 1/2 cup of oats, 1 cup of light natural yogurt and 1/4 cup of flax seeds. Blend it all up and enjoy this frozen metabolism boosting concoction.
2. Peppermint green tea
Green tea has been proven to optimize fat oxidation, while the complementing mint and lemon are known to prevent inflammation and contribute to the metabolic process. To make this, add 7 cups of green tea to a jar. Next, add a handful of fresh mint leaves. Lastly, add a couple of lemon slices. To really optimize its effects, keep the jar in the fridge for about 24 hours prior to drinking.
3. Fruit smoothie
This drink has a collage of different fat burning fruits. To make it, add 2 grapefruits or oranges to a blender, 2 slices of pineapple, 1 cup of raspberries, 1/2 glass of water. Then, blend it together!
4. Apple smoothie

Apples are tremendous for detoxifying and energizing your body. They are high in pectin, which reduces the amount of fat your cells can absorb. Thus, this drink will strengthen muscles and help you burn fat. To make it, add these ingredients to a blender: 1 cup of light natural yogurt, 1 apple cut into pieces, 1 tablespoon of honey, 1/2 cup of almonds, cinnamon, 1/2 liter of skimmed milk. Blend it up and enjoy.
5. Spiced Infusion
This is inherently a green tea infusion and it has truly amazing benefits. It includes green tea, pepper, cinnamon and honey to detoxify your body. To make it, prepare a cup of green tea, add honey, add a pinch of cayenne pepper and a tablespoon of ground cinnamon.
6. Chocolate smoothie (yes, you read that correctly)
Believe me, I was the last one to expect this on the list, but actually, this drink is very rich in protein and it contains coffee, which boosts your metabolism. It is best suited as a pre-workout drink. To make it, add this to a blender: chocolate or cocoa powder without sugar, 1/2 liter of skimmed milk, 1/2 cup of oats, 1/4 cup of amaranth, 1/2 tablespoon of coffee, add some honey for taste. Blend it all up and enjoy.
7. Coconut water
Lastly, coconut water will boost metabolism and burn fat. This drink is best for the morning, right after you wake up, or before exercising.
— PJ Amirata