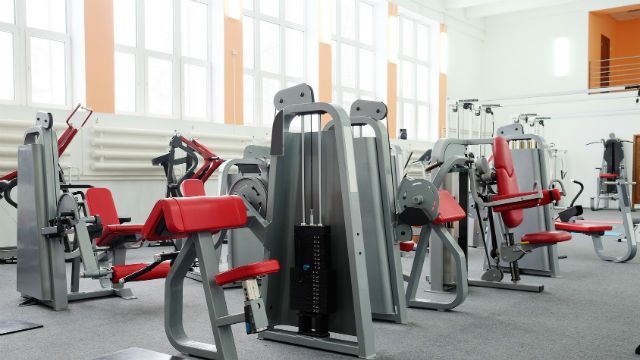 You probably visit the gym to get healthy and strong, but you may be getting more than a workout there. Hot and moist from crowds and sweat, gyms are absolutely full of germs, including dangerous ones like MRSA, norovirus and influenza.
Don't worry, you don't have to stop your gym habit, you simply have to be aware—and maybe carry a few extra supplies from home. Here are the seven germiest places at the gym and how to protect yourself from them.
The water fountain
A study found that water fountains may hold even more bacteria than toilets! Yuck. Fill up your own reusable water bottle at home, and bring it along. You'll get to skip the line at the water fountain, and you won't be exposed to the germs of everyone who drank before you.
The communal hand sanitizer
Although we're sure these were installed with good intentions, when hundreds of sweaty, dirty hands touch the pump each day, it's probably best to just avoid it. Also, as some hand sanitizers contain potentially harmful chemicals, try filling a small bottle with witch hazel and toting it in your bag instead.
The towels
Again, it's great that gyms provide these amenities, but ask yourselves these questions about gym towels: How are they washed? Do they use hot water? Bleach? How long have they been sitting since the last wash? Do they use the same baskets to carry the clean and dirty ones? Needless to say, it's best to bring your own clean towel from home.
The machines and equipment
Germs can remain on exercise machines and equipments for as long as a month. Before you get on or touch any of the machines, take a few seconds to wipe them down with the spray bottle and towel provided, and be sure do the same after you use the machine – it's common courtesy.
The locker room
This includes everywhere in the locker room: the toilets, showers, benches, and the lockers themselves. To protect yourself, always keep your shoes on while you're walking around, and bring some plastic flip-flops for the showers. Cover the bench before sitting on it, and consider keeping your clean clothes in a closed plastic bag when you stow them in the locker. Make sure you wash your hands before you leave.
The pilates and yoga mats
A good rule of thumb at the gym is to never assume that the person before you has wiped down the equipment. Although machines are fairly easy and straightforward to clean yourself, mats can be trickier to wipe down. Again, consider carrying your own for yoga, pilates and mat classes. When your class is finished, be sure to clean your mat before leaving, as you don't want to carry any of those germs back home.
Your gym bag
A final spot for germs is your own gym bag. Just think about it: you throw it on the dirty floor of the locker room, place it on the benches where dozens of sweaty bodies have sat before you, hang it on a hook in the grimy showers, and keep your sweaty clothes and shoes inside. Try to wash your bag regularly with hot water, and be sure to keep your clean clothes in a separate plastic bag.
Remember, it's up to you to determine the risk/reward of going to the gym.
Germs are hiding in your home too! (top 10 places)
If you decide to stay at home, that doesn't mean you're fully protected. Our friends at Upwellness have recently laid out 10 Places Scary Germs Are Hiding Out & What To Do About it.
They include:
1. The Kitchen Sink
2. Toothbrush Holder
3. Cutting Board
4. Spatulas
5. Shower Curtain
6. Dishwasher
7. Pet Beds & Toys
8. Blender Gasket
9. TV Remote
10. Salt & Pepper Shakers
As you can see, these are the common hotspots that we're all touching frequently in our homes. If you'd like to learn more info on how to clean these areas and items, click here to read the full Upwellness article.
In summary, regardless of whether you're isolating at home or still going out and performing everyday activities like going to the gym, it's important to stay vigilant, avoid germ hotspots and wash your hands frequently.
-The Alternative Daily
Sources:
http://abcnews.go.com/GMA/story?id=3293080&page=1#.Tuqs_yNWrZA
http://greatist.com/fitness/are-germs-gym-making-you-sick
http://www.healthywomen.org/content/blog-entry/surprising-places-germs-hide-out
http://blog.vitacost.com/exercise/are-hidden-gym-germs-making-you-sick.html