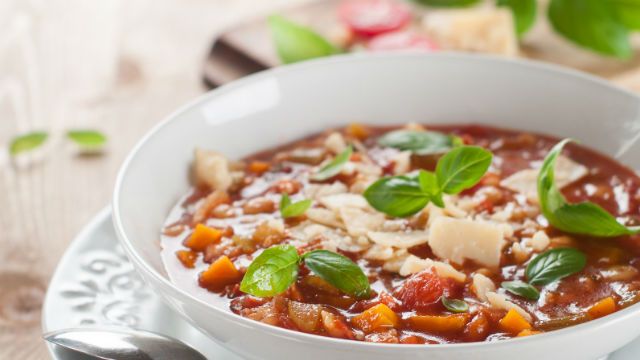 Grandma was at least partially right: chicken soup is good for chasing a cold away. Its been used since ancient times for its medicinal effects. Some doctors believe that its benefits are psychosomatic, though many health experts say that steaming hot soup helps to clear congestion and provides important hydration for flushing out a viral bug.
However, it's not just chicken soup that is likely to do the trick. The following homemade soups are also ideal for battling a cold. As always, choose organic ingredients to get the most nutrition without the toxic chemicals.
Spicy Turkey and Cilantro Soup
Ingredients:
4 cups free-range turkey stock
1 cup water
1 cup shredded leftover free-range turkey meat
1 cup frozen mixed vegetables, thawed
1 medium tomato, diced
½ medium yellow onion, diced
2 cloves garlic, minced
1 tablespoon unrefined coconut oil
2 chipotle peppers, finely chopped, or 1 tablespoon ground chipotle pepper
½ teaspoon ground cumin
¼ teaspoon sea salt
A handful of cilantro, chopped
Add coconut oil to a large pot over medium high heat; melt and then add garlic and diced onion. Cook until the onion becomes translucent and the garlic begins to brown. Add tomato, chipotle peppers, salt and cumin, and sauté for about 2 minutes. Add the turkey stock and water, and bring to a low boil. Next add the turkey meat and mixed veggies. Simmer for about 10 minutes, until the flavors are well-combined and have a fragrant aroma. Serve into large soup bowls, garnish with cilantro and enjoy for your better health.
Chicken Soup with Astragalus and Medicinal Mushrooms
Ingredients:
5 pounds free-range chicken (when using a whole chicken, remove chicken meat just after stock is brought to boil and reserve for later use)
12 cups water
3 carrots, peeled and cut into thirds
2 parsnips, peeled and quartered
2 celery stalks, cut into thirds
2 yellow onions, quartered
1 ounce astragalus root (used as part of Traditional Chinese Medicine to treat infections and other ailments for thousands of years)
2 ounces dried medicinal mushrooms (choose one of the most potent, such as reishi, maitake, shiitake or turkey tail)
3 bay leaves
1 teaspoon sea salt
Bring all ingredients to a boil, then skim the top layer of the stock and discard. Cover and simmer for at least 2 ½ to 3 hours. Strain and keep stock. Discard veggies, astragalus, mushrooms and chicken carcass. Next, add the following to the broth:
Reserved chicken
2 ounces dried shiitake mushrooms
2-inch chunk of grated ginger root
6 to 8 cloves garlic, crushed
Additional vegetables as desired
Simmer for 15 to 30 minutes, or until all the ingredients are tender. Serve immediately. Eating this throughout the cold and flu season can help prevent colds. If you have an active upper respiratory infection, enjoy up to three times per day.
Gingery Carrot Yam Soup
Ingredients:
6 cups vegetable broth
10 carrots
3 large celery stocks
1 large yellow onion
1 large yam
3 tablespoons of fresh ground ginger
3 cloves of garlic
A small handful each of fresh oregano and fresh thyme
Unrefined coconut oil
Sea salt, as desired
Black pepper, to taste
2 tablespoons soy sauce
1 teaspoon cumin
1 teaspoon smoked paprika
1 teaspoon curry powder, optional
Chive for garnish
Chop all vegetables into cubes. Sauté veggies, garlic and herbs in coconut oil on medium heat for 10 minutes. Next, add the vegetable broth and bring to a boil, allowing it to simmer for about 20 minutes or until vegetables are tender. Add ginger and other spices. Mix well and transfer to a blender. Blend until smooth. Add to a soup bowl and garnish with chopped chives.
Asparagus and Chive Soup
Ingredients:
1 pound asparagus
1 tablespoon plus 1 teaspoon butter, divided
4 large shallots, diced
2 ounces goat cheese
2 teaspoons dried tarragon
1 ½ teaspoons potato starch
2 ½ cups vegetable stock
1 tablespoon fresh squeezed lemon juice
½ cup cream
½ cup milk (low-fat or whole milk)
Salt, to taste
Black pepper, to taste
Chopped chives, to garnish
Dice the shallots and the asparagus, reserving asparagus tips for garnishing the soup later. Melt 1 tablespoon of butter in a large saucepan over medium heat and sauté the shallots for about 4 minutes, until soft and tender. Add the asparagus and the tarragon and saute for about 5 minutes, until the asparagus is tender. Toss in goat cheese and stir to combine. Once the cheese has melted, add potato starch. Stir and cook for 1 minute. Then, stir in the veggie stock and lemon juice; bring to a boil. Cover and simmer for 15 minutes until the asparagus is very soft and tender.
Remove from heat and process the soup in a blender until smooth. Press the pureed mixture through a fine sieve or cheesecloth into a clean bowl or pot. Add the milk and cream by pouring it in the sieve over the asparagus puree. Season with salt and pepper to taste. Set soup aside.
In a small pan, melt 1 teaspoon of butter and add the reserved asparagus tips. Sauté for about 4 minutes, to soften. When you're ready to serve (it's good hot or cold), ladle the soup into bowls. Garnish with asparagus tips, chives and a few small chunks of goat cheese.
Edamame, Peppers & Mushrooms with Udon Noodles in a Ginger-Garlic Broth
Ingredients:
2 cups vegetable stock or broth
4 cups water
Large handful of udon noodles
4 garlic cloves, minced
1 teaspoon fresh ground ginger
½ teaspoon cayenne pepper
1 tablespoon coconut oil
1-2 tablespoons liquid aminos
1 cup frozen shelled edamame
¾ cup sliced mushrooms
¾ cup red bell pepper strips
1 cup cubed extra firm tofu
¼ cup chopped scallions
Heat coconut oil in a large pot over medium heat. Add garlic and ginger and cook for about 1 to 2 minutes, until fragrant and the garlic just begins to brown. Next, add vegetable stock or broth and water; bring to a boil. Toss in the noodles and cook until they begin to soften, but still have some of their crunch, about 5 minutes. Add the edamame and cook for about a minute, then add mushrooms, peppers and tofu. Allow the soup to simmer for another 2-3 minutes and then add the liquid aminos. Stir until combined.
-The Alternative Daily
Sources:
http://www.poorgirleatswell.com/2009/12/recipe-turkey-chipotle-pepper-soup.html
http://www.motherearthnews.com/real-food/the-best-soup-for-a-cold-recipe-zbcz1411.aspx#axzz3KyOUkmtr
http://www.takepart.com/photos/meatless-mondays/carrot-yam-ginger-soup
http://www.takepart.com/photos/meatless-mondays/asparagus-soup-with-tarragon-and-chvre
http://www.poorgirleatswell.com/2011/01/recipe-udon-noodles-with-edamame-peppers-mushrooms-in-ginger-garlic-broth.html