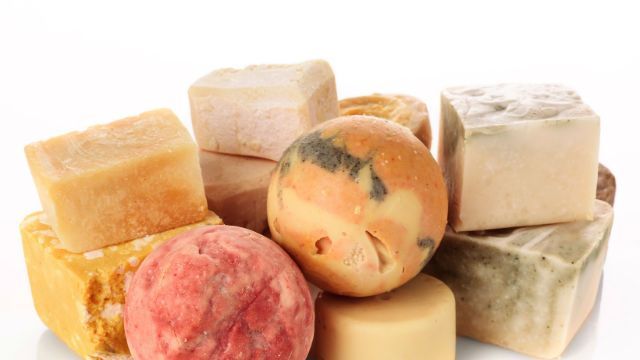 Herbal soaps are great for your skin and they can save you money. They are free from chemicals and you have full control over the ingredients. If you have a skin condition, you can incorporate ingredients that are known to calm that condition. When you are ready to make your own soaps, you want to start with a few tried and true recipes to get the hang of things.
Rosemary and Lavender Soap
Lavender is probably the most popular scent because it is calming and relaxing. Adding fresh rosemary to the mix allows you to further the relaxing benefits.
A glycerin soap base

Fresh lavender leaves and a lavender essential oil

Fresh rosemary and a rosemary essential oil
The amounts you need are dependent on how much soap you are planning to make.
Pumpkin soap will transport you to Thanksgiving Day every time that you take a bath or shower. It has a decadent scent just like a delicious pumpkin pie.
olive oil

Six

percent

superfat lye

coconut oil

Distilled water

Sunflower oil

Cocoa butter

Canned pumpkin
You will combine several skin-healthy ingredients to create this soap and the amounts depend on how much soap you want.
On a cold winter night, a cup of hot cocoa provides you with the perfect way to warm up and relax. Now, you can take a warm bath and use hot chocolate soap to reap the same benefits while also conditioning your skin.
olive oil

Five to six

percent

superfat

coconut oil

avocado oil

Tallow or lard

Castor oil

Whole

milk powder

cocoa powder

Rhassoul clay

Cocoa absolute

Instant coffee granules

Vanilla flecks

French red clay

Vanilla essential oil
Combine the following mixture of ingredients in the amounts you need for your ideal amount of soap.
A candy cane on Christmas morning puts you in the spirit to open gifts and enjoy time with your family. You can bring this festive joy to your bath when you make candy cane soap.
olive oil

Lard

Castor oil

coconut oil

avocado oil

Six

percent

superfat

Peppermint essential oil

Kaolin clay

Red oxide and green oxide

Vanilla essential oil

Oil Soluble titanium dioxide
You can choose how much you want to make by altering the amounts of the ingredients and you can even choose to make it in the shape of a candy cane when you use a mold.
This soap is white, green and red to represent the Christmas holiday. It has a softer consistency so it works as a soap for people of all ages, and a bath toy for children.
olive oil

coconut oil

Lye

Burgundy oxide

Macadamia nut oil

Jojoba oil

water

Merlot mica
Handmade soaps make great gift ideas during the holidays, or you can use them for stocking stuffers. You can also use them yourself and skip buying the chemical-laden commercial soaps at the store. This will help you to achieve healthier skin and to enjoy a greener lifestyle since you will be using all-natural ingredients to make your soap.
-The Alternative Daily
Sources:
http://www.homemadehomeideas.com/71-of-the-worlds-best-homemade-soap-recipes
http://hellonatural.co/diy-herb-spice-homemade-glycerin-soap
http://www.motherearthnews.com/natural-health/homemade-soaps-zmaz98jjzhow.aspx#axzz3JxMsL3To