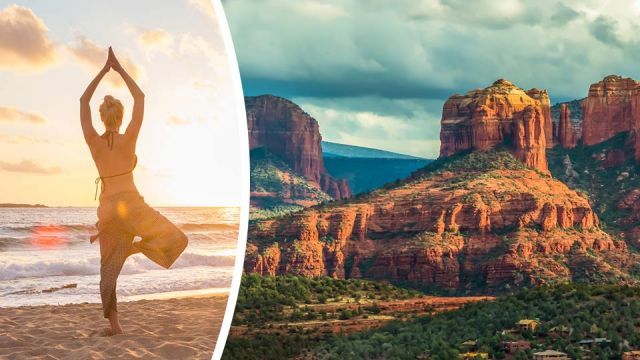 Something feels off. You're can't focus and you're feeling out of sync. Not to mention you're having a major case of cloudy vibes. When you start to feel as if your world is upside down, it may be time for you to take a trip to get your health back on track. You can take a trip to gorgeous destinations anywhere but few can be considered to be the ultimate spiritual destinations that help you reclaim your positive aura.
Spirituality has varying definitions amongst everyone. To some people, spirituality means the ability to be one's self in every single authentic way and for others, it means being equally in tune in all aspects including body, mind, and soul. Regardless of your definition of spirituality, everyone can agree that spiritual destinations are gems that deserve some recognition. Spiritual destinations are those that enrich the soul, cleans the spirit, and recenter your internal clock. Keep reading to find out the top four spiritual destinations that will help you cleanse your health.
Sedona, Arizona
Sedona, Arizona, also known as red rock country, is a scenic desert town that's surrounded by canyon walls, pine forests, and different colored stone formations. It's the ultimate destination for spiritual awakening where artists, spiritual guides, and healers gather alike to bask in the beauty of nature. Sedona has a little bit of something for everyone, such as healing massage treatments, yoga, hypnotherapy and retreats. There's even a Sedona Chamber of Commerce Affinity Group called the Sedona Metaphysical Spiritual Association that can serve as a great guide into the spiritual and metaphysical elements of Sedona! If you're skeptical about venturing into Sedona alone, consider using one of the Sedona guides who can lead you through the vast area while sharing their tribal wisdom as they show you how to be one with the earth.
The infectious energy and inspiration that people feel while in Sedona is said to be caused by the magical red rock and evergreen vegetation. The famous rocks of Sedona have a unique red-orange color that is neurostimulating, which means it can increase creative thinking and problem-solving.
Sedona is the perfect place to visit anytime of year for a spiritual rejuvenation because the plant life stays green year-round with miraculous weather even when other destinations across the globe may be experiencing snow. When you visit Sedona, take a stroll through the trails that offer the perfect spots for prayer and recollection. The most renowned self-reflection spots in Sedona are the vortex meditation sites.
The vortex meditation sites are spots that possess elevated energy that isn't electrical or magnetic. The tremendous amount of energy is perfect for praying, meditating, and overall mind and body-soul searching. There is no absolute science to the vortexes but people believe the earth is the most alive with energy within the vortexes.
Holy Chimayo
The Holy Chimayo in New Mexico is known to be a place of renewal and healing. The Santuario de Chimayo is a small shrine that was built on a land where many believe a miracle linked to the crucifix of "Nuestro Senor de Esquipulas" happened. Many believe the Santuario was built when a friar performing penances saw a light burst from a hillside by the Santa Cruz River. People travel far to get there hands on holy dirt from the "el pocito" pit in Holy Chimayo. Since the friar discovered a crucifix in the dirt, people believe the dirt has healing powers.
The Shrine of Santa Nino de Atocha was built in 1856 and came into existence when U.S. soldiers and sailors prayed to the Santo Nino during the Bataan Death March. When the soldiers returned to the United States, they started a pilgrimage to Chimayo to be near the statues of Santa Nino, to give thanks for their survival during the march and to remember their suffering. To this day, thousands of people travel to Chimayo.
Every year the Española Fiesta has been held in Holy Chimayo. The festival starts in mid-June with the dubbing of Don Juan and a mass at El Santuario de Chimayo. Many people visit Chimayo every year from across the world to participate in pilgrimages. If you're looking to balance your positive karma, you can join in on the festival as locals dedicate themselves to spreading kindness throughout the valley by being kind to groups like senior citizens. After all, as the whole adage goes, "No act of kindness, no matter how small, is ever wasted." The positive energy you'll possess from helping others is sure to improve your health.
Mount Shasta
Mount Shasta, California is a well-known destination for self-discovery. It's considered to be the ultimate destination where heaven and earth meet. Mount Shasta has Native American roots and served as an area full of many natural resources for Native Americans of the Shasta, Klamath, Pit, Mordoc and Wintu tribes.
The giant mount will re-connect you to what's important in life once you get a glimpse at the glacial waters, natural mineral springs, and seemingly endless scenery.
Many spiritual seekers embark on awakening retreats, quests, pilgrimages, and sacred journeys every year on Mount Shasta. Those who have visited the area say it has a certain mystique that's very enchanting.
If you're headed to Mount Shasta, be sure to take a trip during the spring when the full moon is in Taurus to participate in the Wesak Celebration. The three-day Wesak Celebration 2018 will be May 11-13.   Mount Shasta is very special to local Native Americans who believe it is the location where God lives and Creation began. Legend says there is a city underneath Mount Shasta, which is a portal in between dimensions. The Tibetan Buddhists say for a mountain to be sacred it must meet 28 requirements. To this day, Mount Shasta is the only mountain in the United States that meets all 28 criteria.
Cassadaga, Florida
I think Cassadaga, Florida is particularly interesting as I happen to be a natural-born Floridian! Psychics, mediums, and spiritually-minded people have lived in this small community in central Florida since 1894. If your idea of spirituality includes the religion of Spiritualism or Wicca, you should definitely add visiting Cassadaga to your bucket list. If you have some unresolved issues with family members who have passed away that may be causing you stress-inflicted health ailments, speaking with one of the psychics in Cassadaga may help you speak to them again to give you the closure you may need.
If you're in need of healing from a certain health condition, you can join their healing meditation circle on Thursdays from 11:00 a.m.-12:00 p.m. in the Andrew Jackson Building, where healers pray for those who are struggling.
Everyone needs to recharge every now then. When life becomes overwhelming and it becomes increasingly more difficult to feel centered, you could be in need of a trip to a spiritual destination. What are your favorite places to regain your health and tranquility? Leave your comments below!
— Laura Jazmin Tolliver