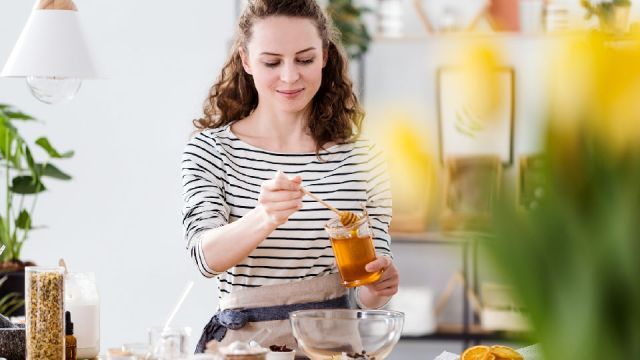 Raw honey is truly a wonder ingredient for those passionate about holistic health and natural beauty. It's packed with amazing compounds like bee pollen, royal jelly and beeswax, not to mention vitamins, antioxidants and other powerful constituents that modern science is just beginning to decode.

To explore the many facets of honey, embark upon this 14-day challenge. Just make sure you're stocked with raw honey and not processed commercial honey.
Day 1: Wash your face with honey
Honey is a valuable ingredient for your natural beauty cabinet. It has many beneficial effects on skin including being anti-aging, antibacterial and encouraging healing. It is also a natural humectant, helping the skin retain moisture while balancing oil production. Check out our article on washing your face with honey for more tips and instructions.
Day 2: Sweeten your healthy baked goods with honey
Since honey provides a quick boost of energy without a huge spike in blood sugar, it's a great option to add sweetness to baking and snacks. Try these pumpkin oatmeal bars or chewy cashew butter granola bars.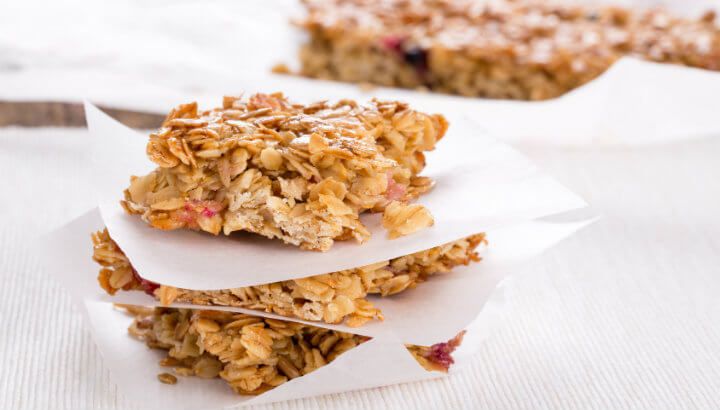 Day 3: Use honey in your first aid kit
Did you know honey has been used for medicinal purposes since ancient times? Egyptian and Roman physicians may not have understood the underlying mechanism, but they knew that bandaging a wound with honey would keep away infection and speed healing.
Raw honey has potent antibacterial properties for bug bites, rashes, cuts and wounds. It also encourages all of the skin's natural healing functions, so it's well worth stashing a small jar with the gauze wraps and bandages. The types of honey that will be most effective in your first aid kit include manuka honey, eucalyptus honey and linden honey.
The same functions are also highly beneficial for baby's bum. If your wee one is suffering from diaper rash, add a little manuka honey to an existing diaper cream, or mix up your own simple recipe with castor oil, zinc oxide and manuka honey.
Day 4: Put honey in your hair
Honey in your hair? Won't that just end up a sticky mess, you ask? Maybe, but once it's rinsed out, practically any hair problem will be solved.
Dandruff? No problem. Scalp issues? Taken care of. Dry lifeless hair? Bring it on. Here are some ideas for creating more beautiful hair with honey.
For itching or flaking, the simplest option is to add a little water to raw honey, and apply the paste to the scalp. This treatment was found to ease symptoms within a week.
Another quick and easy treatment involves adding one part honey to five parts water. Mix well in a small bottle and bathe the lengths and ends of the hair after shampooing for a moisturizing, softening effect.
You can also make a honey hair mask by mixing one cup plain yogurt, one tablespoon raw honey, one teaspoon jojoba oil and five drops rosemary essential oil. Whisk together and apply to hair starting from the ends. Cover with a shower cap and leave on for 30 minutes before rinsing well. This treatment will leave you with a balanced scalp and soft, shiny hair.
Day 5: Make honey lip balm
There's no need to suffer from dry, chapped lips. Honey is here to speed up skin healing and help retain moisture.
Try making your own lip balm with four teaspoons each of beeswax and cocoa butter, and one teaspoon each of vitamin E oil, honey and olive oil. Stir over medium-low heat in a double boiler until well-blended. Add a few drops of your favorite essential oils once the mixture is off the heat, then pour into small containers or tubes. Allow to harden completely before using.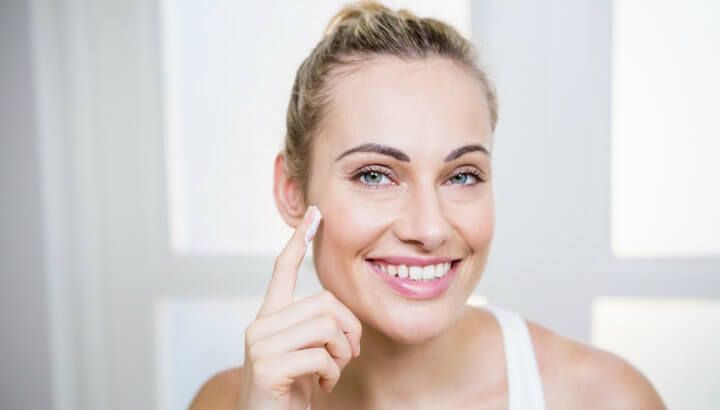 Day 6: Put honey in your tea or coffee
Do you prefer a sweet cup of tea or coffee? Skip the sugar (or worse, artificial sweetener) and go for honey instead! While honey lends a delicious sweet flavor, it ranks lower on the glycemic index, meaning you'll end up with less of a hike in blood sugar as compared to more highly refined sweeteners. Plus, you'll get a dose of vitamins and minerals too, of which regular sugar is completely devoid.
Day 7: Make a honey body scrub
This honey activity is very low-effort but really delivers on the reward. You'll emerge with silky smooth skin that feels moisturized and refreshed.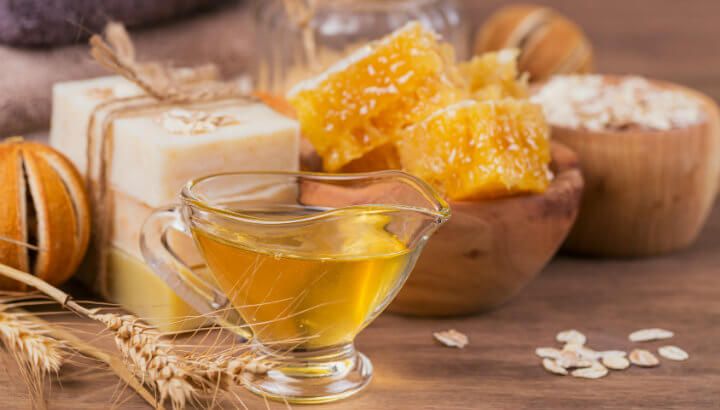 Ready for the easy-as-pie instructions? Simply mix one part coarse sea salt with two parts honey in a small bowl. In the bath or shower, moisten skin, then massage with the honey scrub mixture to cleanse and exfoliate. If in the shower, turn the water off while you scrub so the ingredients don't get washed away too quickly. If you have dry skin, follow up with a little coconut oil, then rinse well and gently pat dry with a towel.
Repeat this scrub regularly to prevent acne and ingrown hairs, and keep skin looking youthful.
Day 8: Use honey to feel better
Do you suffer from hay fever or seasonal allergies? Since raw honey contains small amounts of bee pollen, it can help boost immunity with a mechanism similar to the concept of a vaccination.  
A 2013 study found that consuming high doses of honey helped combat allergy symptoms. This effect is believed to be particularly potent if honey from the local area is used, since the bee pollen will be from some of the nearby plants that may be causing the issue.
In herbal medicine, practitioners mention putting local raw honey in nettle tea, since the tea provides many vitamins and minerals. Try brewing a cup with a tablespoon of dried nettle leaves and letting it steep with a lid on for ten minutes to extract all the beneficial compounds. Add a teaspoon of honey after the tea has cooled to ensure the therapeutic properties of the honey remain intact.
This simple remedy also works for coughs and sore throats. Keep some honey on hand during cold and flu season for quick relief.
Day 9: Soak your feet in honey
If you've got dry, rough feet, cracked heels or, worse, athlete's foot or a fungal nail infection, honey will definitely help make your feet less, well, gross.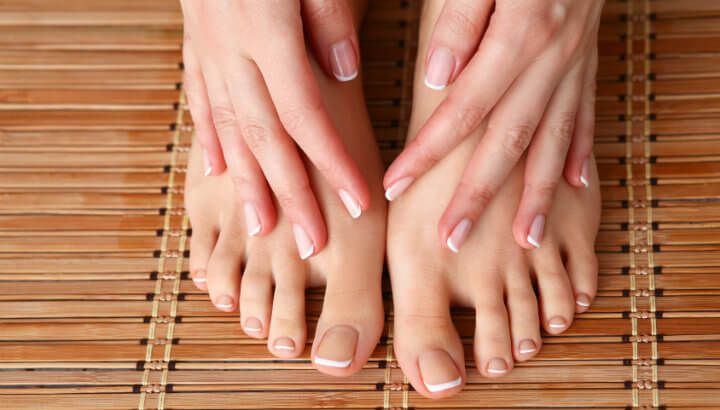 Mix up a foot bath of 1/2 cup Epsom salt and 1/2 cup raw honey in a large plastic container of warm water. Soak feet for at least 15 minutes and they'll emerge softer and heading toward recovery. The antibacterial and antifungal properties of the raw honey will help ease any symptoms of infection with repeated soaks.
Day 10: Make wine with honey
Honey wine, also known as mead, was believed to be "the drink of the gods" in ancient Greece. It's the oldest alcoholic beverage made by humanity, with the first evidence being between 6500 and 7000 BC.
You can make your own taste of the ancient world with just three ingredients: water, honey and yeast. It's easy to get started, but you'll need some simple brewing equipment like a large pot, a thermometer, a siphon and storage bottles. The mead can even be flavored with flowers, fruit or herbs of your choice.
This is definitely a "do in advance" activity since the whole fermentation process will take about two months, or longer if you'd like to leave the mead to age. When it's finished, you'll be able to pretend you're an ancient hero, or perhaps a philosopher or monk, while you sip your historic brew.
Day 11: Relieve a hangover with honey
Just in case you drink too much of that mead, never fear: it's so easy to mix up a quick electrolyte drink with honey. This can help relieve many conditions such as dehydration, heat stroke, a stomach flu or even a hangover. Honey makes a great remedy for many reasons: the fructose content speeds up alcohol metabolism, the antibacterial action fights any bad bugs in the gut and the vitamins and sugars nourish the body helping to bring everything back into balance.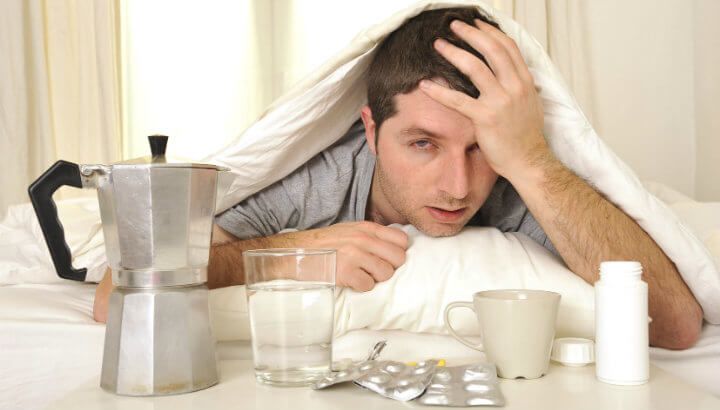 To make a hydrating honey beverage, start with a quart of filtered water. Add a tablespoon of raw honey, a teaspoon of raw organic apple cider vinegar and a pinch of Himalayan pink salt. Mix well and adjust any of the quantities to taste.
If nausea is present, such as in morning sickness, or just the morning after one too many glasses of wine, squeeze a little juice from freshly grated ginger root into the mixture.
Honey is even believed to help eliminate parasites from the gut, so there's another potential use for this simple drink blend. And it doesn't just destroy the bad stuff; if you are suffering with any type of infectious condition, the prebiotic substances in honey can help regrow a healthy presence of good bacteria in the gut.
Day 12: Tighten pores with honey
Harness the power of honey for great skin! This mask combines the cleansing and emollient properties of honey with the astringency of egg whites. This is an excellent treatment for acne and blackheads since the honey will zap bacteria and help remove built-up sebum, while the protein-rich egg whites fight signs of aging and firm the skin.
Here's how to make it: whisk one egg white with one teaspoon raw honey and apply to dry skin. Let dry for 15 minutes, then rinse with warm water and pat dry.
You can also apply raw honey directly to pimples as a spot treatment to kill bacteria and encourage skin healing.
Day 13: Make salad dressing with honey
You know that delicious sauce they call honey mustard? Guess what it's made of — honey and mustard! You really can mix up your own delicious sauces, salad dressings and marinades with just a few ingredients and raw honey. It makes those multitudes of store-bought jars and bottles look a bit silly, especially because they often contain unwanted extras and preservatives.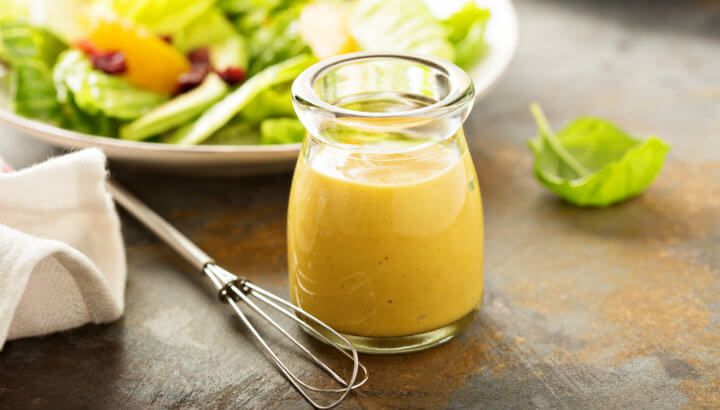 For the simplest option, mix two parts honey with one part mustard. Depending on your tastes, you might prefer whole grain or Dijon mustard. This delicious combo can be used as a dip for chicken fingers or a sauce to be brushed onto roast pork (yum!).
If you want to expand into a salad dressing or marinade, simply add oil, lemon juice, salt and pepper. Olive oil or avocado oil are my oils of choice. A squeeze of lemon and some seasonings, and voila. To get creative, add a sprinkle of chili flakes, soy sauce and fresh garlic and ginger, or perhaps some finely chopped fresh rosemary.
It's so easy to add amazing flavor to your food with pure, real ingredients! Once you get started, you won't be able to stop.
Day 14: Heal your hands with honey
If you have dry or cracked hands, look no further than this honey balm. The honey helps calm inflammation and balance skin pH, while the beeswax and oils are nourishing and protective to the skin.
Simply put the following ingredients into a microwave-safe bowl: 1/4 cup each of coconut oil, almond oil and olive oil, five tablespoons beeswax pastilles, and one tablespoon shea butter. Microwave for 30 seconds at a time, mixing between each session, until everything is fully melted together. Then mix in 1 1/2 tablespoons raw honey and a few drops of essential oils of your choice. Lavender is particularly soothing for the skin.
Whisk together and pour into a glass jar immediately before the mixture begins to harden. The result is a thick balm you can apply liberally to hands or other areas that need TLC, such as feet and elbows.
Another useful honey hand treatment to have on your roster is a healing soak for weak nails. Mix one tablespoon of honey with 1/4 cup of apple cider vinegar in a shallow dish. Soak your nails for ten minutes then rinse, and repeat weekly for stronger nails.
Isn't it amazing how many different useful, delicious and healthy things we can do with honey! Want more? Check out 6 Health Benefits Of Cinnamon And Honey.
FREE book reveals how to fight disease and heal your body with honey! =>
— Liivi Hess