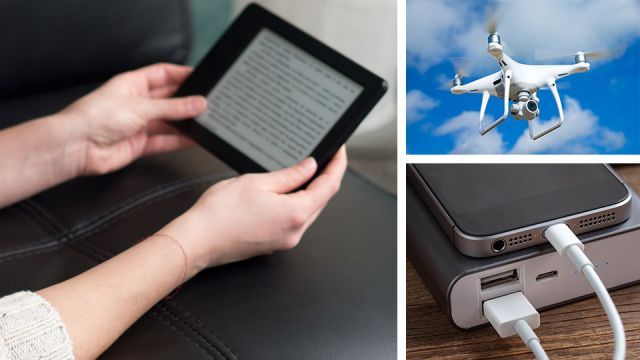 The days of packing our bags and leaving it all behind are long gone. Today's modern traveler wants more. In fact, we want the same conveniences we have at home — only travel size. We also want to stay super connected to our personal life and even work. So, here are 12 cool travel gadgets that will help keep you connected, plus make your vacation safer, easier and more enjoyable.

1. Handheld water purifier
If you're traveling where the tap water (and even bottled water) is somewhat questionable, then a handheld water purifier may be your answer. Handheld water purifiers use ultraviolet light and generally destroy 99.9 percent of bacteria, viruses and organisms that can make you ill. These portable environmentally-friendly purifiers can be carried in your pocket or purse to quickly and easily make drinking water safe, and at a fraction of the cost of bottled water.
2. All-in-one universal plug adapter
When traveling throughout the world, you'll need an adapter for your plugs since some countries won't have the same outlets or voltages as your own. Plug adapters don't convert electricity but they will allow you to plug in your American-made plug into the wall outlet of another country. Most travel adapters come with multiple plugs so you can use them in a variety of countries. They generally come in a one-piece block with different plugs that slide out, or they can be a set of loose adapter pieces that fit into a main adapter plug.
3. Noise-canceling headphones
If you're a frequent air flyer you may want to invest in noise-canceling headphones. These can provide a reduction in noise of about 20 decibels. That means you'll experience 70 percent less ambient noise (or background noise), making these headphones ideal for airline and train travel. The bottom line is that noise-canceling headphones allow you to more easily relax and sleep in flight without being disturbed by loudmouth or chatty passengers and crying babies. They also send a clear signal to other passengers that you're not up for socializing — a big plus when you need some downtime, shuteye or to work.
4. Portable phone charger
With a portable charger, you can power your cell phone anywhere you want, allowing you to text, surf the web and talk longer when you're out and about. To find the best portable charger for your device, consider the type of charging capability you will most frequently need. Some chargers include built-in wall prongs that can charge your device while maintaining the capabilities of the portable charger. Some streamlined portable chargers also make it easy to use your phone as you normally would, even with accessories attached, like a selfie stick.  
5. Car charger
If you're renting a car on your next vacation, bring along a car charger/adapter. Recharging your phone while driving allows you to navigate your route or listen to your tunes without running down your batteries. Look for car chargers that are designed to charge your phone fast.
6. Kindle
If you're all about unwinding with a good book while on vacation, you may want to consider investing in a Kindle. Hardcore readers love that Kindle makes it easy to read even when outside in strong light. While bringing a Kindle along just for reading may seem a bit gadget-heavy, it is generally smaller and lighter than most tablets.
7. Solar charger
If you enjoy getting away from it all — including electrical plugs — but still want the convenience of an accessible phone in case of an emergency, make sure to pack a solar charger. Hikers, climbers and campers can still unplug without giving up GPS devices, cameras or even their smartphone if necessary.
8. Portable hard drive/wireless router
Here's another gadget-heavy addition, but well worth it if you need to convert a wired connection into a secure wireless network for the purpose of connecting multiple devices like your smartphone, laptop and tablet. It can even provide you with backup storage. If the hotel you're staying at has a wired internet access point, a portable hard drive/wireless router can make a huge difference when the Wi-Fi just isn't cutting it, and your entire traveling party is trying to get online. Most devices are compact and light, so it won't take up too much space in your carry-on.
9. Selfie drone
To make your selfies really stand out next vacation, why not bring along a selfie drone? Pocket-sized high-tech flying cameras can fly up to 20 meters away, allowing you to snap flawless aerial selfies of you and your gang without missing the scenery. Selfie drones connect to your smartphone via a free iOS/Android app and your images and videos will be stored on a card. You can also sync photos to your phone's photo library or share via the app.
10. goTenna
Inspired by the recent disaster rescue and recovery operations that followed Hurricane Sandy, goTenna has been designed to keep smart devices connected even when there is no cellular service. This pocket-sized two-way radio and antenna uses Bluetooth-LE to pair with a smartphone. Ideal for backcountry campers, long-distance hikers and climbers, this innovative technology allows users to share messages and location info instantly within a range of up to 50 miles in ideal conditions.
11. RFID protector sleeves
While some experts suggest that electronic fraud or theft is still in its infancy, I can tell you first-hand that it happens, and yes, your information can be stolen. On a recent trip to Las Vegas, I had my credit card read remotely in a casino and it was cleaned out. However, stealing information remotely can also happen with your passport or Nexus card, which is why the U.S. government provides an RFID (radio-frequency identification) secure sleeve with your Nexus travel card.
An advanced RFID secure sleeve is designed to protect credit cards, money cards, identification cards and passport holders from electronic fraud or theft. Made from special RFID blocking material, these sleeves are thin, lightweight and fit easily into a wallet.
12. Smart suitcase
So, what's the best way to carry all of your tech-savvy gadgets next vacation? With a tech-savvy smart suitcase of course. If you haven't come across these yet, keep your eyes open for super-smart luggage with built-in scales, combination locks with TSA access, GPS tracking and mobile apps. With a smart suitcase, you can track your luggage via your smartphone, know how heavy it is and whether it has been opened. Some smart suitcases even provide the ability to charge devices through a USB connection.
There you have it: 12 gadgets that will make your next vacation that much more pleasurable. So, be prepared, stay connected and stay safe! Happy travels.   
— Katherine Marko