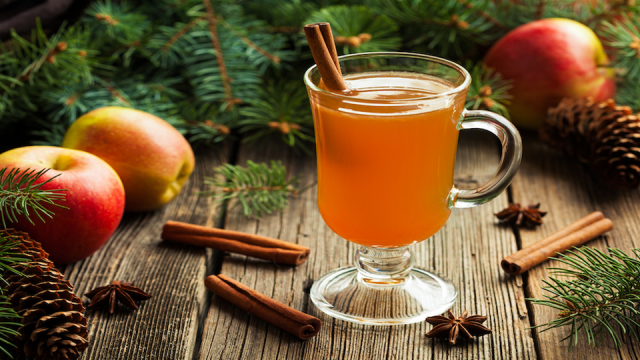 The holiday season is officially here, and temptations abound. If you are trying to stay true to your healthy lifestyle, the days between Thanksgiving and New Years can be especially difficult. Office parties, family gatherings and lots of sugar-laden and rich, pretty food calls your name. But, you don't have to cave, you can and will endure. Turn on moderation and enjoy these warm festive apple cider vinegar drinks that will keep you satisfied and energized all season long!

Why Apple Cider Vinegar
Apple cider vinegar is the perfect all natural base for delicious warm holiday drinks. Don't let this simple tonic surprise you. It works as a delightful and nutritious fix that will help you stay true to your health goals and satisfy your desire for a holiday treat.
Here are a few reasons why you should include apple cider vinegar in your holiday plans:
Apple Cider Vinegar Can Help You Shed Pounds
Bile Production: The tart flavor of apple cider vinegar stimulates the production of bile in the digestive system which allows your body to break down food more effectively. Did you know that consuming a diet high in processed foods leads to a decrease in stomach acid, which often causes heartburn, poor digestion, and weight gain?
Gut Health: When you drink apple cider vinegar, you also contribute to your good bacteria in your gut. This living probiotic food causes new beneficial bacteria to take up residence in your gut. These bacteria protect you from illness and play an important role in extracting nutrition from what you eat. This means that you can get more nutrients from less food, and your body becomes satisfied more quickly. Hello, natural weight loss!
Blood Sugar: Apple cider vinegar also helps to stabilize blood sugar. A number of studies performed on diabetic patients found that blood sugar levels showed less fluctuation when a small amount of apple cider vinegar was consumed before a meal.

Heart Health: Heart disease is the world's leading cause of premature death. Several biological issues can lead to heart disease including high blood pressure and high cholesterol levels. Studies show that apple cider vinegar can lower triglyceride and cholesterol levels as well as some other risk factors for heart disease. In one study, women who consumed salad dressing made from apple cider vinegar had a reduced risk of heart disease.
Cancer Protection: Numerous animal and laboratory studies support the use of vinegar to shrink cancer cells and decrease tumors. An observational study performed on humans in China shows a decrease in esophageal cancer.

Warm Apple Cider Drinks
Here are three of my favorite warm apple cider vinegar drinks that you can enjoy this holiday season. Just be sure to use unrefined apple cider vinegar with the mother.
Apple Cider Vinegar Soothing Tea
This drink is soothing and warm on a cool winter day.
What's in it
12 ounces of filtered hot water

2 Tbsp lemon juice

2 Tbsp apple cider vinegar

1 Tbsp raw honey

1 tsp ground Ceylon cinnamon
How to make it
Combine all ingredients and sip the goodness.
Apple Cider Vinegar Citrus Delight
Embrace the holiday season with this delicious citrus drink that boosts immunity and promotes fat burn. Drink before or with a meal.
What's in it
1 cup fresh squeezed orange juice juice

¼ cup freshly squeezed grapefruit juice

2 Tbsp apple cider vinegar

1 tsp raw honey

¼ tsp ground nutmeg
How to make it
Warm all ingredients in a medium saucepan and enjoy!
Apple Cider Cranberry Punch
Serve this at your next holiday gathering – everyone will love this health-promoting warm drink.
What's in it
2 cups 100% fresh cranberry juice

1 ½ cups fresh organic apple cider

¼ cup apple cider vinegar

2 Tbsp fresh lemon juice

⅔ cup ginger beer

3.5 ounces gin ( if desired, add after the drink is warmed)
How to make it
Warm all ingredients except the gin over medium heat.
-Susan Patterson