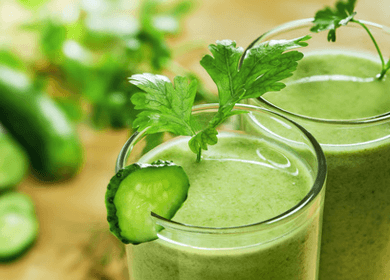 In your quest for optimal health, it can be difficult to meet our body's fruit and vegetable requirements each and every day. Fortunately, smoothies and juices can make things a whole lot easier, they can be one of the most simple and delicious ways to get your fruit and veggie intake for the day.
Be sure to use organic ingredients whenever possible. Although organic produce can be a little bit more expensive, they have less pesticides than conventional produce. When juicing, you are extracting out a very concentrated blend of nutrients, vitamins, antioxidants and more. The last thing you want is a more concentrated blend of pesticides. And keep in mind that there is no need for exact amounts; in fact, it can be fun to just toss in a little of this and a little of that and play around with it until you've got something you super tasty and nutritious!
Power breakfast smoothie
Approximately 1" slice pineapple
1 sliced apple (leave the peel on)
1 broccoli stem and floret
1 handful spinach leaves
½ stick celery
½ inch piece ginger (be careful, ginger can really overpower a blend)
½ ripe avocado
Ice
Blend all ingredients for 45 seconds or until desired consistency and you've got the ultimate antioxidant packed breakfast filled with vitamins, minerals, beta-carotene, chlorophyll and much more.
Tropical heaven smoothie
This one is the perfect antidote to the winter blues, creating visions of palm trees, white sand beaches and a gentle warm breeze.
1 large sliced banana
2-3 handfuls frozen pineapple chunks
1-2 handfuls frozen mango chunks
¼ coconut milk
Approximately 1 ¾ cup almond milk
Blend all ingredients for 30-45 seconds or until desired consistency, sit back, sip and enjoy!
Cranberry-Apple Smoothie
Did you know that cranberries are among the top foods that have proven health benefits? They're filled with antioxidants protecting our cells from free radicals and they can help prevent cancer, heart disease and even fight urinary infections.
2 large apples
½ cup frozen cranberries
Juice of ½ a lemon
Handful of parsley
1-2 teaspoons raw, unprocessed honey
1 cup ice
Blend ingredients together for 30-45 seconds until smooth – add ice if you need to for desired consistency.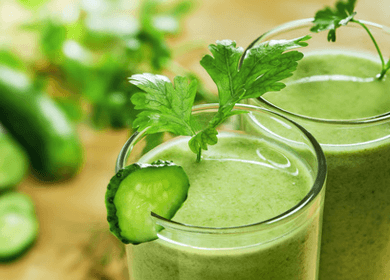 Carrots and Greens Juice
This is a tasty nutrition packed juice – drink up for your health!
2 sliced green apples (peel left on)
1 peeled lemon
2 cucumbers
2 handfuls kale
2 handfuls spinach
2 medium-sized carrots
3 celery stalks
1 cup coconut water
Put all ingredients through your juicer with the exception of the coconut water – use this to top off your glass. If you prefer a sweeter juice, add a little agave syrup or raw, unprocessed honey to the mix.
Apple Beet Juice
This juice is a great way to get your betalains, the amazing compounds that fight inflammation by neutralizing toxins.
1 small beet, chopped
5 medium-sized carrots, chopped
1 apple cored and chopped
¼ cup fresh mint sprigs
Put all ingredients through your juicer, stir and serve!
If you don't have a juicer, use our juice recipes in your blender. Or, if you want to use the smoothie recipes in the juicer, go for it!
Let us know what your favorite recipes are!
– The Alternative Daily