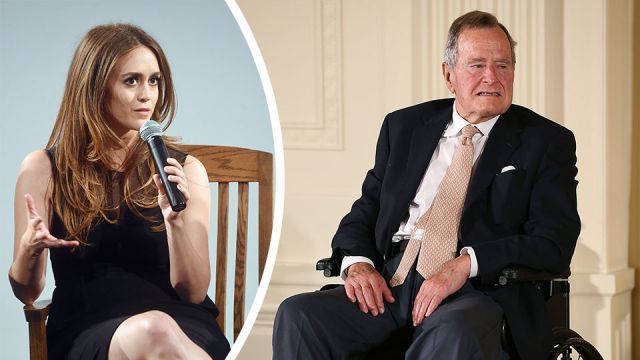 In the wake of the historic Harvey Weinstein sexual abuse busts, thousands of new victims of sexual assault are speaking out against their perpetrators.
One of those victims is actress Heather Lind, who claims she was sexually assaulted by the 41st Commander in Chief in 2014.
In a lengthy Instagram post on Tuesday, which as since been deleted, Lind argues that Bush grabbed her "from behind his wheelchair with Barbara Bush by his side."
Also in the Instagram post, she used the "Me Too" hashtag, which many sexual assault victims are doing to now speak out about past incidents.
He proceeded to tell her a dirty joke and then touched her again.
They were at a screening for Lind's AMC show when the sexual assault occurred.
Here is a picture of Barbara, George, and Heather together at the AMC event:
Bush has since apologized for the incident, claiming it was a poor "attempt at humor."
Also, Lind claims that Barbara "rolled her eyes" at Bush, "as if to say ''not again.'"
"President Bush would never — under any circumstance — intentionally cause anyone distress, and he most sincerely apologizes if his attempt at humor offended Ms. Lind," a spokesman for Bush said to Fox News.
Picture of Lind performing in an AMC show:
Lind also wrote that Bush's security guard told her "she shouldn't have stood next to him in the photo."
Also in the post, Lind wrote, "We were instructed to call him Mr. President. It seems to me a President's power is in his or her capacity to enact positive change, actually help people, and serve as a symbol of our democracy. He relinquished that power when he used it against me. … What comforts me is that I too can use my power, which isn't so different from a President really. I can enact positive change. I can actually help people. I can be a symbol of my democracy. I can refuse to call him President, and call out other abuses of power when I see them. I can vote for a President, in part, by the nature of his or her character, knowing that his or her political decisions must necessarily stem from that character."
Bush has vascular Parkinsonism, a rare syndrome that is similar to Parkinson's disease and that is the reason he is in a motorized scooter or wheelchair in recent years.
The incident has sparked outrage and criticism online:
Could not be prouder of @heatherglind. I hope everyone keeps speaking up and speaking out. https://t.co/nT7stB4r4M

— Nick Westrate (@westratenick) October 24, 2017
Heather Lind, accusing a 90 year old with many medical issues?! Are you scarred for life?! You make women look like a joke. #publicitystunt

— Caron Day (@Philly_Eaglette) October 25, 2017
Dear Heather Lind:
We believe you.
Thank you for speaking out.
The world is brighter and better because you told the truth. I respect you.

— kristen h (@kristenhinkson) October 25, 2017