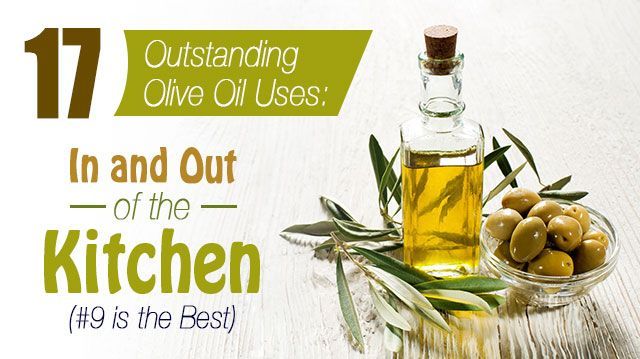 Did you know that olive oil can boost your sex life and may also reduce wrinkles? There are a lot of outstanding olive oil benefits in and out of the kitchen that you may not be acquainted with.
Extra-virgin olive oil has recently become a catalyst for research as part of the Mediterranean diet and is becoming widely known as a healthy alternative. But what else can olive oil do?
Olive oil contains vitamins A, D, E and K, which are essential to your inner and outer health and wellness. Lowering your blood pressure, untangling your hair, keeping you safe from radiation, and boosting your immune system are all among the exceptional attributes olive oil boasts. 
Let's take a closer peek inside olive oil's healthy attributes in and out of the kitchen.
Olive oil may boost your sex life. Olive oil could possibly be the blood flow–boosting agent you need when it comes to those intimate moments. Forget that blue pill! Olive oil has been suggested to boost blood circulation, even to those much-needed areas. A study published in Pharmacological Research (2007) highlights olive oil's anti-atherogenic effects and its association with cardiovascular health.
Untangle your messy hair. You can add a bit of olive oil to your comb or brush and easily remove tangles and knots from a wild night out or a long winter slumber. This is a great natural alternative to those tangle sprays on the supermarket shelves.
Slow down skin aging and reduce wrinkles. Olive oil is rich in phenolic antioxidants, polyphenols and vitamins. These olive oil nutrients may have wrinkle-diminishing power and may also help slow your skin's natural aging process. Researchers from Japan found the antioxidant power of olive oil to reduce DNA damage, according to a study published in Carcinogenesis (2000). Rub a small amount of olive oil on your face after washing it, then clean the olive oil from your face using a warm towel.
Naturally combat stretch marks during pregnancy. Rubbing a bit of olive oil on your baby bump may help reduce stretch marks during pregnancy. Research has also found that the consumption of olive oil during pregnancy may boost your unborn bundle of joy's psychomotor skills.
Feeling constipated? Olive oil has been found to be a natural way to help get rid of your uncomfortable constipation. A few teaspoons of extra-virgin olive oil may do the trick. If you are not big on taking a shot of olive oil straight, you can couple it with the fiber power that salad greens offer for a constipation-breaking snack that is delicious.
Anti-inflammatory agent. Olive oil has been widely researched for its amazing anti-inflammatory properties. Most researchers associate its pain relief powers to oleocanthal, a compound that it contains. Decreasing inflammation has been suggested to improve overall health and wellness, according to the American Heart Association.
A natural way to shave. If you have sensitive skin, this may be a perfect irritant-free solution. Simply massage olive oil into your skin prior to shaving. To give your skin an illuminating glow afterward, gently rub a few drops of olive oil onto freshly shaven skin.
Olive oil promotes positive immune function. Olive oil is loaded with free radical–fighting antioxidants that may give you an immune boost when you need it. Many researchers believe that olive oil is unique, since many other oils fail in comparison when it comes to such a wide variety of antioxidants.
Reduce your risk for developing breast cancer. A study published in JAMA Internal Medicine (2015) found that a Mediterranean diet may reduce the risk for developing breast cancer by 68 percent. This study involved over 4,000 women at high cardiovascular risk between the ages of 60 and 80. The Mediterranean diet used in the study was supplemented with extra-virgin olive oil. 
Improve your long-term mental state. Studies suggest that olive oil use over a lengthy period of time may decrease your risk for neurocognitive diseases, including Alzheimer's and Parkinson's. Researchers believe that this may be due to olive oil's wealth of monounsaturated fat.
An all-natural alternative to manufactured moisturizers. It is often challenging to find a moisturizer that works for you, especially if you're not too keen on pharmacy brands. Olive oil can possibly be that all-natural alternative you're looking for. Pour a small amount into your hand and rub it into your skin evenly, and make sure you're using extra-virgin olive oil. As the dry skin months of winter have arrived, this is a perfect opportunity to give it a try. 
After-sun skin-cancer prevention. Olive oil has mainly been studied for its role in a healthy diet. However, utilizing this powerful oil may also help reduce your risk for skin cancer. A study published in the Journal of Dermatological Science (2000) found that olive oil had a preventive effect against ultraviolet-induced skin cancer in mice.
Excellent way to remove makeup. You can easily clean your face and remove your makeup at the same time. Massage your face with a little bit of olive oil, then wash with a natural soap, removing the olive oil and makeup all at once.
Olive oil may protect you from radiation! Did you know that your computer at home and/or work is emitting radiation right into your face? The Centers for Disease Control and Prevention (CDC) have computers listed as ways people are exposed to radiation. However, you can potentially help minimize your computer radiation exposure by applying a small amount of olive oil to your face.
Reduce your blood pressure with olive oil. The blood pressure–reducing effects of olive oil are attributed to its level of oleic acid, according to research published in Proceedings of The National Academy of Sciences of the United States of America (2008). 
Olive oil is a natural massage oil. If you want to moisturize your skin during a massage, then olive oil may be the best all-natural choice. In fact, olive oil may be the oldest massage oil around, used as far back as the time of the ancient Greeks.
An alternative hair conditioner. If you want smooth, shiny hair, then olive oil may be an exceptional natural choice. Ditching your bottles of conditioners may be challenging, but give this olive oil trick a try. Before showering, massage olive oil into your hair and wrap with a hot towel for roughly 10 minutes. Then shower and shampoo, adding a few drops to your hair afterward while it's still wet, and voilà.
Olive oil has been in use since ancient times. Some even say that olives were collected in the Neolithic period and utilized in various ways. It is a powerful source of vitamins and minerals that has many non-culinary uses, as well. This wondrous oil is best in its extra-virgin form for almost all uses, whether it's in or out of the kitchen.
What alternative ways do you use olive oil?
—Stephen Seifert
Stephen Seifert is a writer, professor, adventurer and a health & fitness guru. His flair for travel and outdoor adventure allows him to enjoy culture and traditions different than his own. A healthy diet, routine fitness and constant mental development is the cornerstone to Stephen's life.
Sources:
http://www.sciencedirect.com/science/article/pii/S1043661807000333
http://carcin.oxfordjournals.org/content/21/11/2085.short
http://www.sciencedirect.com/science/article/pii/S0923181100000839
http://archinte.jamanetwork.com/article.aspx?articleid=2434738&resultClick=
http://www.heart.org/HEARTORG/Conditions/Inflammation-and-Heart-Disease_UCM_432150_Article.jsp#.VlIma9DY2fQ
http://www.sciencedaily.com/releases/2015/09/150914092837.htm
http://www.cdc.gov/nceh/radiation/
http://www.pnas.org/content/105/37/13811.short