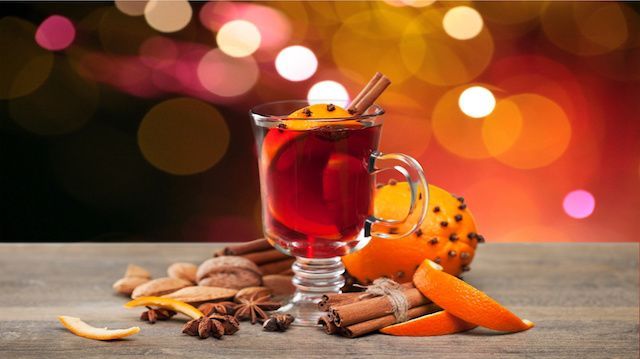 Tying one on with Uncle Joe and Aunt Mildred may not be on your list of "great ways to spend Christmas" this year. Consuming too much alcohol can be a hazard to your health, and a hangover may put a damper on those precious moments you share with family and friends.
The good news is, there are plenty of tasty nonalcoholic holiday drink alternatives to enjoy this season. From the old Shirley Temple standby, to a Moscow Mule (nonalcoholic version of course), these holiday drinks are fun and delicious. 
Let's start with a delicious, nonalcoholic drink that will keep you toasty. This tasty holiday drink is sure to be a crowd-pleaser. It contains pears, cranberries, lemon, and ginger, all of which boast exceptional free-radical-fighting antioxidant powers.
1

cup

water

2-inch

piece

of fresh ginger, peeled and sliced

3

pears, chopped into bite-size pieces

2

quarts

apple cider

1

lemon, sliced

1

tablespoon

ground allspice

1

cup

fresh cranberries

2

tablespoons

pure vanilla extract
Combine all the ingredients in a pot, except for the vanilla extract and cranberries.

Cook over a medium-high heat for 15 to 20 minutes, stirring often. Reduce the heat to a simmer and add the vanilla extract and cranberries.

Allow to simmer for an additional 10 minutes.
Moscow Mule — hold the vodka
The Moscow Mule is a favorite alcoholic drink during the holiday season, but it is quite possibly even more tasty without the vodka.
1

fl oz

fresh lime juice

3

fl oz

natural ginger beer

1 1/2

fl oz

soda water

1

stick of lemongrass
Combine the fresh lime juice, ginger beer and soda water and pour over ice.

Next, pinch a stick of lemongrass from top to bottom to release its fragrance and taste, then use it to stir your Moscow Mule. Lemongrass is a powerful detoxifier and also helps boost immune function. From Russia with love — enjoy!
For measurement purposes, a shot glass is 1.5 fluid ounces.
This Yuletide beverage is absolutely delicious, and has wonderful aesthetic value for a holiday get-together, as well. Cranberries and raspberries are the two main ingredients, both of which serve up immune-boosting, antioxidant power!
1/2

cup

frozen raspberries (buy fresh and freeze yourself for optimal deliciousness)

2

cups

freshly juiced cranberries and raspberries

2

cups

seltzer water

2

tablespoons

lime juice

Lime slices for garnish
Combine all the ingredients, except the frozen raspberries and lime slices, in a carafe and mix. Then, pour on the rocks, adding the raspberries and lime slices to garnish the drink. Yum!
This nonalcoholic drink may have been your go-to when you were a child hanging out with the grownups on Christmas Eve. It has stood the test of time and still remains a holiday beverage of choice for many adults (and kids not keen on bedtime).
4

fl oz

soda water

4

fl oz

natural ginger beer

1

tbsp

lemon juice

Handful of fresh cherries

1

tbsp

lime juice

Coconut crystals (optional)
Add ice to a tall glass, then fill it with half soda water, half natural ginger beer. Add a squeeze of lemon juice. Splash with freshly juiced cherries and lime juice, then add a cherry or two for garnish. For a sweeter beverage, add coconut crystals to taste.
You may want to have one of these for a stroll down holiday memory lane — I know I will.
If you want a classy holiday beverage selection without the alcohol and hangover, then the lemon-orange martini is your go-to! This tasty beverage serves up vital vitamin C and potassium to keep your engine running for gift wrapping, or handling Uncle Harold after one too many.
1

cup

seltzer

1

fl oz

lemon juice (freshly squeezed)

2

fl oz

orange juice (freshly squeezed)

1

tbsp

fresh lemon juice on the side (for martini glass rim)

Coconut sugar (for martini glass rim)

1

drink shaker for that martini effect
Combine the seltzer and freshly squeezed lemon and orange juice with ice in the martini shaker. Shake for 30 seconds. Add lemon juice to the martini glass rim and dip it in the coconut sugar. Pour the contents of the shaker into the glass and add a small peel of lemon or orange to the rim for a touch of sophisticated elegance. No one will even know your martini is virgin — it looks that good.
If you live in those coveted sunny places, then your holiday drinks may have an island twist. The pear mojito is a taste bud satisfier that goes down easy with a bit of Bob Marley and the Wailers setting the Christmas mood.
2

tablespoons

fresh lemon and lime juice (either or both)

1

cup

fresh pear juice

1

tablespoon

coconut sugar

4

mint leaves

Extra mint leaves for garnish

ice
Mash together the lemon-lime juice with the coconut sugar and mint leaves in your glass, just like a mojito. Add the pear juice and ice, then stir. Mint is not only refreshing, but it also offers digestive and antioxidant properties that will keep you healthier and happier this holiday season, so add a mint leaf or two for garnish and enjoy!
Holiday Cran-Apple Rosemary
This aromatic nonalcoholic beverage not only looks festive, it also tastes delicious. It combines the essential vitamins and minerals you need to keep your energy and mood positive for the many demands of the holiday season.
2

cups

water

4 to 5

apples (depending on size), for juicing

1 to 1 1/2

pounds

fresh cranberries, for juicing

5

sprigs

of rosemary (for recipe and garnish)
First you will need to prepare your rosemary. Boil water and then reduce to a simmer, adding the rosemary. Let it simmer for five minutes and then remove from the heat and cool in the refrigerator for about an hour.

Next, juice your apples and cranberries. You will need approximately one cup of cranberry juice and two cups of apple juice.

Mix your juice together and add the cooled rosemary for more amazing flavor. Garnish with a rosemary sprig and serve to impress.
The holidays are a great time to connect with family and friends. Don't let the hangover blues hinder the good times and holiday merriment. Serve up some of these wonderfully delicious and aesthetically pleasing nonalcoholic drinks this season. You may be surprised by how many requests you get for the recipes — even your most intoxicated guests will love these tasty, nonalcoholic alternatives. 
Drink responsibly and in moderation over the holidays, and enjoy the company of loved ones, making memories this special time of year.
—The Alternative Daily