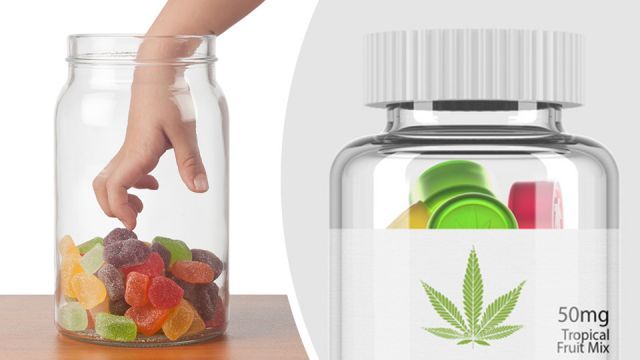 Medical marijuana is helping patients across the country (including some school-age children). But I'm sure most people would agree that medical marijuana is not the kind of thing that should fall into the hands of unwitting kids.
School kids at risk for pot-laced edibles?
However, that's just what happened in New Mexico when a nine-year-old girl inadvertently shared some pot-laced gummies with her classmates. The incident sparked an outburst of dizziness and giggling among several students, but thankfully no one was seriously hurt.
As you might expect, school officials called in local paramedics to evaluate the students and make sure everyone was alright. The young girl who brought the "candies" to school seemed to be the one most affected. She had consumed five of the gummy bears (each containing up to 300 milligrams of THC each). She complained of dizziness and was sent to the nurse.
According to Kristi Del Curto, dean of elementary students at Albuquerque School of Excellence, where the incident took place, the girl had found the pot-laced gummies at home. Apparently, her parents had been using the product for medicinal purposes, but it is not clear if they were doing so under the direction or supervision of a physician. New Mexico is one of 29 states that currently allow the use of cannabis for medical purposes.
The 9-year-old, however, did not realize that the gummies contained THC or that they were a form of medicine. As Dean Del Curto explained, "She thought she was sharing candy, and if you saw the picture on the box, it did look like candy."
The gummies in question are made by a Colorado company called Incredibles, which makes a variety of cannabis-infused edibles, extracts and topicals. The gummies, like many of the other products they offer, come in very colorful and very attractive packaging (much like traditional brand name candies and sweets).
Edibles are increasingly popular, but are they a danger to kids?
Edibles are an increasingly popular way of ingesting cannabis. They do not entail the potentially adverse risks associated with smoking pot (such as lung irritation) but some critics contend that edibles put people at greater risk for cannabis poisoning.
In actuality, dose-related fatalities are virtually unknown as far as cannabis goes, but hospitalizations and overdoses tied to cannabis edibles have risen consistently in states where marijuana has been legalized recreationally.
For instance, in Colorado, the number of juveniles hospitalized for acute marijuana intoxication has doubled since the state legalized pot. The majority of these cases involved edibles (many of these ingested accidentally). As a result, Colorado has taken steps to ban packaging for THC products that use the word "candy. " The state has also prohibited edibles that appear in the shape of animal characters.
As you can see for yourself, regulators are in for an uphill struggle if they hope to discourage the budding cannabis industry from marketing their products in super alluring packaging, which are bound to attract children:
@KeefColaLife #OrangeKush 10mg is $6.50 at #BuddyBoyRec. Save 15%-20% on rec #edibles on Mondays. #BuddyBoyWalnut. pic.twitter.com/71qguD6rVb

— BuddyBoyBrands (@BuddyBoyBrands) January 22, 2018
Can't decide which gummies to get? Why not try our #CBD #Sour #Gummies #Variety #Pack! Available in 150mg and 300mg!https://t.co/cBeeqNsTXQ#cbdoil #hemp #hempoil #cannabis #edibles #sweet #delicious #candy #quality #new #natural #spoonie #hippie #wholesale #helps #chronic #b2b pic.twitter.com/jdjGvaxcB4

— Natural Healthy CBD (@CbdHealthy) January 21, 2018
FLÏ Chocolates Are The Best Way To Sunday.🍫
.
.
.#FLÏ #fliproducts #edibles #chocolateedibles #mmj #thc #sundayvibes #cannabisculture #cannabiscommunity #weedstagram #weedstagram420 #cannabis #terpenes pic.twitter.com/yUa21jJYaN

— FLÏ (@fliproducts) January 21, 2018
That means parents and educators are going to have to find ways of keeping these products out of the hands of young kids. They will also have to find ways of explaining to children why these products are not okay for them to consume.
How to keep kids from ingesting edibles
Cannabis prohibition was not effective as a social policy and it did not succeed in keeping cannabis out of the hands of young people. The country is moving in a different and more permissive direction. But there is still a huge public interest in making sure children are not exposed to THC products (unless there is a genuine medical reason for doing so).
Experts, such as Dr. Mazda Shirazi, Medical Director of the Arizona Poison and Drug Information Center, believe that more explicit warning labels and bland packaging (more in line other medications) would be helpful.
As Dr. Shirazi explains, "[marijuana] is a medication. You shouldn't be purchasing anything that looks like a candy, and, if you're buying edible — buy it in a form that's not attractive to your child."
Bryan Hill, a director of a medical marijuana dispensary in Arizona, stresses a different approach. In his view, "A lot of [this] comes down to education — children, this is not for you. These products are for adults."
In any event, common sense also dictates that you store cannabis edibles where kids cannot get at them (preferably under lock and key). What do you think? What's the best way of making sure kids don't get their hands on cannabis edibles? Please share your thoughts in the comments section below.
— Scott O'Reilly