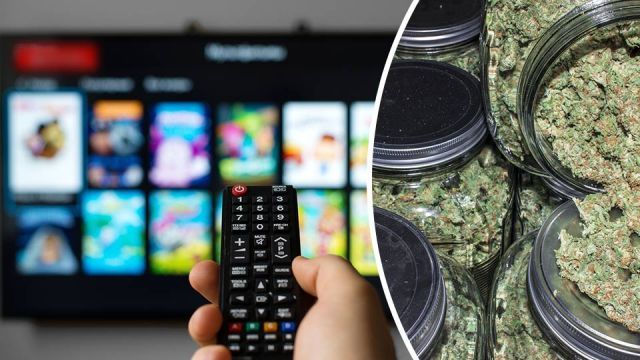 What is Weedflix? Well, if you ask me, it is what happens when Netflix and Mary Jane partner up for a highly strategic marketing stunt that garnered the attention of weed users and Netflix fans alike. And probably some non-weed users and non-Netflix fans as well!
Last weekend, Netflix — with a gross annual revenue in excess of $8 billion — paired up with Los Angeles based Alternative Herbal Health Services to offer unique strains of cannabis to highlight specific Netflix shows.
According to a statement from Netflix, "Each strain was cultivated with the specific shows in mind, designed to complement each title based on their tone. For example, sillier shows may be more indica dominant, while dramedies will be more sativa dominant to help the more powerful scenes resonate."
Among the special Netflix-branded strains were Poussey Riot (inspired by "Orange is the New Black"), Prickly Muffin (inspired by "Bojack Horseman"), Banana Stand Kush (inspired by "Arrested Development"), Camp Firewood (inspired by "Wet Hot American Summer"), Baka Bike (inspired by "Santa Clarita Diet") and Moon 13 (inspired by "Mystery Science Theater 3000").
All about "Disjointed"
Although Netflix will not be profiting financially from this brief interlude with the weed industry, it was a highly successful promotion for their new show "Disjointed," which premiered Friday. This comedy, starring Kathy Bates, revolves around a cannabis dispensary where the employees are always high.
In a massive creative push, Netflix teamed up with the West Hollywood dispensary to, in true Hollywood fashion, turn it into Ruth's Alternative Caring, the cannabis dispensary featured on the show. This particular dispensary was not a random choice, as the woman in charge of alternative herbal health, known as "Dr. Dina," was the show's cannabis consultant.
"Disjointed" had the honor of inspiring three select strains including:
The Omega Strain
Eve's Bush
Rutherford B Haze
How it came to be
Weedflix has been in the works for about six months. Carrot Creative was brought on board to work with the dispensary to curate specific strains of weed. Each strain was created to compliment the show they were connected to. The indica strains work well with lighter shows while the sativa strains were inspired by more aggressive-feeling shows. In addition, Carrot Creative took the lead to design the layout and feel of the dispensary to make it look more like the one featured in the show "Disjointed." They also designed the packaging of the cannabis.
All the buzz
This weed event churned up a lot of noise on the social media scene. Here are just a few of the Tweets that were used to promote this event:
The strain that'll take you higher & higher. Netflix inspired strains for @Disjointed, available this weekend in LA (7828 Santa Monica Blvd) pic.twitter.com/nvDbviVfil

— Wet Hot American (@WetHot) August 26, 2017
The strain that'll take you higher & higher. Netflix inspired strains for @Disjointed, available this weekend in LA (7828 Santa Monica Blvd) pic.twitter.com/nvDbviVfil

— Wet Hot American (@WetHot) August 26, 2017
If only we had this sooner, @disjointed. Roll up to #Ruthsalternativecaring in Los Angeles (7828 Santa Monica Blvd). pic.twitter.com/bXNKfcGrX6

— Santa Clarita Diet (@SCDiet) August 26, 2017
Walking the line
While some might say that Netflix did a stupendous job walking the line, it is important to note that neither the streaming giant nor Carrot Creative ever physically touched the cannabis. The dispensary was the only one who handled the product and also did all of the packaging of it as well.
Sorry you missed it… maybe next time
This Netflix collection pop-up event ran until August 27 and was available only to those who qualified to purchase marijuana through California's regulations. Since Californians can't legally purchase marijuana for recreational use until January of 2018, this event was strictly for medicinal users only. Still, that did not hinder sales; the three-day event sold 430 ounces of Netflix-inspired weed and generated $150,000 in revenue.
If you missed the event, chances are there will be something else coming soon! Cannabis is receiving a wave of acceptance across the nation with more and more states jumping on the bandwagon of both medicinal as well as recreational use of the herb.
What do you think? Did Netflix go to far and cross a line, or is this a really ingenious marketing move and a harmless promotion?
— Susan Patterson